Marco Island Academy is announcing two new campaigns: a Next Phase for the Rays capital campaign and a Forever Now endowment campaign. The school is also announcing the formation of the MIA Rays Squadron, a 501c3, with a mission to provide a secure financial foundation for Marco Island Academy and to sustain the school for generations to come. The academy is a public charter high school. School founder Jane Watt and MIA Rays Squadron president Mark Melvin announced the new campaigns on November 9, 2021 at the high school.
The Next Phase for the Rays is a $1.5 million capital campaign to raise money for the turf soccer field, sports performance center, bleacher, concessions area, boys and girls locker rooms, practice track and long jump area. Melvin has committed to a $750,000 matching opportunity. He will match every gift to the capital campaign up to $750,000 until December 15, 2021.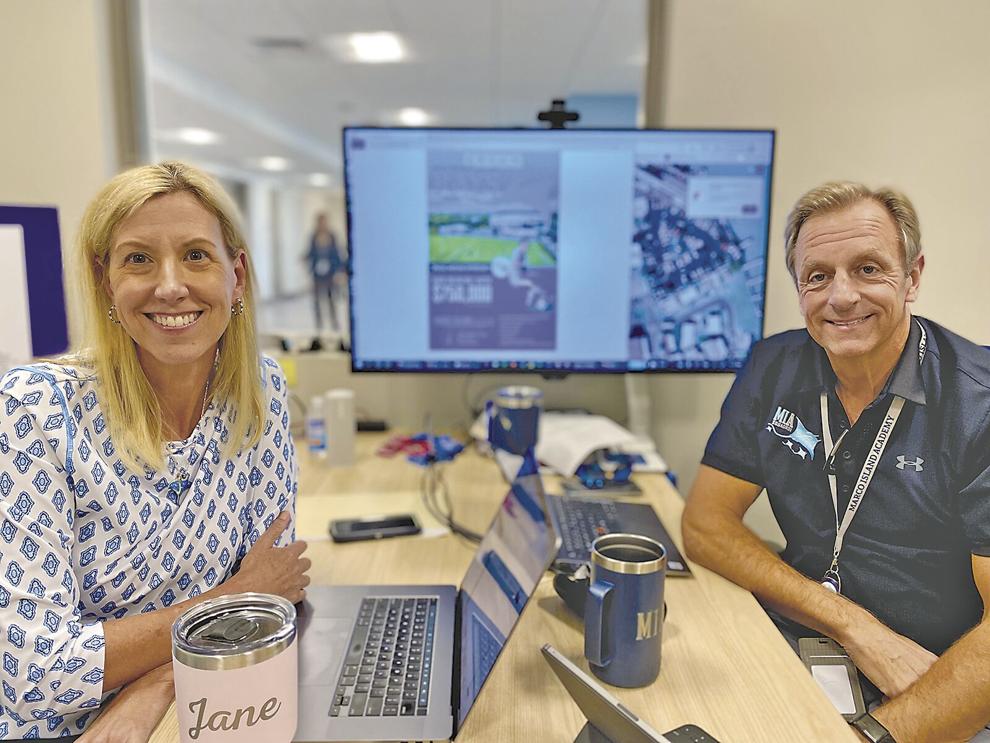 "The Next Phase for the Rays is going to be all outside," Jane Watt said. "The soccer field is going to be all turf. The Rays logo in the middle. We're using every square inch of property we have. We have no more space. What we've done with what we've got, they said we couldn't do. I kept going back to them and telling them we have to figure it out."
But try as they may, they were not able to find enough room for a sanctioned football field.
"We tried everything," Watt said, "we went back to them multiple times. We'll be able to practice football. We'll be able to practice lacrosse. But they couldn't give us the space for a sanctioned football field. But we were able to get a sanctioned high school soccer field."
The additional $1.5 million is needed due to several factors.
"The reason we have to raise more is because of the pandemic," Melvin said, "the cost of supplies, supply chains, the work force. It's $1.5 million more than we anticipated."
The athletic complex is expected to be completed by the summer of 2022.
"We should have a field for next fall," Watt said.
"The goal of the Forever Now endowment fund is to raise $30 million toward the endowment as quickly as possible," Watt said. "The concept of Forever Now encourages people to give their legacy gift now. Kurt and Lori Lacks have committed $2 million toward the Forever Now campaign at MIA in hopes of inspiring others to join them. The idea behind Forever Now is that rather than waiting until you've passed away to give your forever gift, you do it now. This way it makes it so the school doesn't have the ongoing fundraising they've been doing. They're able to become self-sustaining quickly. The goal behind this, and the reason why he's doing this very substantial $2 million gift to launch it, is to springboard the Forever Now approach. Our hope is that other people will see that and come forward with a significant gift. Mark has already come forward and I have heard from someone else today who is coming forward with a significant gift. We are trying to make it to $30 million."
"At $30 million we know we can sustain the school without raising money," Melvin added. "We don't know that we can do it for less. We really won't know until we get another year under our belt. We'll know what the operating expenses are, what the state funding is. It's not likely we'll get $20 million or $30 (million) in a year - it would be nice if we did - but it would be great if we could do it with $20 million. But we know that with $30 million we would be set."
The concept of the Endowment Campaign is similar to retirement planning.
"A lot of people don't understand what an endowment campaign is," Watt said. "The principal part of that gift just stays there. The money that is spent is from the interest on that account. So, it is like an investment account or an IRA. It's an MIA investment account. Those funds won't be touched, they'll be protected, unless otherwise designated by the donor. The goal is, 'Look, you make a large gift to the school now, and you are part of whatever we're doing. It's a way for them, if they have the ability to give it, to give it sooner, rather than waiting until their estate passes it on or a planned gift type of situation. Kurt's whole goal behind doing this is that it might motivate others to give a forever gift sooner rather than later."
"There's no match or special program going on with the endowment right now," Melvin said, "we're just kicking it off. There might be in the future. We're looking for people who are interested in supporting the school and are interested in making an investment in the Marco Island Academy's future."
"The endowment campaign is very individualized for each donor," Watt said. "What makes sense for one donor may not make sense for another donor. Our goal is to meet whatever their needs are. If they're in a situation where they can give right now, and they want to give right now, we want to make sure that they know that's going to really help us. It's going to eliminate us needing to do all these things that we're always trying to do in order to make our annual budget. What will happen is the investments will generate the income. The income will be used to help with whatever the additional costs are that we're dealing with, that we're juggling, because we're a charter school and our funding is less than traditional schools are. Our goal behind it is to make sure we've protected the school forever. So, when we're gone, for generations to come, MIA will remain the same. And they'll have what they need to be successful.
"I'm a big fan of the Forever Now campaign," Watt said, "a big, big fan of it."
The mission of the MIA Rays Squadron is to provide a secure financial foundation for Marco Island Academy, a public charter high school, and to sustain the school for generations to come. The MIA Rays Squadron will raise funds to meet the operating and capital needs for today and the future.
The MIA Rays Squadron hopes to function in the same fashion as manta rays in the sea. 
"A squadron is a group of manta rays that swim together to protect each other and act as a unit," Melvin said.
For more information about supporting Marco Island Academy, contact Hilary Noyes, Donor Relations, at 239-393-5133.