The third annual fundraiser for Our Daily Bread Food Pantry was held by the Women's Golf Association (WGA) at JW Marriott Marco Island's Rookery at Marco golf course on January 25th. Mother Nature recognized the charitable event and provided near perfect golfing conditions. In attendance were 104 ladies who came out to play and support Our Daily Bread Food Pantry.  The comradery and enthusiasm was overwhelming as they practiced to play 18 'step aside' holes of golf.
$16,745 was raised to help feed families in Collier County. Filled to the rim in Our Daily Bread food transportation truck was 940.1 pounds of food. Incredible!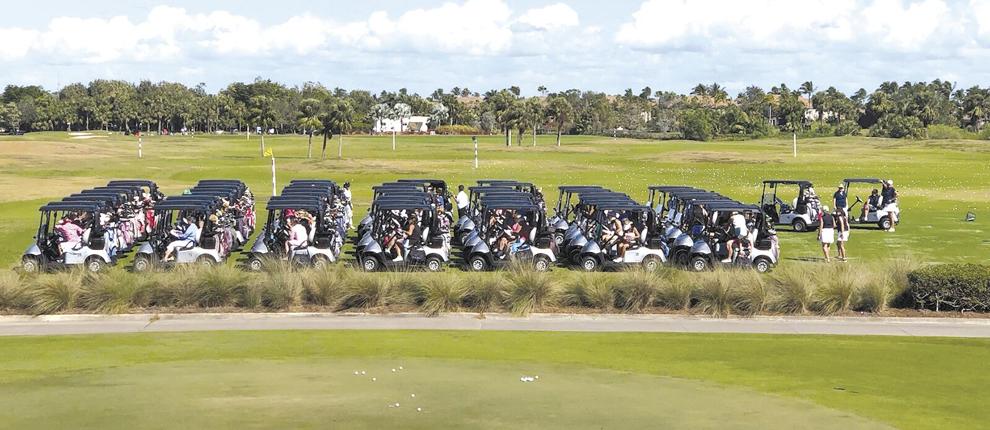 Scott Lien, Director of Golf at the Members Club at Marco spoke of the event, "Our Leadership team at the Club continues to be amazed by the generosity of our membership, especially our Women's Golf Association year after year for providing funds and non-perishable food items to Our Daily Bread Food Pantry. To generate nearly $17,000 in cash donations in a one-day golf event, in addition to providing over 940 pounds of non-perishable food items for such a worthwhile cause is humbling to say the least.  Our ladies continue to raise the bar each year and we couldn't be more proud to support them with their annual charity event. As a golf operation associated with the JW Marriott Marco Island Beach Resort, we are genuinely committed to Marriott International's Serve 360 pillar of giving back to our community. We couldn't be more proud of our ladies and we continue to be honored by the opportunity to partner with such a great organization as Our Daily Bread Food Pantry in their fight of ending hunger in our Marco Island and surrounding community.
Amanda Nelson, Executive Director Our Daily Bread Food Pantry, said "On behalf of Our Daily Bread Food Pantry, we are thrilled to see the turnout for this charity outing. Each cart has an introduction to Our Daily Bread Food Pantry. You'll read we go way beyond Marco Island, serving all of Collier County. The need for food continues and the increase of need is much higher than anyone of us could have anticipated or imagined. To quote one of the guests, 'The struggle is real!' Many thanks to Chris Major, Scott Lien, Brandon Rowcliffe and the WGA for supporting Our Daily Bread Food Pantry as a charity for the third year. And to all those behind the scenes and the golfers – THANK YOU! We can't do what we do alone. We are grateful to be part of such a giving community."