Being a 14-year-old has its challenges for most any young lady growing up across America. But what must it be like to be one of the top 14-year-old soccer players in the country? Or maybe the world? Marco Island's Sydney Koszo can tell you exactly what it's like. As an IMG Academy student athlete and a member of the Hungary National Under-17 Soccer Team, she is living a life unlike that of most any 14-year-old.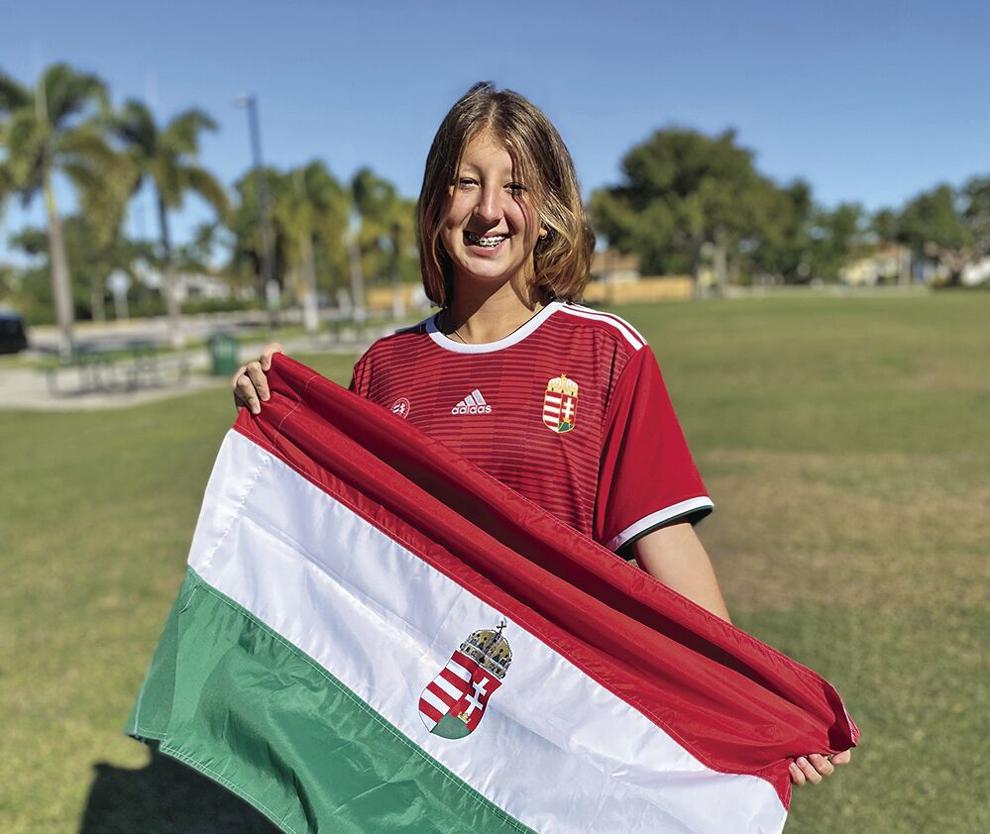 Sydney's early childhood was probably similar to a lot of kids on the island. But her father, Adam Koszo, knew his youngest child had something special when he watched her compete in Optimist league soccer.
"I always thought she was good," said Lyndsi Koszo, Sydney's mother, who has a strong background in gymnastics. "But I was never trained in soccer. Her dad was the one who said, 'She's got something, she's got something, She's good, she's good. I'm telling you she's good.' Because he trained soccer, he knew soccer. He's from Europe. Then whenever she would play with the men's league on Sundays and Mondays here at Mackle Park, when she was still a little one, all of those guys kept saying, 'She's good, she's good. She's got something.'" 
By the time she was in sixth grade, Sydney was playing varsity soccer at First Baptist Academy and homeschooling.
"My sixth-grade year I decided to home school so I could train twice a day," Sydney Koszo said. "Do more soccer than school and be more of a student athlete. As that progressed, we found out that FBA does a home-schooling program, where they take homeschooled kids and they can play for their high school team. So, when I was in sixth grade, I played on the FBA varsity high school team. They had a very good soccer program."
The young soccer prodigy felt right at home with her older teammates at FBA.
"Being the youngest," Sydney said, "everyone treated me very well. Everyone took care of me and looked out for me. It was a very good learning experience for soccer. Because I was playing with people older and better than me, it automatically pushed me to be better. I did that for one year. I started there when I was 11. I balanced that with my club team, Florida Fire. So, I was training with two teams. I played for Florida Fire from my fifth-grade year to my sixth-grade year."
It was with the Florida Fire that Sydney met and became friends with the daughter of arguably the biggest name in women's soccer, Abby Wambach, the two-time Olympic gold medalist and six-time winner of the U.S. Soccer Federations' U.S. Soccer Athlete of the Year award.
By the time she was in seventh grade, Sydney started at IMG Academy in Bradenton, considered the most prestigious sports, performance and educational institution in the world. was officially on the fast track.
"When I was in elementary school," Sydney recalls, "we started here with the Optimist Club. I was just training with my dad, getting the basics down. Then I always played up with older girls. And I played in a boy's league for a while so I could get stronger, better and faster. That kind of helped me progress into IMG and get on a national team."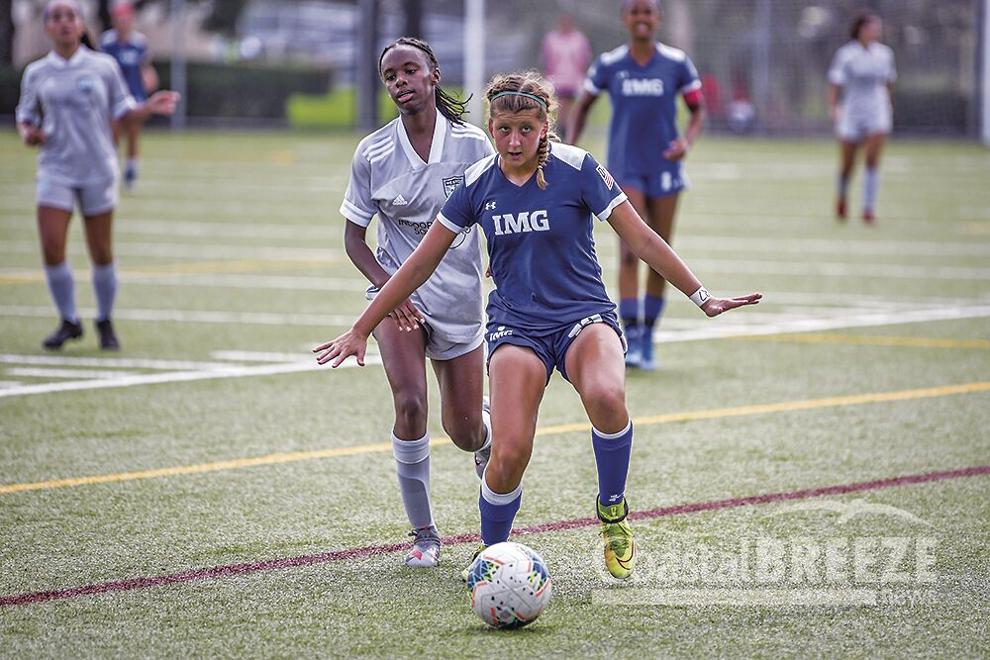 Entering IMG Academy was a heady experience for Sydney.
"The facilities and training is much different than here," she said. "It's at a much higher level. I did get a high level here, playing so young with older people, but it's just such a different experience. It definitely made me much stronger, much more aware, and much better skill wise, learning from all these different people and all these different coaches from all over the place. There's a lot of coaches. We have coaches for everything. So, everything you want to work on, you're improving constantly with all of those coaches."
Lyndsi and Adam decided to make sacrifices to allow their youngest child to pursue her dreams.
"We started making a lot of family sacrifices," Lyndsi said. "We've been living separately for two years. I'm living up there with her. Helping with home schooling, taking her to practice and training. Extra training and doctor's appointments. My husband is here working a lot so we can support her wanting to be a soccer player. She has a coach, she has a trainer, and she also has a coach for the mental game. They hit every aspect of the whole person at IMG. It's not just to get on the soccer field and kick the ball. There's a lot of mental training, along with the physical in the gym, speed and agility. They really make a well-rounded athlete. It's a really professional environment for a 14-year-old."
Sydney calls her experience at IMG Academy the opportunity of a lifetime. But it isn't easy. All of the athletes at IMG Academy are special. The competition in intense. There is pressure. It can be stressful.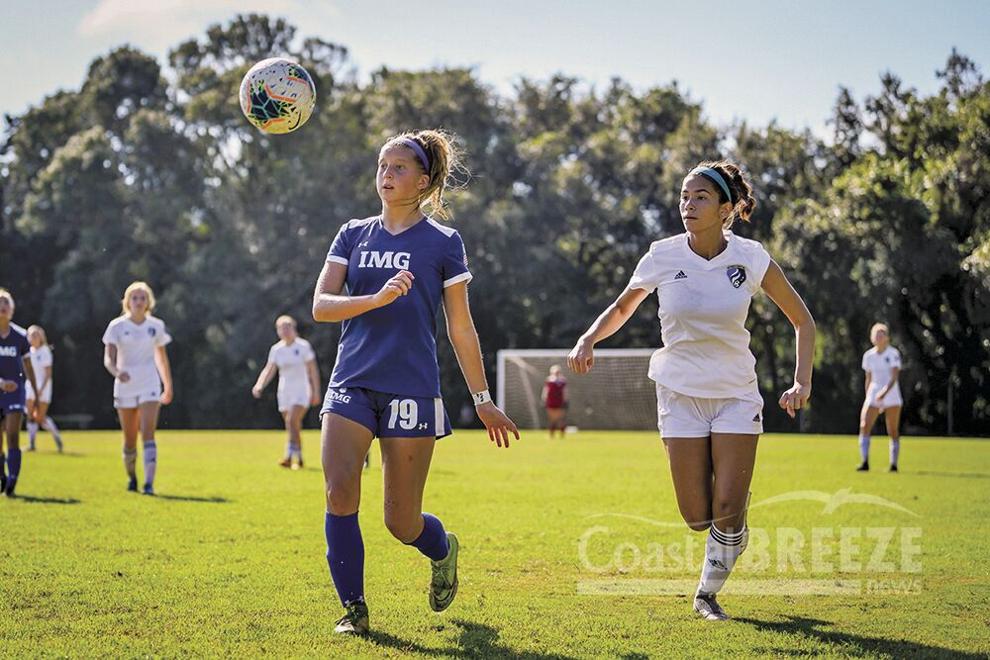 "It's fun," Sydney said, "Sometimes it's a little stressful to balance your personal life and soccer. It's a boarding school. So, your personal life and soccer automatically combine. So sometimes it can be stressful and mentally challenging. But it is such a good program - and it definitely does help with a lot. And just the pressure aspect - it is a lot of pressure. Especially this year after going to nationals, to getting all these new players, to working with a new team. It is a lot of pressure this year. But as a team we're working together. It's a great environment for the most part."
So where does the pressure come from?
"From ourselves," she said. "We do put a lot of pressure on ourselves. And it comes from our coaches. They push us a lot to be the greatest we can be. We just work so hard because we want to beat what we did last year. And automatically improve. And work with these better teams, and beat these teams, and work just as hard."
Sydney's IMG Academy team last year set the bar pretty high, making it all the way to the national championship game, where they dropped a 2-1 decision in overtime. It was a team that was not supposed to reach such heights.
"We were never supposed to get out of our conference," she said. "And we did win our conference, which put us into the playoffs. In California we keep winning and winning, and we get to the Final Four. We finally traveled to North Carolina to get to the semi-finals and the finals. The game was rough in the semi-finals. We pushed and we pushed and we won the game. We get to the final, we're down 1-0 and we score to tie it with 20-30 minutes left in the game. We keep pushing to get another goal, and we keep missing our chances. We go into overtime. In overtime the other team scores. We kept trying to push for that goal, but we didn't get it. So sadly, we did lose. But we finished second. It's pretty good to finish second when people didn't even think we'd make it out of our conference. We only had a 12-player roster. And 11 people play. So, we only had one substitute the whole year. We had three players with sprained ankles in the finals. I sprained my ankle in the semi-final. We had a couple of other girls with pulled groins."
She said there's a lot to like at IMG.
"The best thing is probably the training and my team," she said. "My team is like my family. The majority of us have been together for two years. We were a fresh new team last year. We were all new. We were very connected from the start - especially being such a small team to start with. We had our ups and downs. We're like siblings, you fight, but you love them. We were very close. We push each other and are hard on each other. We make each other better. My team and the training are two of the best things there."
The IMG experience has exposed Sydney to athletes from across the U.S.
"My teammates are from all over," she said. "I have a teammate from Hawaii. We have a girl from New Jersey, Pennsylvania and New York. A couple of girls from Texas. A girl from California, Virginia and South Carolina. I think I'm the only one from Florida."
Competing at IMG is giving Sydney a taste of what it's like to be a professional soccer player.
"Bus rides are long, of course," she said. "When we go to the Carolinas we usually travel by bus as a team. It's usually fun. We play music. We hype ourselves up. We talk. Get caught up. Relax a bit. Everybody usually sleeps for the first part of it. Then we get lunch, and that's when everybody starts to wake up. Overall, it is a good experience to travel with the team."
All of her teammates are talented.
"We have very talented players on our team," she said. "Everyone is very skillful in their own way. We have a player who is very good at dribbling - she can dribble down the line. We have really good keepers. Our forwards are very good. We have very technical players. We're very good at playing together and playing off of each other."
One stressful situation is the competition of new players coming in, competing for the precious few spots on the team.
"That's the stressful part," Lyndsi says, nodding to her daughter.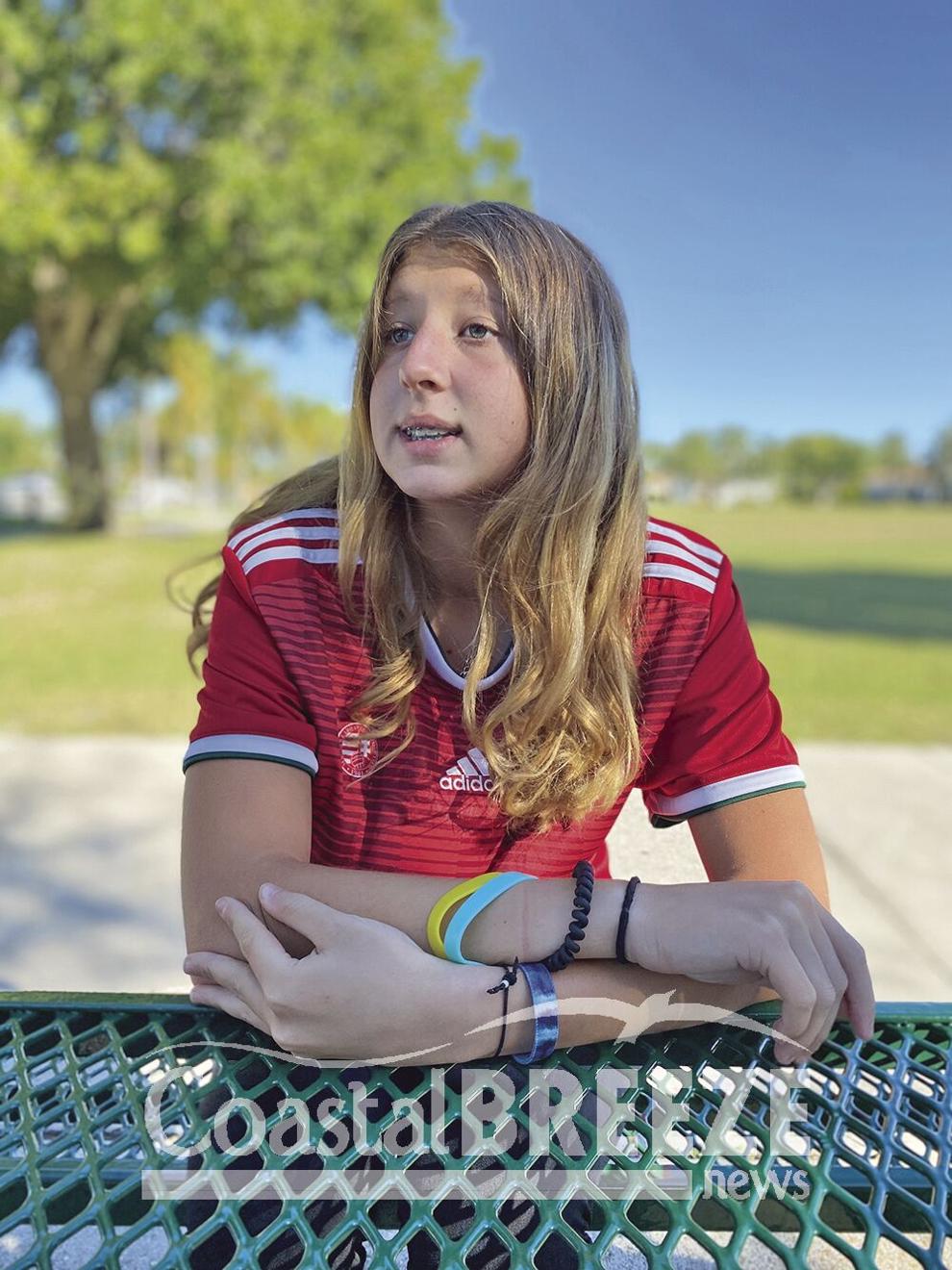 "New players coming in," Sydney said. "We all just combined for the most part. All the new girls start on the field for the most part. Except for one of them. Positioning wise, it is a bit of a struggle to fight for your position. To work and try to be better. Sometimes it's not so much who's better, but who fits better for the team we're playing against, who fits with the dynamic. A lot of aspects play into it."
Adam Koszo sent a video of his daughter to the Hungary national team. Adam was born and raised in Hungary. Because she has dual citizenship, Sydney is eligible to play for the Hungary national team. It turns out they liked what they saw on the video Adam sent. An endorsement letter from Amy Wambach was the icing on the cake. The Carvelli Restaurant Group on Marco Island paid for Sydney's flight to Hungary.
"She got over there," Lyndsi said, "and they liked her. It's been a big self-esteem builder. They absolutely loved her over there. They offered her a spot immediately to start on the Hungary under-17 national team. And for a 14-year-old, that's pretty cool. She did get injured. She was supposed to go to Norway the next week. But she sprained her MCL. They replaced her on the roster, of course. But she gets another chance in February. Pretty much the whole month of February she's going to be in Hungary."
"I have just come off of a knee injury," Sydney said. "I sprained my MCL a week before I went to Hungary. I did play on top of it. And it felt fine. It healed. Then the following day I had a game back here. I traveled the day before and played in that game. I re-sprained it. I've been out for two-and-a-half weeks. I'm starting to get my fitness back and getting back into the groove of everything."
She liked the taste of professional soccer she got while she was in Hungary.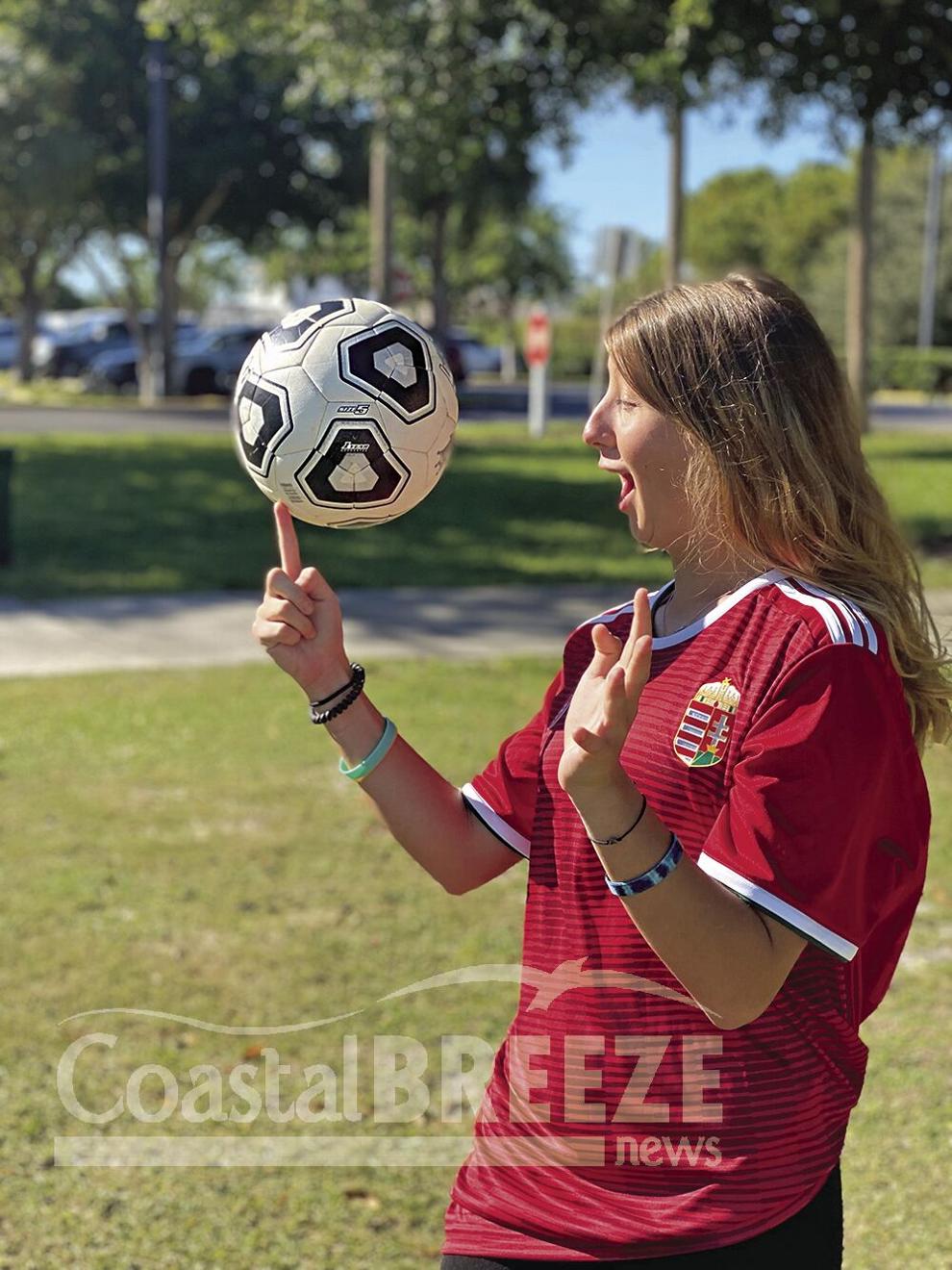 "Hungary is a professional team," Sydney said. "People come from all over the country to go and play. I met everyone. And I talked to them. The coaches are extremely nice. The trainings are so intense and technical. So, you're automatically getting better. You work for a team, so you learn to get comfortable with new players, and working with different people. For me it's different because they speak very little English. And I speak very little Hungarian. I understand more than I speak. With soccer, you do need to speak. But you know what they want from reading the game. It was difficult to speak and learn some of the drills and some of the tactical work. But one of the assistant coaches did speak English, so she was able to translate some of the stuff for me. So, I was able to understand and learn with the new team. It was an amazing experience. Team bonding wise, it's very good. It's so professional. You always wear the same thing as the team. And you work really hard for all of it. For the most part it's very well put together. A very professional environment. Everything's very by the book. Everyone works well together. Everything you do, it's always together. So, there's a lot of team bonding."
Back at IMG Academy, Sydney has to balance a rigorous academic regime with her athletic challenges. She finds the academics more challenging than the soccer.
"School is harder," she said. "Just the balance of it all. It's very stressful. I usually have two or three essays due a day. Depending on the class. In history and English, I have to write essays for both classes. The essays are just so time consuming. The essays are definitely the hardest part. I don't have a lot of time in my schedule, so I have to find a way to make time. So, I can get the school work done so I'm eligible to play in our games and train."
While most IMG students board at the school, Sydney is a non-boarding student athlete. 
"I'd love for her to board at IMG," mother Lyndsi said. "I don't know if you know the price tag at IMG. It's extremely high. It's $80,000 a year. We're just really, really, lucky that they take her as an athlete. Because they like to have them board onsite. That's the reason we decided to move up there. Next year's another year. They'll either want her to stay or they'll…it's basically a try-out every year. But now that she's made the Hungary National Team, and she's got offers from Hungary, it's kind of opened the door for other places. So, it's given her more opportunity, more flexibility. So, she doesn't have to stress out whenever IMG doesn't get back to us for months. Because they're constantly looking for players. They constantly scout as well. So, they might find somebody that they like better than her."
So, is all the hard work, competition, essays, stress and pressure worth it to 14-year-old Sydney? 
"Yes," Sydney answers without hesitation. "It's a once in a lifetime opportunity."