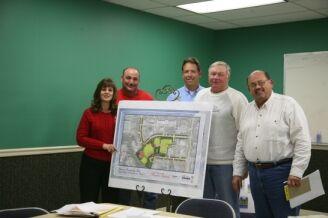 Recently a group of residents met at Mackle Park to discuss applying for available grant monies through the State of Florida to plant trees at Veteran's Community Park. Carla Mickes explained the various processes and requirements for grant applications as gathered from  Parks and Recreation Director,  Bryan Milk and Leslie Sanford from the City of Marco Island's Public Utilities Department.      
The goal of the committee is to plant trees in small clusters in different areas of Veteran's Community Park to enhance the park's visual appeal and increase the usability of the park by offering shade during the summer months.    
Committee members are: Carla Mickes, Bryan Hauser, Bryan Milk, Bob Bowe, Steve Stefanides, Barbara Murphy, and Val Simon. The group is working to meet grant application deadlines and increase public awareness of their efforts.