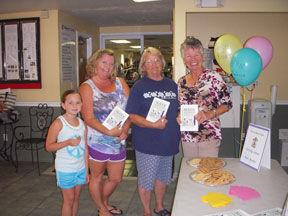 Most people expect to receive presents on their birthday. Not so with local author, Terry Helwig who arrived at the Marco Island YMCA to celebrate her special day, Monday, April 23rd, with cookies, balloons, and gifts to give out to others. Parents arriving to pick up their children from the Marco Island Day Care Center were given the opportunity to receive a free copy of best selling author and Pulitzer Prize nominee, Maya Angelou's book, "I Know Why the Caged Bird Sings."
Ms. Helwig was there as a representative of the nationwide World Book Night to pass out the books, which were provided free of charge, by various book publishers and others such as the American Booksellers Association, the American Library Association and a dozen book printers and binders. The books were special editions published expressly for this occasion. Although World Book Night was started in the U.K. and Ireland, this is the first year that the United States has been involved. April 23rd was chosen as it is Shakespeare's birthday.
Volunteers were given a list of 30 book titles to choose from, with the authors forgoing royalties, and received 20 copies of the book they chose to pass out. The purpose of World Book Night is to encourage reading as a life-long passion. In this way parents of young children can set a great example.
For a number of years our local Kiwanis Club has sponsored the Reading is Fundamental program at both the Tommy Barfield and Manatee Elementary schools. These two schools are a part of nearly 20,000 RIF programs providing 16 million new, free books to young children. World Book Night is attempting to reach people who may not have ready access to books through local schools, libraries and bookstores
Terry Helwig, author of the recently published "Moonlight on Linoleum: A Daughter's Memoir," was chosen to be one of 50,000 volunteers, each giving away 20 books in their communities. She says that she chose Ms. Angelou's book because it showed her strength of character and love of literature which helped her overcome hardship. Because of her own chaotic childhood she found she could relate to the story being told in the book and thought others might as well.