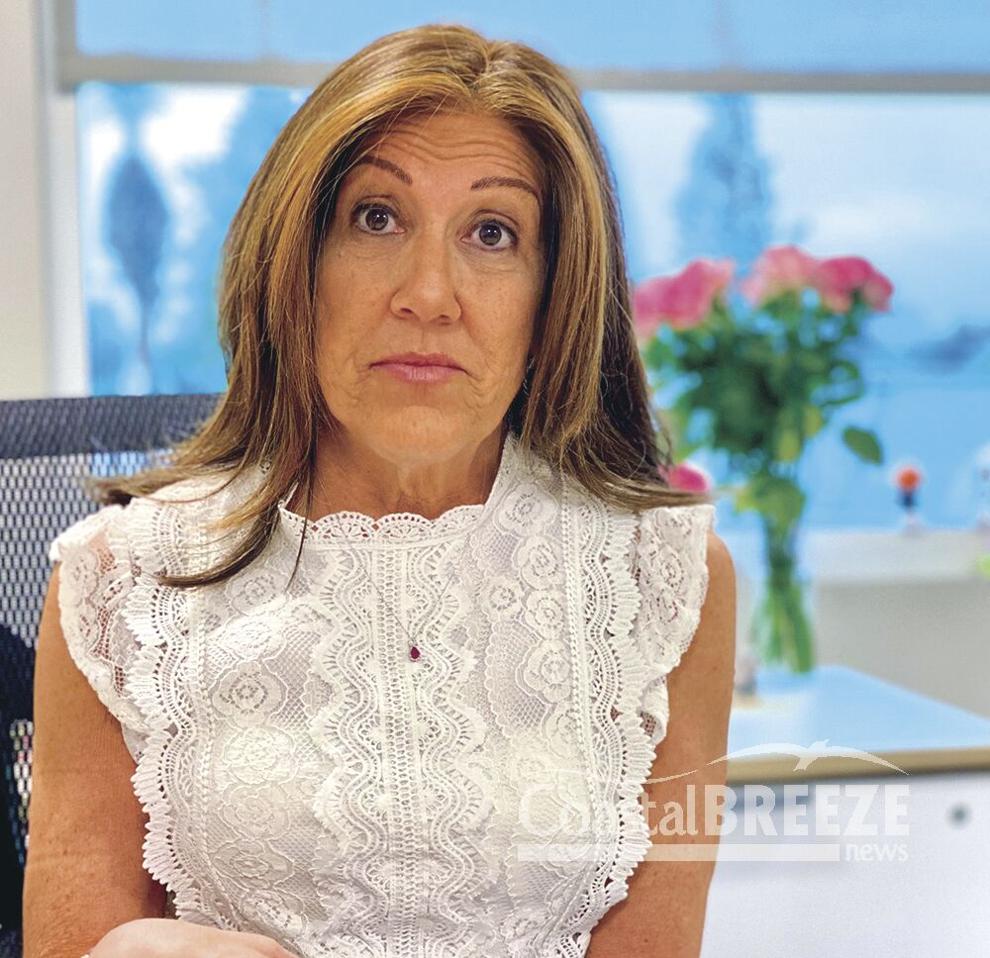 Deneen Rose is a strong woman. But breast cancer will test the mettle of even the very toughest.
"It was back in April," Deneen Rose recalls. "I kinda had something going on. But the first thing is, you don't want to face it. Then something just came inside of me and said, 'You've got to go to the doctor.' Obviously, they kind of had a feeling, too. I did my mammogram and the next day I went to work. It was 9:08 to be exact. They called me up and said I had breast cancer."
At this point Rose is moved to tears as she recalls hearing those words at her desk at Marco Island Academy, where she's part of the school's leadership team as office administrator.
"Excuse me," she said, composing herself as she recalled the scene that unfolded just five months ago. "The kids are coming back and forth into my office. I was trying to keep that face on. But in the back of my mind my first thoughts were of my two girls. How do you tell your daughters? So, all day I stayed and worked."
Rose went to principal Melissa Scott, who has been a rock for her.
"I did go to my boss, Melissa," Rose said. "I let her know. Of course, the support system she gave me was phenomenal. All she did was give me the biggest hug and said, 'You're gonna make this. You're going to get through this. You're a strong person.'"
"Deneen is one of the strongest women I know," Melissa Scott said. "She is my tiny warrior. When she was diagnosed, all I wanted to do was fix it. But since I am not a medical professional, I wanted her to feel as loved and supported as she has always made us feel. She has handled this journey with strength, grace, and courage."
"As the day went on, I kept thinking of my girls, my girls, my girls," Rose said. "I went home, and both of them weren't home at the same time. And they're different as night and day. I told my oldest, Gianna. She just said, 'You're going to be okay.' She was white as a ghost, but she said, 'You're going to be okay.' Then she just left. But she got in her car and she cried. She wanted to be strong for me. So, we were both holding back everything."
Then her youngest daughter returned from basketball practice at Lely High School, where she's captain of the team.
"Then I told my second daughter, Francesca. She was the complete opposite. She broke down in tears. I just told her, 'I'm going to be okay, I'm going to be okay.' They went together and spoke about everything."
Once diagnosed, the doctor appointments quickly lined up for Rose.
"Right after that is when the doctor appointments just started," she said. "I didn't know what it was. What stage, what type. Is it all through my body? When you do get diagnosed, at least for me, I just said, 'It's all through by body. I'm going to die.' That's how I was looking at it. It just goes crazy. My primary doctor just put a move on everything. Sent me to a breast surgeon right off the bat. Scan after scan after scan. They did diagnose me with Stage Two invasive. It's the most common cancer that women get. But the lucky thing for me, it was contained. But even being contained, you're like, 'Oh my gosh, what's happening? Is it traveling?' My breast doctor sent me to an oncologist, and they put me on chemo in a matter of three weeks. Because what she wanted to do was shrink my tumor first before she did the operation."
The chemotherapy worked.
"It did, it shrank it," Rose said. "I had to go for four rounds, three weeks in between. And I have to say, that was one of the hardest battles," Rose said, bursting into tears, "that I ever had to do."
Due to COVID restrictions, Rose had to attend her chemotherapy alone.
"With COVID," she said, "I couldn't bring anybody with me. All these people who were doing it, were doing it by themselves. Your mind just races. I went through the chemo, and I'm not going to say that's the easiest thing I ever had to do because your inside and outside changes. Your mind is basically shot. You go on an emotional rollercoaster. One day you say, 'I'm going to beat this, I'm going to be fine. I've got a life ahead of me. There are so many things I want to do.' Then there's another day you just go into complete darkness. It's just uncontrollable. I still try to keep a happy front on for my daughters. I know I've raised two strong, strong daughters that walked me through this," she said, as the memory brings her to tears. "And it's nothing that any daughter should have to watch her mom go through. But they helped me. Everybody. I don't even know how to explain."
Rose decided to keep her cancer private. Only her family knew. Her home family and her MIA family.
 "I kept this very private," she said. "Because I wanted this journey to be between me and my family. And of course, my work family. They had to know. The reason why I did that is because I'm a private person as it is. I didn't want to have everybody coming up to me with the tilted head saying, 'Oh my gosh, what do you have to do now?' You have to make your mind strong. You have to make your body strong to get through chemo. Because it just takes you down to near death because you're getting poison put into your body. I wanted to stay focused and do exactly what my doctors were telling me to do. The good thing for me, my whole team of doctors told me, is that I was healthy, I was fit, and that was half my battle. Because if you're not, you can't. You don't have an ounce of energy. If your body isn't fit, you crumple to nothing. You don't want to lose the weight, but you lose the weight. Because you can't eat. Even though you're hungry, you can't eat. You lose your taste buds. It tears you apart. And nobody really understands that until you go through it. I mean, I've seen a lot of cancer patients. I could not even fathom. And then when you're in that situation, you're just wondering, 'what should I do next?'"
What Rose did next was lean on her family - and keep a positive mental attitude, no matter what.
"What got me through was my family," she said, "and being positive. Being super positive and keeping looking forward. Never looking back. If you're in darkness, you look up and find your stars. And you just keep on going with that."
A song by Christian musician Jeremy Camp also helped Rose cope.
"When I first got diagnosed," Rose recalls, "someone sent me a song by Jeremy Camp, called "Out of My Hands." It's a very religious song. I listened to the song every single day, going to doctor appointments. At that point, when you feel you've given it your all, you're leaving everything in God's hands. That helped me tremendously. Just listening to stuff like that. And surrounding myself with positive people. I also think I was an advocate for myself. Everyone was telling me to go to these groups. I started venturing into stuff like that. But when you're looking at it, every person goes into it differently. They could have the same exact stage as you, but they might not pull through it in a certain way that I pulled through it, or vice versa. That will also stay in your mind. Because your confidence is just shot. You just want to throw that white towel in," Rose said, bursting into tears.
So, what kept Rose going when she felt like throwing in the towel?
"My girls," she said through tear-filled eyes. "Because they're too young not to have a mom. And there's so much more that I want to see them complete. I don't want to be a granny yet," she laughed. "But I'd like to be a grandmother. I want to watch out for them. This was never in my family. Never had this run in my family."
Rose has been with MIA from the beginning. She was a substitute teacher when the school operated out of the Family Church on Winterberry Drive. Then she became the school's receptionist and finally the office administrator. Her dream of seeing the beautiful new campus completed was coming true while she fought her private battle.
"The chemo started on June 3," she said. "We still had to close up the campus. I had it on June 3 and on June 10 I was helping clean out the campus - a 13-hour day. That was after my first round of treatment. My second round wasn't the best. I thought, 'this first round was easy, I'm going to take this.' But it hits you like a brick wall. Because you can be like this one minute, then want to go to sleep. You don't want to talk to anybody. You just want to curl up in a ball and hopefully let it be over with. I still have a life that I want to live. I still want my girls to see me every day. And of course, I want to see them every day."
After successfully completing chemotherapy, Rose was sent for an MRI.
"After the chemo you have to have an MRI to make sure that it shrunk and all that," she said. "Of course, it doesn't come back right away. It comes back and they say, 'You've got a spot on your sternum.'  So, then I went, 'okay, it spread.' Then I had to go for a bone scan. So that took like maybe three days, so that was three days of worry. So that's what I mean by the emotional rollercoaster. So I went, I got the results - it was clear. It might have been the motion. You have to lay forward. And it's a metal bar. As soon as somebody tells me to stay still, all I want to do is move. And I think I kept a lot of my sense of humor as I went through this. I was trying to make myself laugh. When I'm in really scary or serious situations, I talk really fast and I laugh."
Rose tried to put on a brave front, even when she feared things were going wrong.
"So that came back clear," Rose said. "But what I'm trying to get at is that stress level that you have. When people ask if you're okay, you say, 'Oh, yeah, I'm fine.' I didn't dare tell my girls that. Why should I have them worry until I got results back if it was bad? So, I didn't. I was scheduled for my mastectomy; I had a bi-lateral one. That Monday I had to go for my lab work and a COVID test. I came home, eight o'clock at night, and my doctor said, 'Your lab work was fine. You tested positive for COVID.' All I did was cry. That meant my surgery for September 2 was canceled. And it's not like you just go next week. It's a schedule. It goes by your level of seriousness. When I tested positive, I just started crying. What else could I do? That means it's going to start spreading. And I'm back to dying. So, she said she wants me to go back for another test tomorrow morning. So, I went and tested negative."
Rose's surgery for September 2 was back on track.
Follow Deneen's battle with this two-part series. Part Two, Life After Surgery, will appear in the October 21st edition.