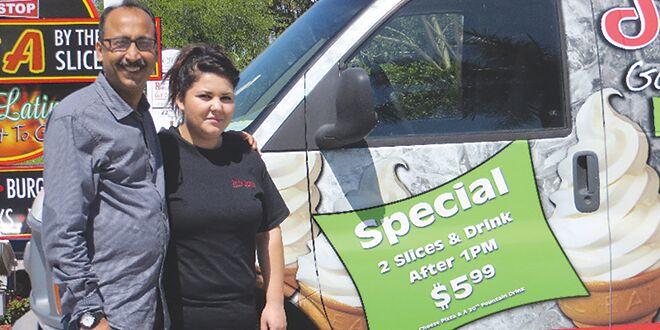 By Pat Newman
Sami Rahman of Sami's Kwik Stop is conquering the food world one country at a time. Nine years ago, he added a delectable selection of Mexican favorites to the store which also carries all the staples a Kwik Stop would be known for. The Mexican food has become a lunch time favorite among islanders ever since. Then, two years ago, a pizza kitchen was introduced and according to Sami, "I'm very pleased with the response! Everyone LOVES our pizza, most of our business comes from word of mouth!" His Pizza Grande New York style pizza is as good as it gets. He sells 14 inch or 18 inch customized pies and of course, the always hot and available slices of pizza in paradise. Sami's Kwik Stop will not stop there! "Now we're adding Indian specialties made in our tandoori oven, a different Italian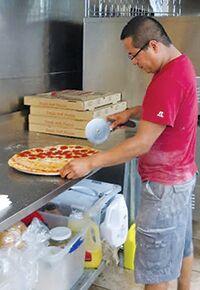 pasta dish will be added to the daily selections, we already offer Gyros and now, fresh salads! Whether you want a Greek salad, Caesar salad or House salad, we will make it using our freshest ingredients." You can also get a hot or cold sub, chicken wings or a variety of Angus beef burgers. Sami is well known on Marco Island having spent the last 15 years building his modest business into a unique combination of store and food court. Sami has hired two chefs to prepare the specialties, admitting that he 'never fried an egg.' His background is in business. Sami attended Rutgers University in New Jersey and went on to work for American Express, CNN and World Travel Partners in Georgia. He made his move to Marco Island with family in tow in 1999.
Eventuall
y, he took over the Kwik Stop. Today,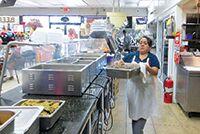 Trip Advisor has ranked Sami's as one of the best 'gourmet to go' establishments on Marco Island. His combination of eat-in or takeout is unique, and now you can even have it delivered to your door with their delivery service. "Say you're at home and hungry, and want some vanilla ice cream. You also need a gallon of milk. Call us and we will deliver," assures Sami. Of course, throwing in a stuffed calzone, Hawaiian Pizza or gyro can't hurt either. While Sami is father to an eleven year old daughter, he considers his business his "second child." He admits to being very "hands-on" when it comes to his business, and can be found behind the counter, in his office or chatting with customers on the floor daily. Sami's Kwik Stop and Pizza Grande is located at 227 N. Collier Boulevard on Marco Island. Check out their menu at www.
samiskwikstop.com
or, call ahead for the daily specials. 239-389-7499.