Representatives of the Florida Department of Transportation presented to city council the results of a feasibility study to bring a Marco Island Loop Trail for bicyclists and pedestrians to the island. The plan would create a shared-use path from the Marco Bridge to 951, north to US 41, east to SR 92, and finally south to the Goodland Bridge and back onto Marco Island.
Work on the Marco Island Loop Trail started over a year ago with research and analysis, alternative assessment, development of trail alternatives, and a final trails alternatives report.
"State road 951 is about 6.6 miles," said Tom Angela, FDOT District One representative and project manager for the Marco Island Loop Study. County Road 92 is 6.1 miles. Altogether, the loop would incorporate 28.9 miles. The state roadway is from Judge Jolly Bridge to Turner Road. And the county portion is from Goodland Bridge to US 41. This is a connection piece between the Sun Trail and Marco Island bike and pedestrian plan.
The Marco Island bike and pedestrian plan is nearing completion. The Sun Trail is complete.
"We started about a year out," Angela said, "and notice to proceed was presented in March of 2022. Field Review was established in June of 2022. Existing conditions were drafted in August of 2022. Community surveys went out in January. Community surveys took the form of a website where we directed citizens and residents of both Marco Island as well as Collier County and businesses along the corridor and HOAs along the corridor to fill out a survey. The survey basically went over different alternatives that we came up with after the initial background information was reviewed. We actually sought stakeholder's expertise in conducting this feasibility study. We reached out to the principals at Manatee Middle, Tommie Barfield, Marco Island Academy, as well as Collier Area Transit, the MPO, and the county. We've got a good distribution of surveys both on the Collier Area Transit, where our flier for this project was posted on the buses along the routes on the state road. We also provided surveys and information at multiple public events here in Marco Island. So the project description, the corridors are both on State Road 951 and County Road 92. Those are the corridors that we focused on."
Angela said both SR 951 and CR 92 need upgraded facilities.
"The majority of these two corridors are without sidewalks," Angela said. "They have limited bicycle facilities along these corridors. Providing a bicycle and pedestrian facility along these corridors would enhance safety system linkages. That's one thing we already went over. Again, it would link Marco Island to the Sun Trail. Socially, this would provide support for the healthy lifestyle of the residents here in Marco Island, as well as along the corridor socially and economically."
Theo Patrick of Landis Evans covered the results of the study.
"As you might expect," said Theo Patrick, "a separated facility in addition to buffered bike lanes got the greatest number of votes out there. We presented multiple options that we considered feasible. And by feasible, I mean they could be built, they could be permitted. For State Road 951, not surprisingly, the trail with the separated barrier between the roadway and the shared-use path was the most preferred option. The Henderson Creek Bridge is a very important part of this project because there's actually kids walking to school on the shoulder of the roadway and then crossing on the shoulder of this bridge. So this project is currently in the right-of-way phase. It has a ten-foot shared-use path on one side of it and a five-foot sidewalk on the other. County Road 92 is a lovely road. It's two lanes, and it's got no shoulders on it, and it's got canals on either side of the roadway. However, it is feasible to build these facilities out there."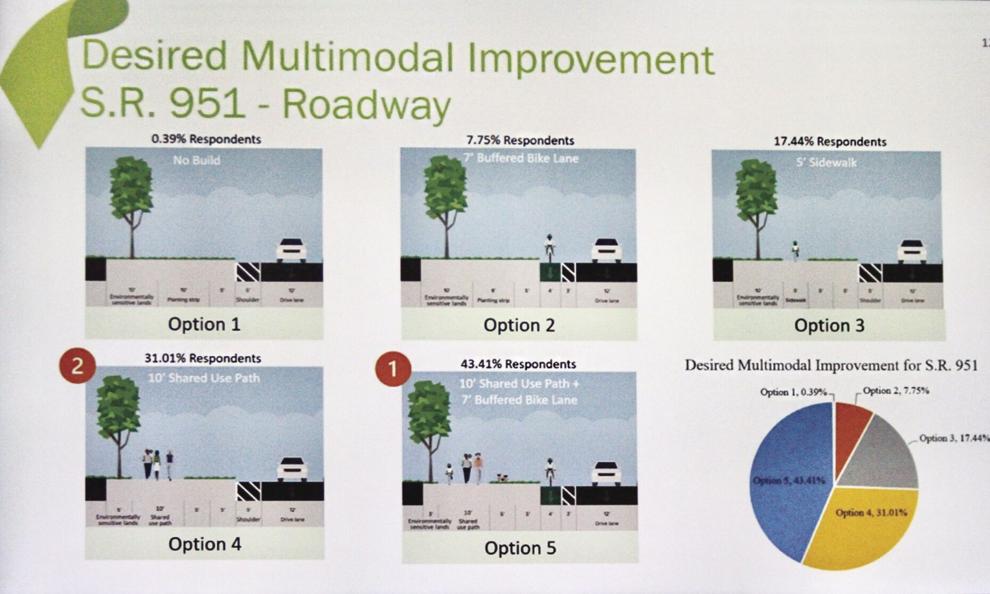 After it's been prioritized both by the MPO as well as the county in five to 10 years, the timing will be adjusted based on the priorities that are placed on it by the MPO and by the county. 
"One thing that is worth noting," Patrick said, "is that if a shared use path is built along State Road 951, FDOT will maintain that. If it is built along County Road 92, the county would have to make arrangements to maintain that facility." 
Councilor Erik Brechnitz had high praise for Al Musico, the longtime chairman of the island's Bike Path Committee.
"The shared use paths that exist from Barfield all the way out to Goodland and up on Barfield are the result of the hard work that Al Musico has done," Brechnitz said. "We wouldn't have any of that without his hard work. And he is probably the most unappreciated public servant that we have on Marco Island. Al, you've done a terrific job. You're a bulldog. And I really appreciate your involvement in all of this. Thank you."
Council chairman Greg Folley expressed concern about flooding on SR 92.
"I was just out there yesterday, actually," Folley said, "and it was high tide, and I think, as you're aware, at high tide, that water crests the canal and it actually starts to encroach on the road. So when you mitigate 92, are you going to elevate the roadway or will the bike path and sidewalk be elevated? In other words, to avoid that flooding?"
Patrick allayed his concerns.
"We've deemed it feasible," Patrick said, "we've got a great team and we've got one of the best hydrology guys in the state on our team. He says we can elevate it, says we can permit it so that for a given flood year, which is not annual because right now you stand about a 1% chance of flooding the entire area out there every year. The trail will be elevated or the sidewalk would be elevated. We saw that as today we drove in. You're right, the water comes almost up to the edge of the pavement."
Councilor Darrin Palumbo draws from personal bicycling experience on the very trail in question.
"I can speak a little bit about this as firsthand knowledge," Palumbo said. "Because I've ridden what we call the loop to the tune of thousands of miles. I can still do the 25 miles or so. I stopped because if you ever drive a car over the Goodland Bridge and you see somebody on a bike and you see how close you come to hitting them, I didn't want to be the person on the bike anymore, so I stopped riding the loop. I think this is a tremendous idea that'll bring a lot of business into our town. A lot of competitive bike riders spend money, they come and stay in hotels."
Chairman Folley wrapped things up for council.
"I think the one request you had is for a letter of support," Folley said. "I think there's consensus for that from everyone."
Folley then asked city manager Mike McNees to get a letter drafted for council to sign.