Rookery Bay National Estuarine Research Reserve hosted Florida Governor Ron DeSantis, water quality leaders, government officials, partners and advocates on Tuesday, November 16, 2021, where the Governor reiterated his commitment to water issues in the State of Florida. DeSantis highlighted his robust support for environmental protection of water resources. He said the state's budget for environmental resources would most likely exceed the original $2.5 billion proposed three years ago and would be on target to surpass $3 billion by years' end.
DeSantis told the invited group "with our recommendations, we will not only have kept the promises and met the standards that we set, we will also have exceeded what we promised to do." DeSantis claimed his proposed budget, if approved, would bring environmental spending to nearly $3 billion on his watch. When he took office in 2019, he pledged to dedicate $2.5 billion in federal and state funds to the Everglades and water improvement programs in Florida over his four-year term.
Florida Chief Science Officer Mark Rains, also in attendance, told the group "the environment is a foundation of so much in Florida, from the economy all the way down to our way of life."
"We face a lot of environmental challenges here in Florida; we are a low-lying state, we're surrounded on three sides by oceans, and so perhaps none are more pressing than sea level rise and recurrent flooding and building more resilient communities for our future. These challenges are complicated, and the solutions are both complicated and difficult to implement. But under his continued leadership, we're taking these things head on."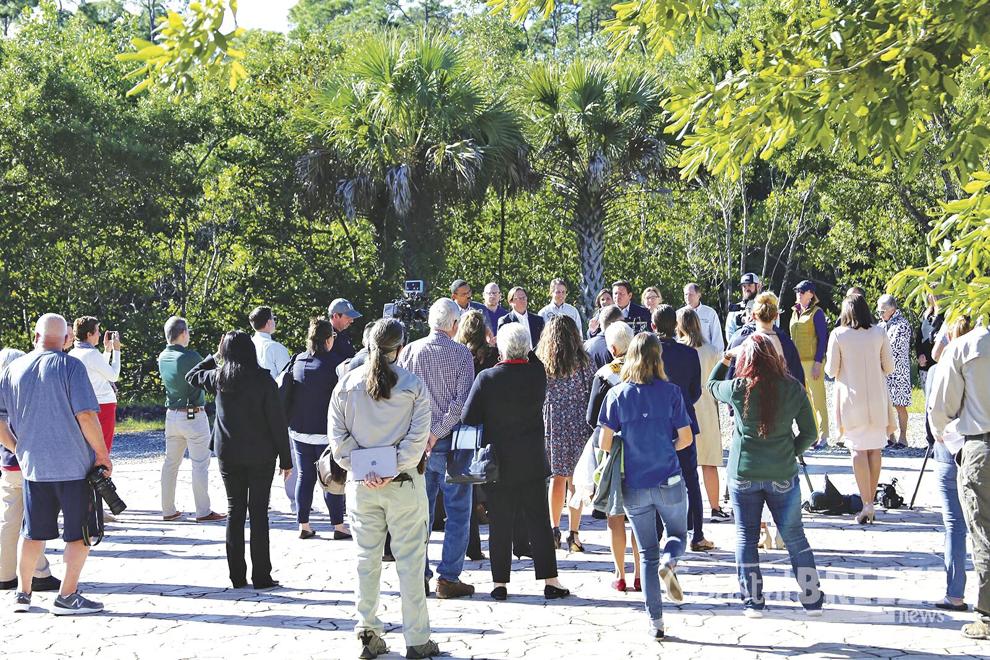 Florida Environmental Protection Secretary Shawn Hamilton also commended the governor and legislature for their commitment to environmental funding. Hamilton said DEP in September received 581 applications for $2.3 billion worth of Resilient Florida projects, but with just $500 million to actually spend on them.
"This historic funding of $500 million will help us work with local communities to ensure they are prepared for the impacts of climate change, including sea level rise, intensified storms and inland flooding," Hamilton said, adding that the grants will also help cities plan for what they need to do to defend their communities from the worsening weather."
The Governor's proposal for the FY 2022-2023 environmental budget recommendation includes major investments in Everglades restoration and water quality protection, as well as investments to support state and local communities with efforts to prepare for impacts from sea level rise, storms, and flooding. The budget will come up during the next regular legislative session in January.