---
Gopher tortoises are medium sized land turtles and get their name from their ability to dig large deep burrows - a burrow on average is somewhere between 15 feet long and six feet deep. 
It has been a very busy spring for Marco's burrow dwellers, both burrowing owls and gopher tortoises. Currently most of the burrowing owl chicks are slowly learning to fly and hunt. In the neighborhoods of Marco Island with a large population of gopher tortoises, gopher tortoises are becoming increasingly more active.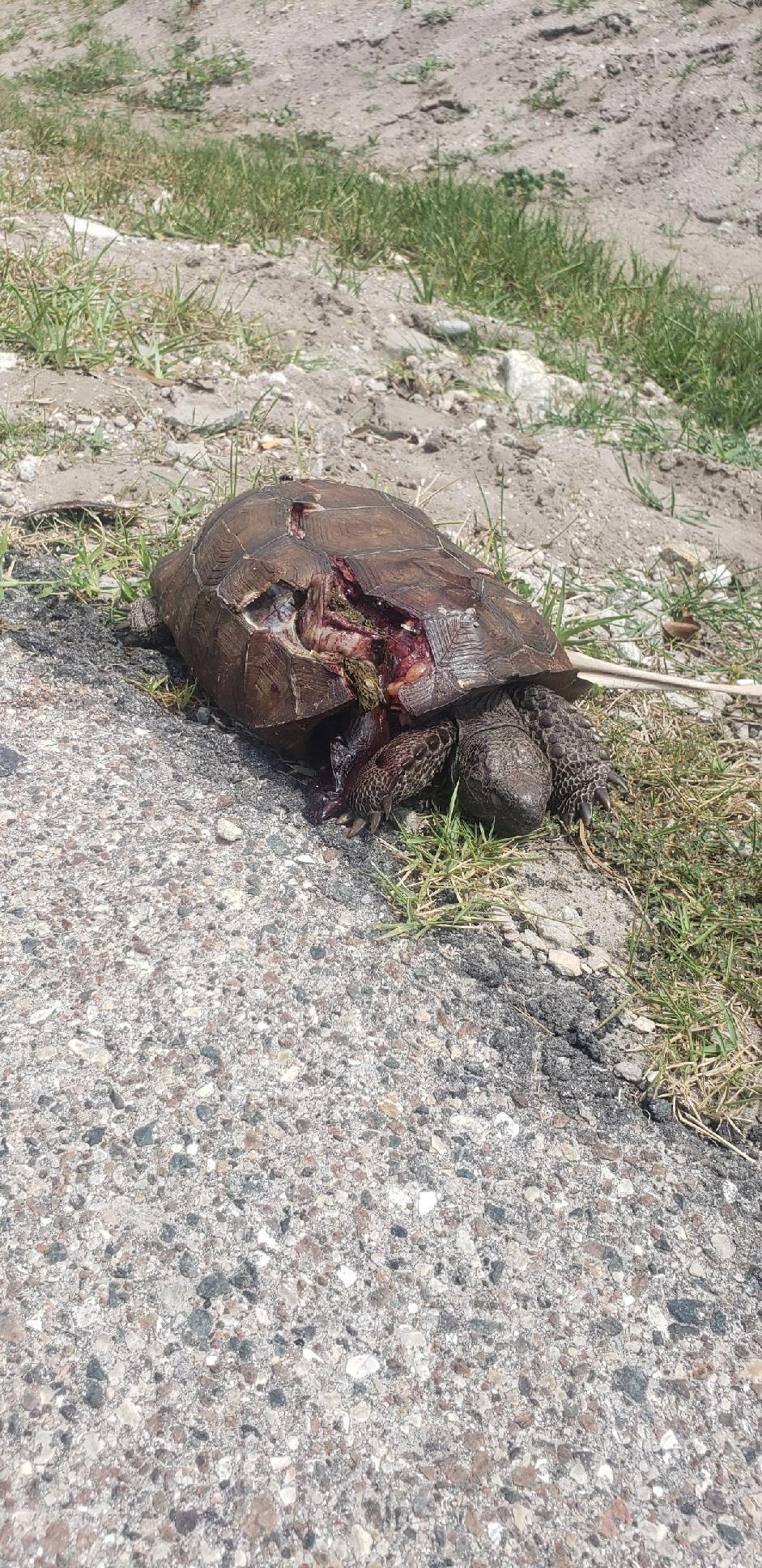 It is mating season for gopher tortoises (April through July) with females laying eggs sometime between May and June. Gophers have been leaving their underground burrows more frequently in search of greenery to eat and to find mates. 
The sandy mound in front of a tortoise burrow is known as an "apron," and this is where females lay their eggs to ensure there is plenty of sunlight for incubation. One clutch will have an average of six eggs that will hatch between August and September and hatchlings will use their parents burrow or will dig their own nearby.
In Marco, habitat loss is the biggest threat to the gopher tortoises as more and more homes have taken away many of their vacant lot habitats. According to FWC, vehicle-caused mortality is a large contributor to gopher tortoise death. Gopher tortoises often cross the street to forage for food or to check out a mate. They are slow moving and are no match for speeding cars.
According to Brittany Piersma, field biologist for the Audubon of the Western Everglades (AWE), she has surveyed 128 properties and counted 1,345 potentially occupied burrows. With the help of volunteers, Piersma will continue to count gopher tortoise burrows and educate the public about the importance of protecting the gopher tortoise.
Gopher tortoise surveying sometimes include walking through dense vegetation on vacant lots. Surveyors will measure, flag, and take notes on each burrow found. Larger lots may take up to four hours to survey and Piersma is very appreciative of the many volunteers who've joined the survey team. If interested in having your property surveyed, please contact: audubonwe@live.com.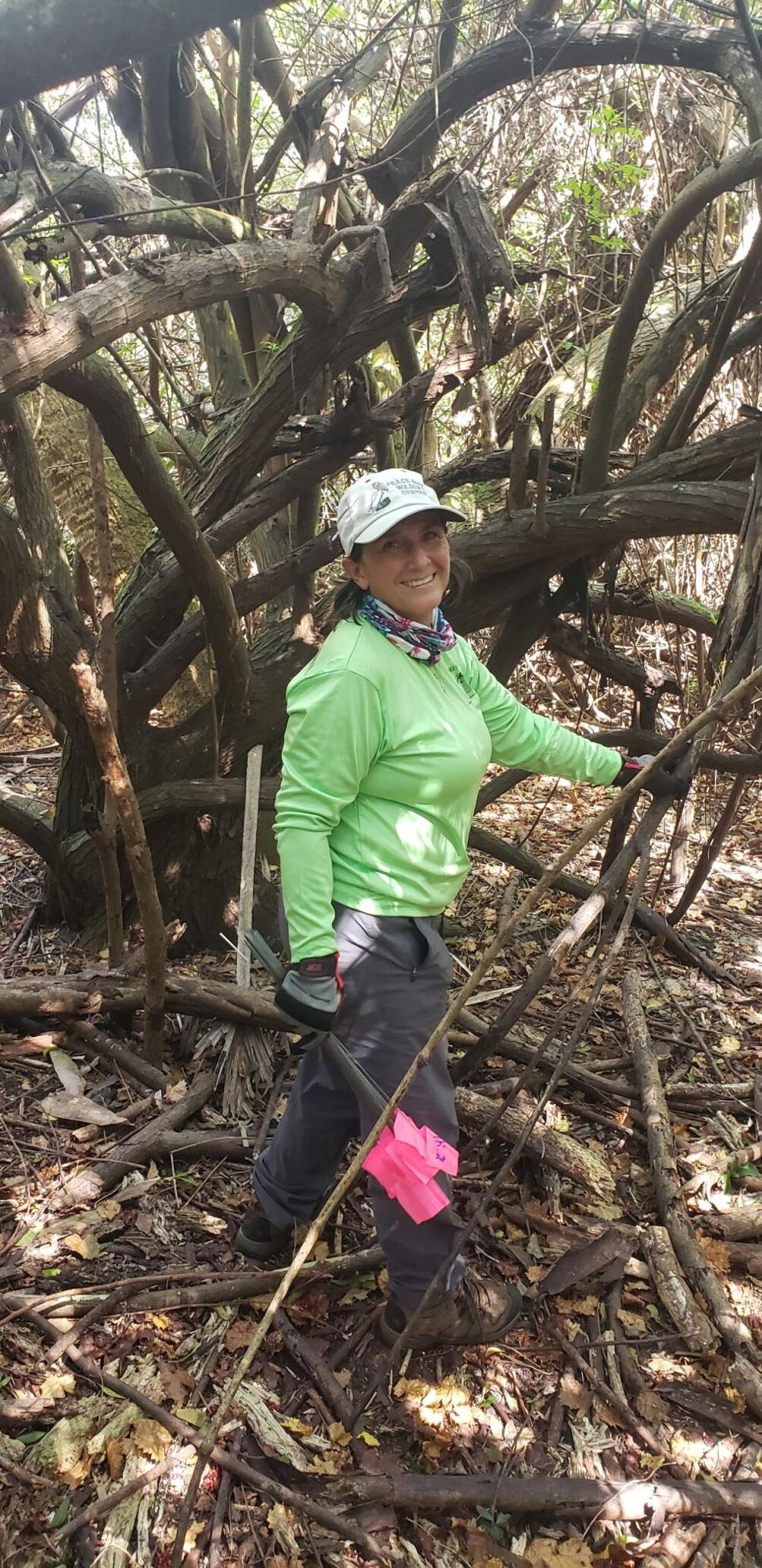 The Florida Fish and Wildlife Conservation Commission's (FWC) Gopher Tortoise Program recognizes the critical role private property owners play in conserving the gopher tortoise and has developed a Gopher Tortoise Friendly Yard Recognition Program. They are providing a recognition sign and certificate to property owners that take all possible steps to conserve the gopher tortoises that coexist on their property. This is also a very effective way to increase the public awareness of gopher tortoise conservation. I have applied and has received approval from FWC and am waiting for the FWC Conservation sign.
A single gopher tortoise may dig more than one burrow and in the Estates area and this has attracted the opportunistic burrowing owls. Owl monitors have observed that burrowing owls and their chicks have moved into several unoccupied gopher tortoise burrows. 
The burrowing owls are not giving up easily even in the midst of construction activities. Monitors have observed them digging burrows and raising their chicks alongside construction sites. Thanks to the builders and homeowners that are keeping them safe until the chicks fledge. 
With mating season in high gear for both the gophers and burrowing owl chicks learning to fly and hunt, our wildlife needs an extra help from humans.
How can we help our wildlife?
Observe speed limits in areas with high population of gopher tortoises and burrowing owls. 
When driving, scan the road and shoulder for gopher tortoises; they are slow moving, so please allow them to cross the road. 
You may help the tortoise cross the road by placing it out of harm's way in the same direction that it was going. Only if it is safe for you!
Limit use of pesticides in your landscape for both burrowing owls and gopher tortoises.
Report malicious destruction or harassment of burrows to FWC: 1-888-404-FWCC (3922).
Report injured owls and gopher tortoises to von Arx Wildlife Hospital at: 239-262-2273.
Also report injured owls to: owlwatchmarco@gmail.com.
---