---
In Florida, the gopher tortoise (Gopherus polyphemus) is listed as a threatened species. Both the tortoise and its burrow are protected under state law. Gopher tortoises are medium sized land turtles and get their name from their ability to dig large deep burrows – a burrow on average is somewhere between 15 feet long and six feet deep.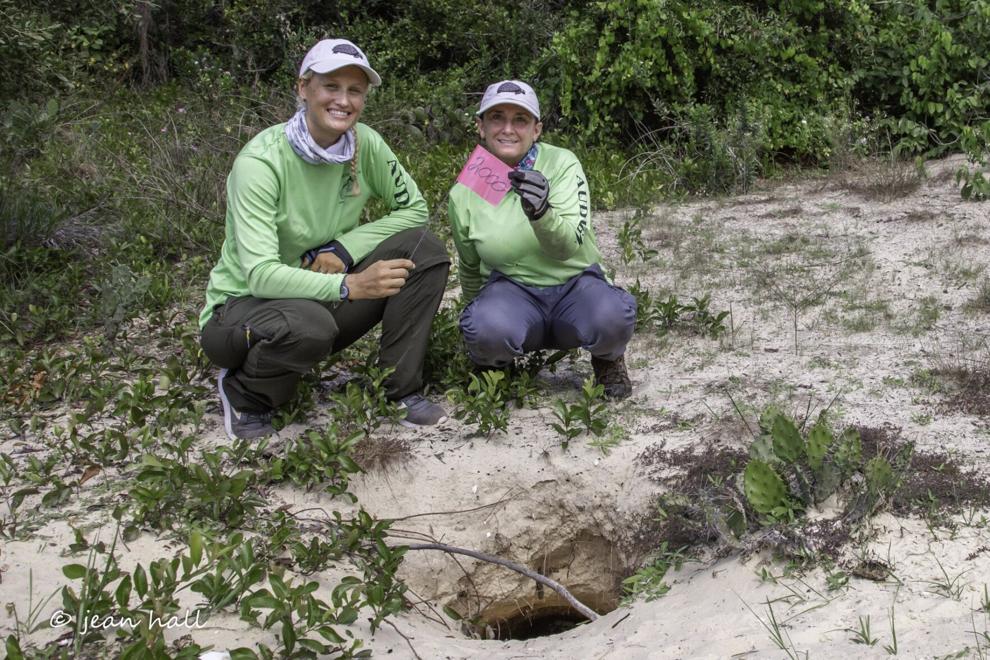 Do you have gopher tortoises or burrows on your property? According to Tonia Selmeski, Environmental Planner for City of Marco Island, "the Beach & Coastal Resources Advisory Committee (BACR) has purchased Gopher Tortoise Protection signs to assist property owners in replacing faded or damaged signs on their property. These signs are at no cost to the property owner. If you have a sign(s) in need of replacement, City staff will be more than happy to replace the sign for you. If interested in having your signs replaced, please send an email to: tselmeski@cityofmarcoisland.com or call her at 239-389-3949.
Selmeski also added that Marco Island is fortunate to have a large population of this tortoise species. By maintaining the sign on your property, it will continue to bring awareness to the public and help to prevent the collapse of their burrows from commercial mowers, the illegal parking of vehicles/heavy equipment, illegal dumping, etc.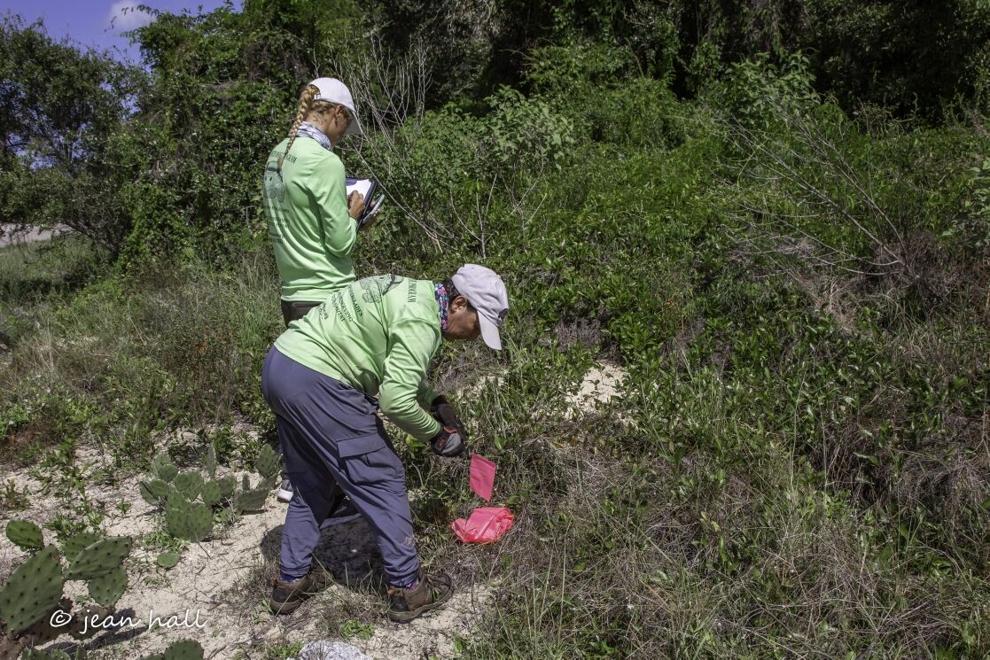 Brittany Piersma, lead biologist for the Audubon of the Western Everglades (AWE) gopher tortoise survey project, is also appealing to all property owners with gopher tortoises on their properties to post these signs on their properties. These signs are extremely beneficial not only to any visitor or new residents but to construction workers using heavy equipment. Many people are unaware of the harm that can be done by just parking on the vacant lot. Hatchlings can be three inches in tiny burrows dug on their own. Any sized burrow can be collapsed easily by even walking on the property with no knowledge of tortoises.
This summer the gopher tortoise survey reached a milestone – 2,000 burrows and counting! According to Piersma they have already surpassed a huge milestone of 2,000 potentially occupied burrows and are currently at 2,138 burrows. Most of these burrows are on vacant private properties and most of these properties have old, faded, and bent gopher tortoise signs that could benefit from replacement with the new signage.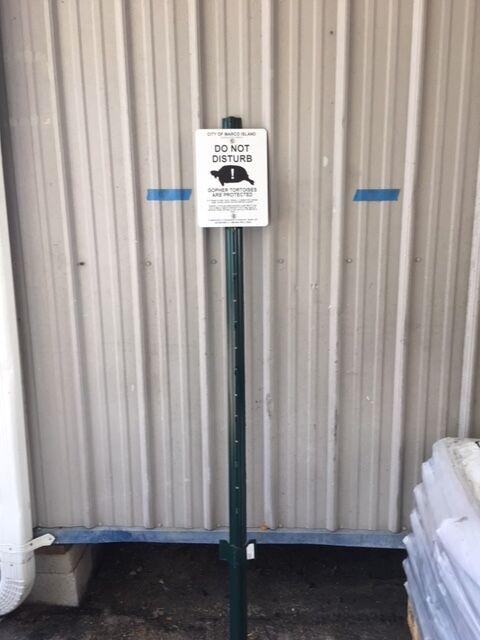 Background: In 2020, Marco's BACR has partnered with Audubon of the Western Everglades (AWE) to initiate a field study and survey for the gopher tortoise population on Marco Island. The City of Marco Island has provided AWE with a list of about 1,000 properties. Letters were sent out to property owners with gopher tortoises on their properties asking for their permission to access the properties and participate in this survey. The main part of the survey is just counting burrows to get a general population count. According to Piersma, "this survey will go a long way to conserving the species.
March through October is the main breeding season for the gopher tortoises. Piersma and her crew of surveyors have seen an increased activity at every lot surveyed observing more and more hatchlings with tiny burrows. These tiny burrows are very vulnerable to collapse. Many construction trucks use vacant lots as turnarounds and though there are signs posted, most of the signs are faded and unreadable – thus ignored. The newer signs are more visible and readable from a distance.
How can you help?
Protect the gopher tortoises on your properties! City staff will be more than happy to replace old signs for you. Please email: tselmeski@cityofmarcoisland.com or call her at 239-389-3949.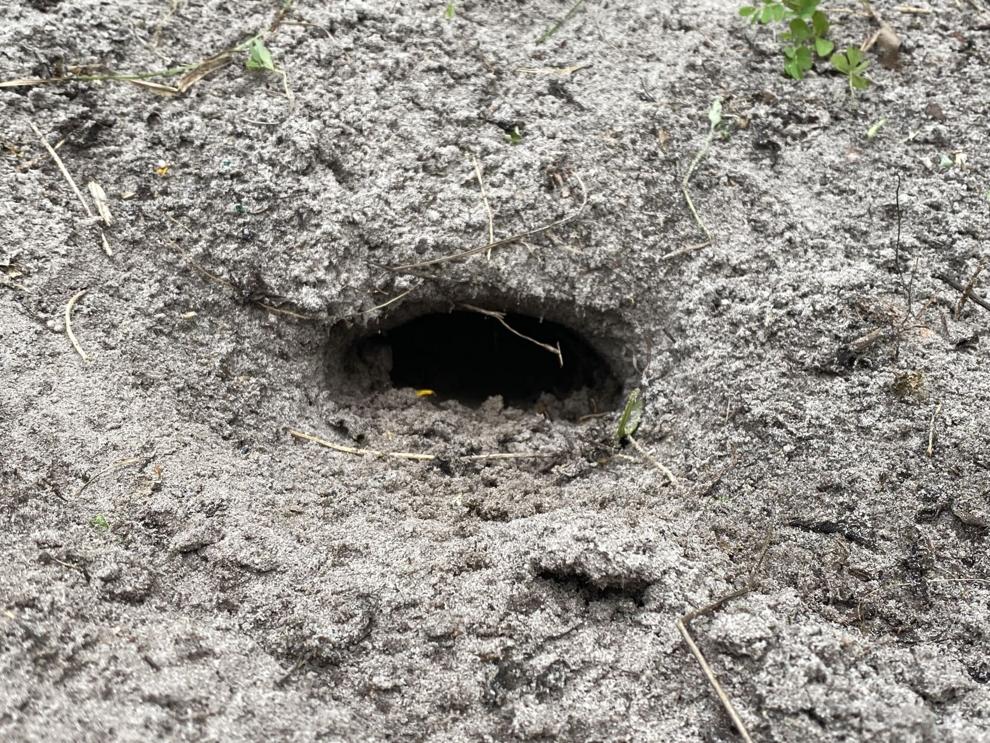 Do not feed gopher tortoises. Leafy vegetables are being left by burrow entrances by well-meaning visitors.
If you see a tortoise in the roadway, you can move it across the road in the direction it was headed – but only if it is safe for you to do so.
Gopher Tortoises are terrestrial (land) animals. They do not swim, so do not put a tortoise in water.
Slow down in areas with a large population of gopher tortoises.
If you see an injured tortoise, please take it to the Conservancy's Wildlife Clinic at 1495 Smith Preserve Drive, Naples, 239-262-2273.
---