Marco's weekly Farmer's Market has become an important part of our community life.
We may not go to the Farmer's Market every Wednesday, but we do miss it when it is over.
We all love going someplace that is outdoors and open air with tents and stalls filled with
locally grown produce or products and displays of homemade artisan food. We feel good supporting local merchants; there is a strong social aspect as we meet friends and compare notes on merchandise. According to a survey I read, a person averages 15 to 20 social interactions at a Farmer's market and only a handful at the grocery store.
There is also a civic aspect – supporting and promoting the idea of a farmer's market in our community says we like locally grown produce and sometimes it is the only place we find "exotic" fruits and an abundance of locally grown herbs and vegetables and locally grown fresh corn and tomatoes.
My rambutan experience- I am partial for the lesser-known fruits such as rambutans, with its pinkish spiky exterior almost like bristles. The inner white flesh is juicy and sweet jelly-like in texture similar to lychees or green grapes. They are grown in Thailand, Malaysia, Indonesia, the Philippines, and even parts of Australia.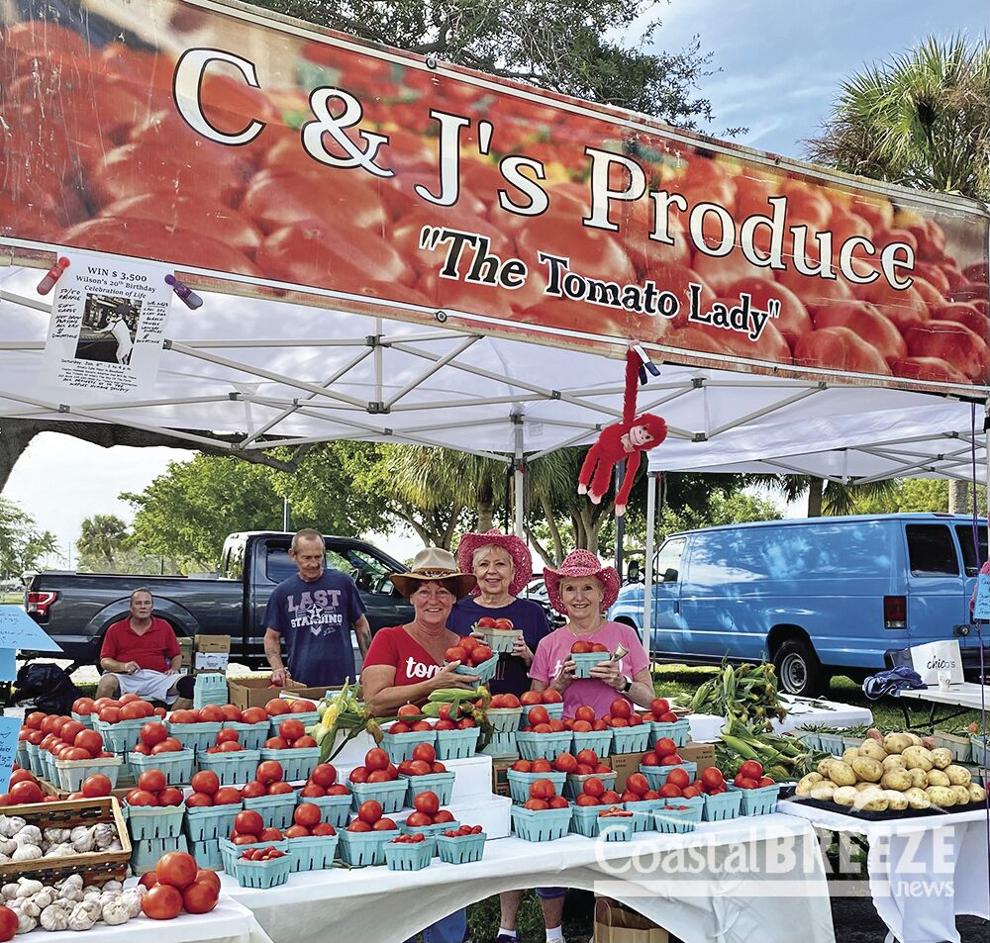 If you are squeamish about peeling them – ask the ladies at the Rambutan tent to peel a handful for you and mix it with a container of other tropical fruits. Take it home, chill it and snack on it later - or add them to a fruit salad.
We plan our Wednesdays around the Farmer's Market making it our first stop of the morning while we visit the library or museum or the grocery store. We have certain items that are only available at the Farmer's market, and you get to ask for a taste of a certain fruit or slice of a foreign made cheese or sip a new blend of coffee. And if you brought the "small pooch" you can purchase homemade treats for your "best friend." And don't forget the music! This is where we linger and enjoy!
I reached out to Samantha Malloy, Manager of Parks, Recreation and Culture and the person, along with her staff, responsible for making sure our experience at the Farmer's Market is an enjoyable one. They sweat all the little stuff to make it just right for you.
According to Samantha, we had a great start to the 2021-2022 Marco Island Farmers Market Season! Vendors and patrons were all excited to have the market back and many are looking forward to when we can return to Veterans Community Park; but we are certainly fortunate to have Mackle Park as our temporary home for this season. The challenges of course are the smaller footprint and limited parking. I am truly grateful for the patience of our neighbors and generosity of the library and museum allowing patrons to park in their lots. We have about 50 vendors, two who are new and are Marco Island residents. We have a variety of quality products for patrons to choose from, great produce, gorgeous flowers, delicious food, and unique gifts! We look forward to seeing everyone on Wednesday!
I have to admit I came in mid-morning and the place was bursting with energy. I parked at the Historical Museum and they had plenty of vacant spaces. And please be sure to bring your reusable bags to the market – let's make sure to do our bit for the planet.