The Marco Island Police Foundation hosted the final Lunch with the Chief event for 2022 at Hideaway Beach on Tuesday, November 15. The final luncheon event for this year would see over 150 attendees come together with Foundation members, city officials and other guests to hear Chief Shawn Chamberlain, Chief of Police at the Lee County Port Authority. 
Chief Chamberlain oversees the law enforcement operations of Southwest Florida International Airport (RSW) and Page Field (FMY), both located in the Fort Myers area. He explained to the audience the extensive operations that his 80 employees conduct on a daily basis. The airport and its overall operations is ranked as the 24th busiest airport in the United States.
The airport is presently undergoing a $331 million expansion which began in July of 2021 and is expected to take three years to complete. In 2021 RSW Airport served 10.1 million passengers.
Prior to being appointed to the post of Chief of Police for the Lee County Airport Authority in 2017, Chamberlain served as the Deputy Chief for the Minneapolis/St. Paul Airport in Minnesota. Chamberlain presently has over 25 years of experience in law enforcement, including having served as a Border Agent with U.S. Customs and Border Protection.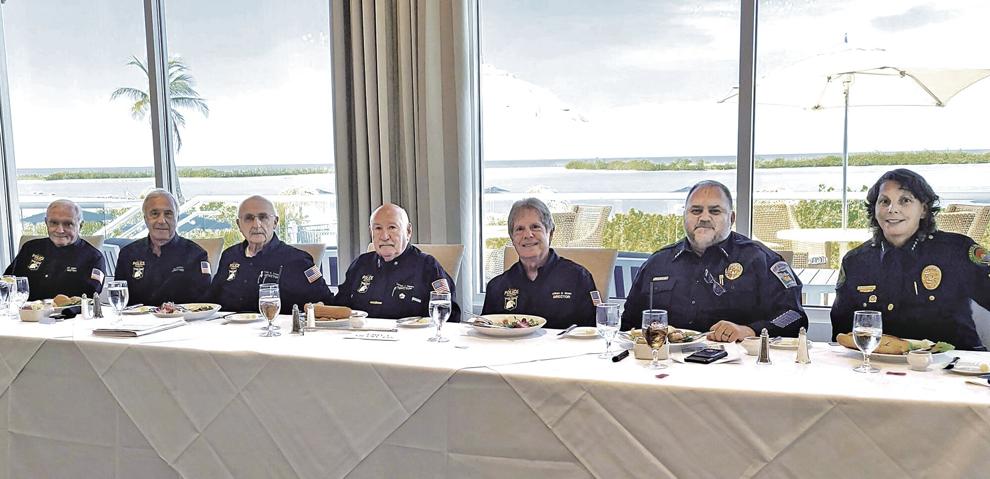 Chamberlain holds a master's degree in Criminal Justice Leadership/Human Services from Concordia University and a B.S. Degree in Law Enforcement from Metropolitan State University, both located in St. Paul, Minnesota.
Chamberlain was chosen from a total of close to one hundred applicants for the position to replace former Chief Jack Cavanaugh who had held that position since 2009.
Marco Police Chief Tracy Frazzano welcomed attendees to the final luncheon of 2022 and thanked those in attendance for the continued support of the department and its personnel, especially after the events surrounding Hurricane Ian.
With the assistance of the volunteers from Our Daily Bread Food Pantry, members of the Foundation, the Salvation Army's Mobile Food Truck, Winn-Dixie, the Bargain Basket and Al's Pals, a special food and clothing distribution event was made possible in the parking lot of St. Mark's Episcopal Church. That event occurred one Sunday after Hurricane Ian, once again under the Frazzano banner of, "Better Together," demonstrating the generosity of the community.