It has been a good two weeks for the Marco Island Police Department, and if you think about it in the context of hockey, you could say they recently had a "hat trick" of sorts regarding their performance and the successes during that period.
At the recent city council meeting they had one of their own successfully complete ten years of service with the Marco Island Police Department. Prior to coming to the city, Officer Ryan Montgomery had been with the Police Department in Springfield Township, Ohio. Montgomery rose to the rank of Patrol Sergeant with the department and supervises one of those shifts that patrol throughout the city. 
He holds a number of other certifications within the department that include, but are not limited to Marine Officer, School Resource Officer and Training certifications.
In addition to professional certifications, Montgomery is involved within the community coaching in afterschool programs and is himself an avid pickleball player in his spare time. He is married and he and his wife have two children.
The second goal of the "hat-trick" for the department came with the arrest last week of an individual who resided on the island and was involved in the Distribution and Possession of Pornographic Material. The charges brought against him included, but may not be limited to, the following.
Charges:
Five Counts of Transmitting Child Pornography
F.S.S.847.0137(2)a – Third Degree Felony
Five Counts of Possession of obscene Material/Child Pornography
F.S.S. 827.071(5)a – Third Degree Felony
One Count of promoting Child Pornography
F.S.S. 827.071(4) – Second Degree Felony
Marco Island P.D. opened an investigation after receiving a cyber tip from the National Center for Missing and Exploited Children. The subsequent investigation was launched into allegations concerning a Marco Island resident who was in possession and distributing child pornography. This investigation resulted in the arrest of a 16-year-old resident who was transported to the Naples Jail Center and is being charged as a juvenile.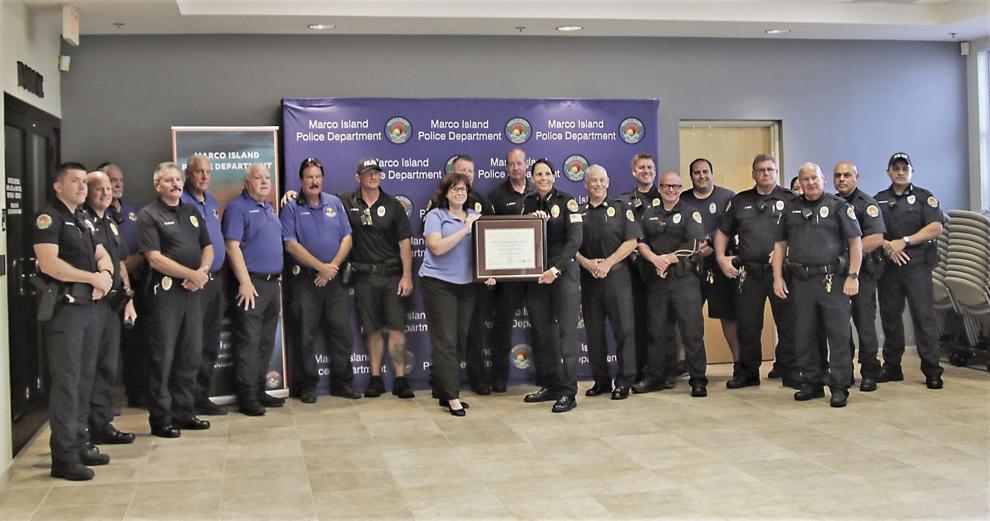 Unfortunately child pornography is one of the fastest growing crimes today in the United States according to the National Center for Missing and Exploited Children.
Chief Frazzano would give thanks to Sheriff Rambosk for the assistance the Marco Department received from their office.
The third and most significant item came with the announcement last week of the City's successful conclusion of their quest to receive accreditation with the Commission for Florida Law Enforcement Accreditation (CFA). This multi-year task entailed providing necessary paperwork, putting internal processes in place to ensure compliance, along with protocols making sure professional adherence to those policies and procedures is being followed.
The benefits to communities receiving this highly coveted accreditation achievement can be found in improved effectiveness, providing a more effective ability to identify issues and develop solutions to those problem areas in a more efficient manner and at the same time, decrease possible liability potential moving forward.
As of June 2020 there were 838 law enforcement agencies in the United States and 838 were accredited. As of April 2022 there were 157 sheriff's offices, police departments and state law enforcement agencies accredited.
The CFA was established by Statute 942:125 in 1993 and would direct the Florida Sheriffs Association and Florida Police Chiefs Association to create a voluntary law enforcement accreditation program for the State of Florida.
Police Chief Tracy Frazzano presented the Official Accreditation Certificate to Council Chair Greg Folley at the March 6 meeting of City Council.
The accreditation process is one which is ongoing and must be renewed every five years under the state requirements.