---
Even though Halloween may steal the holiday spotlight during the month of October, there is another special celebration happening all month long. In Florida, the entire month is dedicated to those plants that create our natural surroundings. Officially, October is Florida Native Plant Month!
Any member of the Florida Native Plant Society will tell you, "There are so many reasons to celebrate Florida native plants!" Native trees, shrubs, grasses, and wildflowers form the basis of our natural communities. These native plants support the lives of countless insects, birds, mammals, and more creatures. Of course, people's lives are enriched by connecting with nature, too. Popular outdoor recreational activities, such as hiking, birdwatching, and nature photography are made possible by assemblages of native plants that coexist by nature's design.
Moreover, native plants do a lot of valuable work (for free!) that protects our quality of life. How do native plants do that? Here are three of many possible examples: The canopy of a pine forest shields us from the sun's glare. Cypress swamps collect our summer rains, filter the water, and allow it to percolate down to our aquifer. And mangroves buffer coastal homes from storm surges. 
Plus, many native plants are chosen to adorn our neighborhoods. Live oaks line our sidewalks and offer a buffet of food for morning songbirds. Cocoplum hedges give our backyards privacy while offering pollen to busy bees. Muhly grass (blooming now) satisfies our craving for color and shelters small critters seeking hiding places.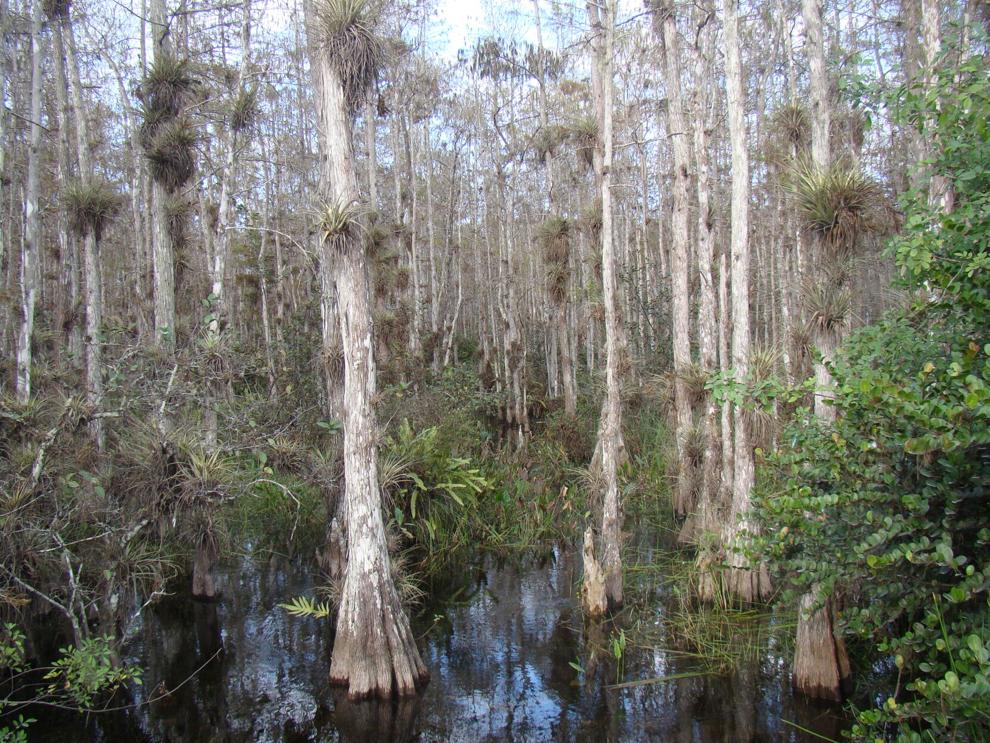 Still not convinced of the importance of native plants around our homes? Pick up a copy of "Bringing Nature Home" by Dr. Douglas Tallamy. This landmark book presents mounds of evidence that explain why the presence of native plants is so crucial to the survival of butterflies, birds, and more wildlife in human-altered landscapes. 
Your chance to bring Florida native plants to your home is coming up on Saturday, October 23, 2021, from 9:00 AM to 1:00 PM at the Naples Botanical Garden, 4820 Bayshore Drive; Naplesgarden.org. The Naples Chapter of the Florida Native Plant Society will be hosting a native plant sale at the south end of the Garden's main parking lot (no admission required). Chapter members will be there to assist you in selecting appropriate native plants for your home landscape.
Looking for native landscaping inspiration? Lots of native plants can be seen throughout the Garden's entry drive (such as in the central rain garden) and parking areas. Within the Garden, native plants are on display in the Scott Florida Garden and Kapnick Caribbean Garden. Venture out to the Garden's 90-acre preserve to see native plants in their natural communities. Admission is $25 per adult and $10 per child, ages four to 17 (free admission for Members of Naples Botanical Garden and children ages three and younger).
Would you like to support the continued existence of Florida native plants all year long? Become a member of the Florida Native Plant Society at FNPSNaples.org. Annual memberships start as low as $35 per year ($15 per year for students). Your membership will connect you with fellow native plant lovers and support the preservation, conservation, and restoration of Florida's native plants and their natural communities.
---