The Board of County Commissioners started the new year with more discussion on the boat ramps. While their decisions affect all county boat ramps, the focus is once again on Caxambas and Goodland, the busiest in the county.
Staff reported that conditions were improving at both Caxambas and Goodland. The presence of Dockmasters has received "overwhelming positive reviews." Dockmasters are present Thursday through Monday – staff is looking have a Dockmaster at these launch parks seven days a week. At a request from Commissioners, staff will be looking to bring on a Dockmaster at Bayview as well.
An update on permits issued since the 180-grandfather cap was presented. As of January 10, 2022, 115 permits has been issued to a total of 62 companies. Of the 115 issued, 101 are for eco-tourism and 14 for marine service and sales. While the permits do allow for launching at all county ramps, staff asked the holder which park they utilized to get a better understanding of where the traffic was going. Of the 115 permits issued, 41 indicated they used Caxambas and 27 the Goodland Boating Park. A breakdown of the different types of eco-tour/commercial permit uses was also presented to further dive into the numbers.
Commissioners had approved a total of 180 permits to be issued to existing, "grandfathered", companies. One of the issues discussed during this meeting was the new companies who had put a business plan in motion only to be grandfathered out of obtaining a permit. Barry Williams, Director of Collier County Parks and Recreation, said there were 34 companies that were being excluded from obtaining a permit because of this issue or because they were pervious permit holders that were not in business last year. Williams pointed out that businesses are able to get a permit any time during the year – there is no deadline – and that there may be some existing grandfathered businesses that may renew at any time so the 115 total issued to date may change. This led to a discussion on whether or not to increase the number of permits to allow for the newer businesses who have been shut out. Commissioner McDaniel was in favor of raising the 180 by 10 to 20%. Commissioner Saunders and LoCastro felt the 180 should remain the cap for now but also allow the 34 new businesses to apply. Commissioners took that approach and unanimously voted to keep the 180 cap on permits but allow the 34 new businesses to obtain one.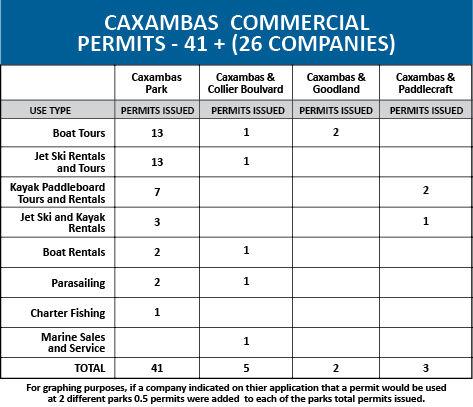 Commissioners promised that this would be a dynamic discussion, open to changes when more data was forthcoming. As Commissioner LoCastro pointed out "the sins of the last five years can't be fixed in the last five weeks, but we are making progress." In that spirit, they will be revisiting the permit cap decision again. They also tasked Staff to come back with more info on the following:
Commissioner Saunders wants an evaluation on whether valet parking at the ramps is feasible. He also wants staff to re-evaluate the signage at the ramps to help those parking better understand what is and is not allowed.

Commissioner LoCastro wants staff to look at "putting more teeth" into making fines more expensive. Right now, it is a $30 fine if a business shows up to launch with no permit or an expired permit. He points out that many businesses would rather absorb the cost of the fine than get a permit. He also wants staff to look at permit transfers. Currently, if a business is given to a family member or sold outright, the launch permit is not transferable. All the Commissioners felt there should be a difference between turning a business over to a family member and selling the business when it comes to transfer of a permit.

Commissioner Taylor wants staff to start looking at what can be done to restrict parking. She also asked staff to look at how violations can be enforced in real time at the docks.
A new year also means a new chair for the Board. Previously, a rotating chair had been established with the change based on the district number. Commissioner Taylor, chair for 2021 is in District Four. Commissioner McDaniel, District Five, took over the gavel with Commissioner LoCastro Vice-Chair. LoCastro will become chair for 2023.
Lastly, Commissioners are once again looking for a County Manager. Newly appointed manager, Mark Isackson, sent a letter of his intention to retire this coming May.