---
It's not easy being a full-time python hunter. Just ask Dusty Crum, possibly the most well-known python hunter of them all. Crum, who lives just east of Marco Island, has gained fame as a python hunter with his show "Guardians of the Glades" on Discovery Channel. He has found that he has to be resourceful to keep himself gainfully employed.
"We utilize every piece of the snake," Crum said, who has captured hundreds of Burmese pythons, and invasive species that is threatening to overtake the Everglades. "You utilize what mother nature, the earth, has given you."
It's quite a process.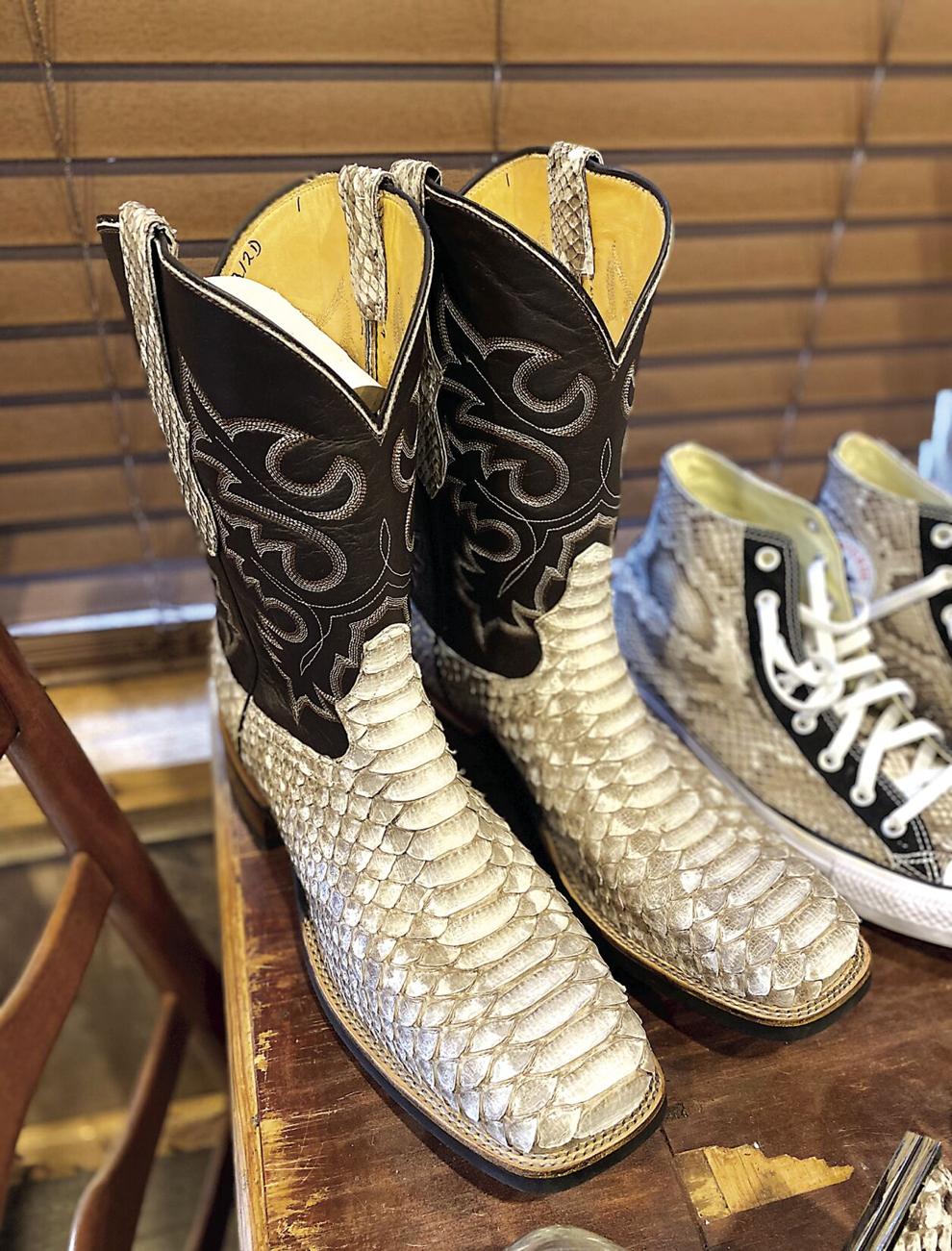 "We measure the snake. We make a cut on the throat, and that signifies that the snake has been checked in with the state. Then we weigh the snake, and we sex the snake. Then we bring 'em over here, and this is where all the skinning' happens. We'll tie 'em up to that tree and we'll skin all the snakes, process 'em, clean 'em, pressure wash 'em. Then we'll set up a salt table. First, we'll let 'em dry out, let the water get off of 'em, then we'll salt 'em real good. And then they come over into this freezer. These are all clean, salted skins that are ready to go to the tannery. Once we fill all these freezers, we'll have about 150 to 200 snakes, we'll take 'em in to the tannery. Once we have that we make the products. So, it's a long way out. One tannery is in Sebring, they're pretty good. Once we get them back from the tannery, we have all different sizes. We have the top cut, the belly cut. The top cut is what I use on the boots. You have the belly cut running up the toe. These are good to use in fashion, purses, boots, or shoes - you want to have a top cut. Everything else you use do the belly cut and it comes out full pattern. We're messing around with some colors. This is a red - we also have a cobalt blue. We're getting ready to start making some fashion bikinis. You can't be in Florida without a python bikini. So, we're messing around with the colors for the ladies."
The talented Crum does much of the work himself.
"Some of the stuff I can do myself," he said. "I started out doing everything. I make all the jewelry myself. But the fine leather goods, I have a manufacturer who makes them. I send the skins out, they make the products, and send them back. Then I have to sell 'em. It's a long game, but I'm in it for the long play. We've got enough skins to make a lot of products. I'm trying get some wholesale accounts in Naples - Fifth Avenue, down in Miami, South Beach. Get into some boutiques. It's not only a nice product, but you're helping the Everglades. Each purchase helps save wildlife."
"A lot goes into it," says Crum. "This is very expensive to turn into leather. People don't realize that. I have receipts for over $100,000 with the tannery. It's very costly. You run 200 skins: you're looking at $40,000. Then you have to pay to make the product. Doing everything allows me to do this full time. If you're just a snake hunter, work on the minimum wage, if you're catching snakes, you're making money. But there's wear and tear on your vehicles, we cover some rough roads. You just can't make it. So, I have to do a little bit of everything to make this a full-time job."
For more information, visit Crum's website: https://pythonwildman.com.
---