---
Florida is home to five species of sea turtles, and many of the 100 miles of beaches are protected by Florida State Park as nesting habitat for these sea turtles. Sea Turtles also play a big role in Florida's ecosystem.
In Florida, all five sea turtle species are either endangered or threatened, meaning it's illegal to harm, harass or kill any sea turtles, their eggs, or their hatchlings. The Endangered Species Act lists the green, leatherback, hawksbill, and Kemp's ridley turtle as endangered. The loggerhead turtle is listed as a threatened species.
The green sea turtle (Chelonia mydas) has a small head and named for the color of its body fat.
Loggerhead (Caretta caretta) has a large block-like head and is the most common sea turtle in Florida.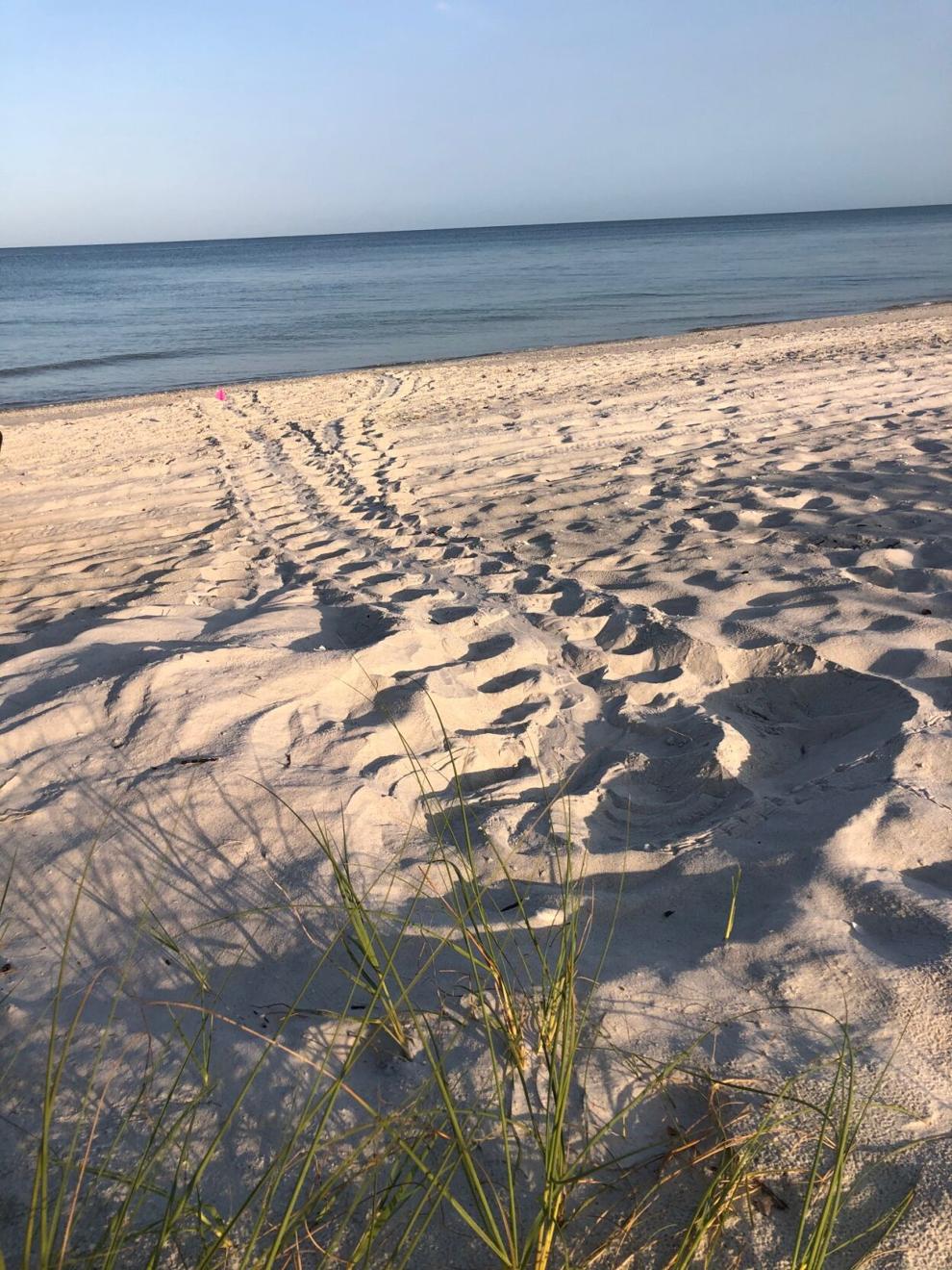 Hawksbill (Eretmochelys imbricata) has powerful jaws, with rough edges on the rear of its shell.
Kemp's ridley (Lepidochelys kempii) is the smallest and rarest of Florida's sea turtles.
Leatherback (Dermochelys coriacea) shell is covered with a leathery, rubbery layer.
The earliest ancestors of these species appeared on Earth around 220 million years ago and these sea turtles evolved to hunt successfully beneath the waves - until plastic came along in the 1940s. Plastic has had a devastating impact on sea turtles worldwide.
Researchers suggest that 52% of the world's sea turtles have eaten plastic products.  A floating plastic bag looks a lot like a jellyfish, algae or something that is part of a sea turtle's diet. In addition to plastic, fishing net entanglement is also a big hazard to sea turtle populations worldwide. Baby sea turtles also are at risk from plastic entanglement, preventing them from reaching the open sea. 
So, what happens to sea turtles that eat plastic?  According to researchers' findings, sharp plastic objects can rupture internal organs. Bags can cause intestinal blockages leaving sea turtles unable to eat resulting in starvation. Marine plastic pollution also affects fish, whales, birds, and the health of coral reefs.
---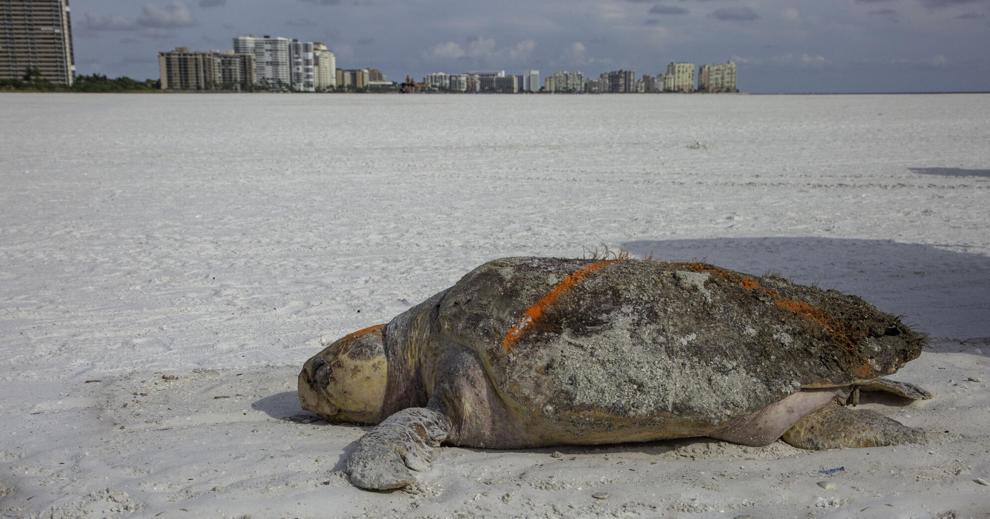 Please be prepared to answer the following questions:
1)    What is the exact location of the animal?
2)    Is the sea turtle alive or dead?
3)    What is the approximate size of the sea turtle?
4)    Is the turtle marked with a spray paint? (this may indicate that the turtle has been previously documented)
5)    What is the location of the closest access point to the turtle?
6)    If the turtle is alive, please be prepared to stay with it until help arrives.
---
Though it looks like the odds are stacked against the sea turtles, we can do our part on a daily basis to make sure plastic doesn't litter our beaches and reach the ocean.  
During the months of May through October, mother sea turtles come on shore at night to lay their eggs in the sand.  Everyday volunteers make sure our beaches are safe for the sea turtles.
They count and record sea turtle activity every morning. They locate the distinct crawl pattern of the loggerheads on Marco Island and identify their nest location.  
What can we do? When you head out to the beach during sea turtle season, chances are you are going to encounter a nesting habitat on the beach. You will see a roped-off area with yellow stakes and a "Do Not Disturb" sign!
According to the Florida Park Services, below are simple things that everyone can do to share Florida's beaches with sea turtles and hatchlings:
Give nesting adults and their hatchlings space and take care not to disturb them.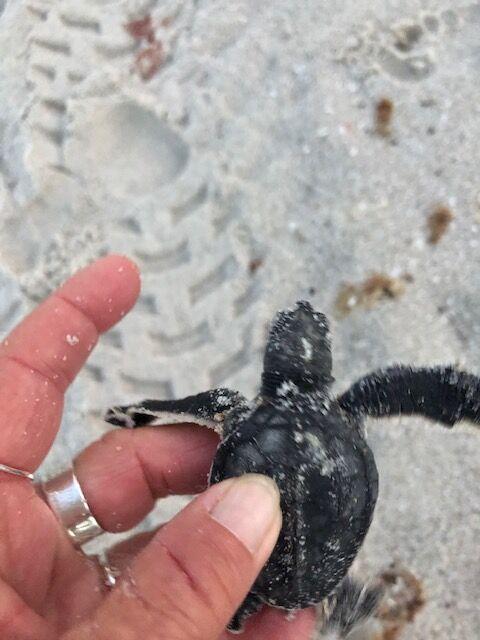 Properly dispose of food items to decrease predation from wildlife.
Properly dispose of debris like fishing line, netting and plastics.
Keep obstacles such as beach furniture off the beach during nesting season.
Participate in beach clean-ups.
And when it comes to beachfront lighting, Florida Fish and Wildlife Conservation Commission (FWC) says there are three "golden rules":
Keep it low: Fixtures must be mounted as low as possible and still be appropriate for the needed purpose. Bulbs must produce the lowest wattage/lumens necessary for the needed purpose.
Keep it long: Lamp/bulb must produce only long-wavelength light (560 nm or greater, which is amber, orange, or red).
Keep it shielded: Fixture must be completely downward directed. The fixture must be able to shield the bulb, lamp, or glowing lens from the beach.
---
Sea Turtle Activity Update June 15 - 21, 2021

 
 
 
 
 
 
 
 

 

Total Nests

Total False Crawls

Total Hatched Nests

 

This Year

Last Year

This Year

Last Year

This Year

Last Year

Disoriented

Barefoot 

147

130

177

168

0

0

0

Delnor Wiggins

25

23

41

50

0

0

0

Vanderbilt  

114

141

136

116

0

0

0

Parkshore 

80

93

76

114

0

0

0

City of Naples 

106

152

69

106

0

0

0

Keewaydin Island

214

232

396

441

0

0

0

Sea Oat & Coconut Island

3

5

1

2

0

0

0

Marco Island

52

59

94

109

0

0

0

Kice & Cape Romano

63

82

137

116

0

0

0

10,000 Islands

62

72

121

127

0

0

0

Collier County Totals

866

989

1248

1349

0

0

0
---