---
Marco Island Academy's new head football coach called an organizational meeting for players interested in comprising his first team last Wednesday at Winterberry Park. He spent about 20 minutes setting the ground rules for his prospective players and their parents. It was clear that the new coach will be a player's coach. But he won't be a pushover.
"Early is on time," Lew Montgomery told the players and parents. "On time is late. And you don't want to be late."
Montgomery, 44, is taking over a team that is 0-19 for its last three seasons. It's a program that has yet to have a winning season. The 2014 team came the closest, finishing 4-6. Montgomery knows he has to build a team. He compares building his team to the building of the brand-new Marco Island Academy campus.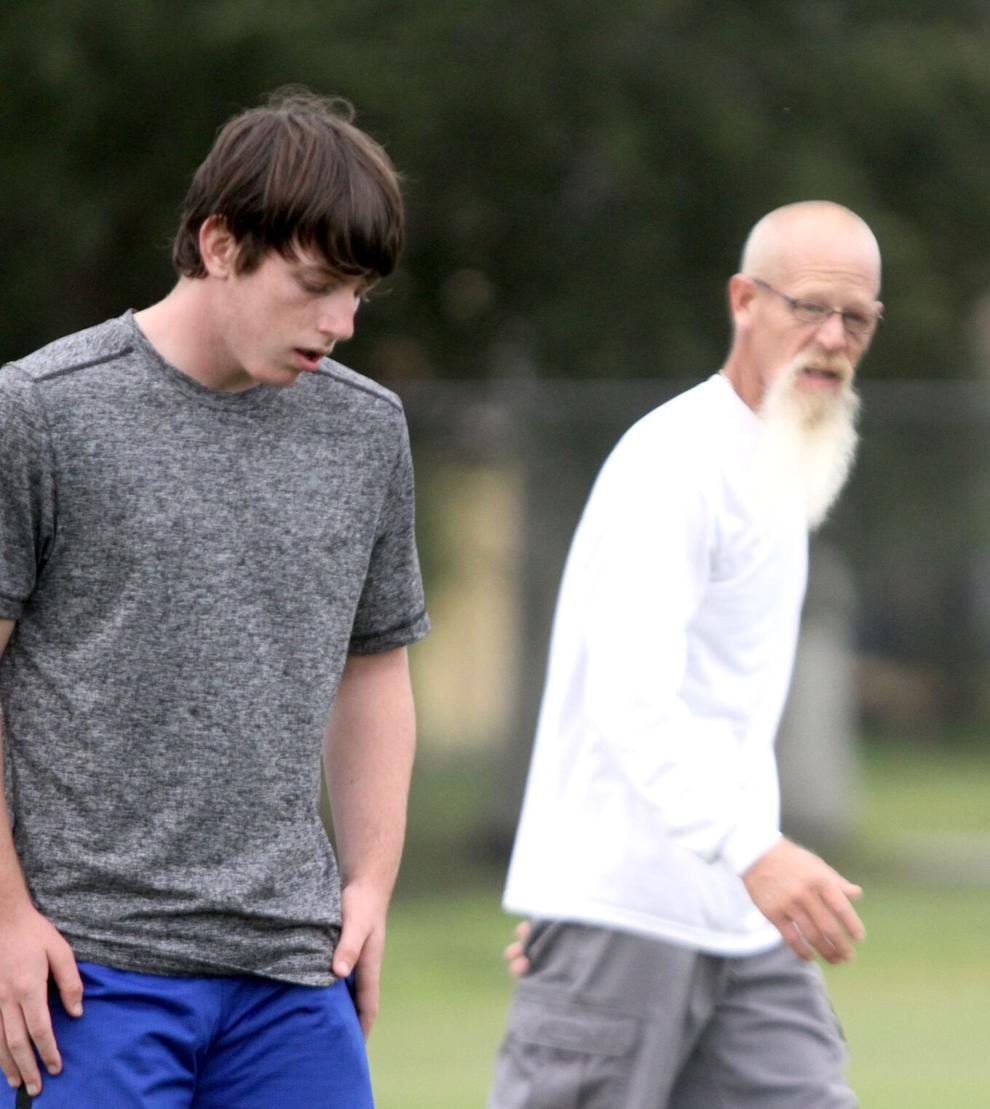 "My goal is to build a new team mentality," Montgomery said. "It's to really define what we think success can be. And then to reach those goals. This team hasn't won a game in three years. So, I think, obviously we need to put something in the W column. Period. Depending on our numbers, and depending on how the next two months go, preparing for that first game, and seeing where we are with those numbers, then we can make some honest predictions or goals when it comes to 'are we gonna go for the gold?' Which I'd like to. Let's just do it. Let's make this miracle happen. It's meant to be. Brand new school, that's what I'm saying. Anything that happened before, we were in modulars. Now we're concrete. We're mortar. I mean we have a solid roof over us. We can deal with whatever comes our way. I think it's time for the team to show that as well. And we're ready to build these kids on our own - without any coaches - this summer."
Montgomery has an ally in Ryan Roberts, Director of Athletics and Student Activities. She has observed Montgomery's leadership as a social studies teacher at MIA.
"Having a coach on campus is critical for the framework and stability of any program," Roberts said. "Daily, purposeful interactions between coaches and student athletes are the building blocks that allow the formation of quality, long-lasting relationships that extend beyond the classroom and playing field. Having a coach on campus that is widely revered like Lew Montgomery is a blessing to our Manta Rays football program."
"Lew shows up every single day for our students and our community," Roberts continues. "Not only is he a talented coach but he is also an incredible teacher, colleague, son, husband, father, and community member."
Montgomery comes in as the best football player to ever coach the Rays. At Division II Tiffin University, Montgomery is the school's all-time career leader in quarterback sacks (30) and tackles for loss (55). He is also the single season sacks record holder with 15 in 1999. His 30 tackles for loss the same season is also a single season mark at Tiffin.
"I was a linebacker for two years in college and I was a defensive end for two years," Montgomery said, "I've got some stats."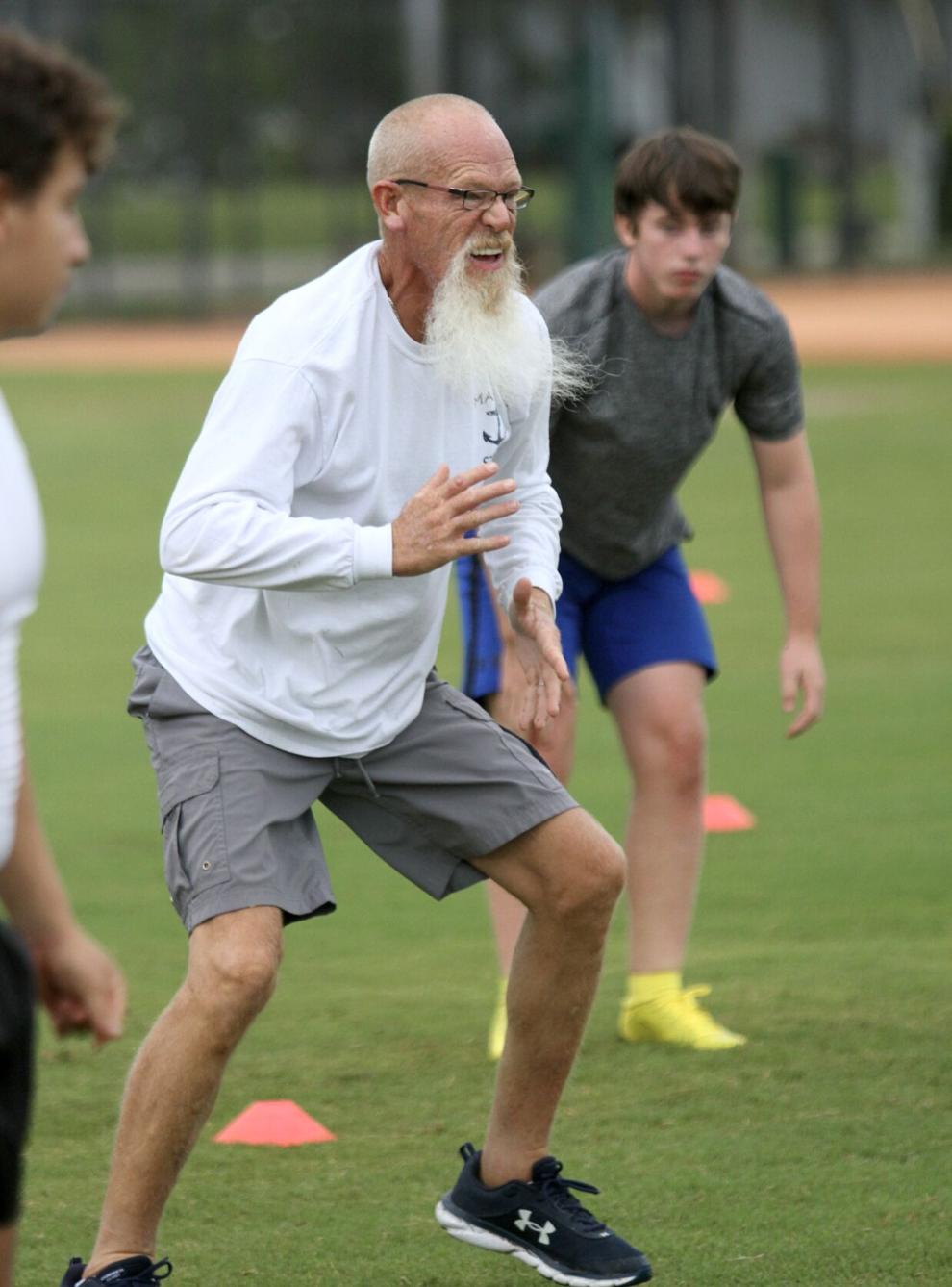 Tiffin teammate, Will Spencer, who went on to play professional football, speaks with reverence of Montgomery as a hard-nosed defender at Tiffin.
"He led by example," Spencer said, "he was passionate for the game and expected excellence from his teammates. I would say he was one of the hardest working and passionate players we had on the team. He was also a great leader with great game IQ. Always a team player. A guy we were lucky to have on our side."
Montgomery, who also coached at Tiffin along with stints in high schools in Ohio and New Mexico, feels the MIA job is a case of the right person, the right job, at the right time.
"As far as this job goes," Montgomery said, "the stars aligned. I keep telling Miss Roberts and (MIA principal) Miss (Melissa) Scott, this season was meant to be. And that means as far as the students showing up and how they're excited about it. The way that I'm supposed to come back to coaching."
"I've coached for a number of years," he continues. "It seems like a lifetime ago. I coached in college at Tiffin University. I coached in high school in Ohio for a couple of years. I coached with a couple of state championship teams in New Mexico."
Fatherhood put Montgomery's coaching pursuits on hold.
"When I started having kids, I stepped away from it," he said. "Now they're ready to be ball boys. They're at that age where they're ready to be around it." 
For now, Montgomery is just trying to make sure his players are getting in shape. He's also trying to build teamwork with his workouts.
"It's straight calisthenics," Montgomery said, "getting them used to rolling around in the dirt and mud again. It's a chance for me to see who they are and how they all get along. I really want to make sure we do things the right way. I want them to know we can be successful doing things the right way. I think August 2 is the first day we can start practicing. I'm looking forward to that. Now is just about getting them around each other. Making sure that they're spending some quality time, building that unit. Letting them have that team camaraderie that will make or break us."
Numbers have always been a challenge at MIA when it comes to football. Of course, with a beautiful new brick and mortar school building, that may change.
"I'm hoping for close to 30 players," Montgomery said. "But right now, I think we have a good core of 20-some. There's some middle school kids that are coming that will be our freshmen. I'm hoping that we can bring them into it so we can start building for the future. Transfer students who are coming in won't be here until about August. We have a couple of kids who are moving in as well. It's just exciting. But as far as concrete numbers? Let's add more every day."
Montgomery likes the progress his players have made since the end of the school year.
"It's been four weeks and it looks like they're grown two inches, they've put on 30 pounds," he said. "They all have manly chests now. I'm looking forward to it. They're putting in the work. They're excited. I told coach Matt Rice, 'They're contagious.' These kids are contagious. I'm ready to feed off that and teach them some football. And let's get some W's."
Right now, Coach Rice is Montgomery's only assistant. 
"I think he's going to be a great addition to the staff," Montgomery said. "Really the best thing he brings, besides his knowledge offensively and his energy, is his love of the kids and part of that comes down to who he is. I think when you're a youth pastor, that's who you are. You may have another career title. That just shows the dedication he has to the kids. He also loves football. He wants to mesh those two together; be around these young kids and inspire them, push them, and make them into the young men we think they can be. I'm just blessed to have him. Seriously."
The search for more coaching help is underway.
"We're still looking for some new teachers," Montgomery said. "And some of them are interested in helping out, as well. Miss Roberts has a lot of coals in the fire. She's hitting the phones hard. I've spoken to some local guys. I know there's a lot of guys on the police force who are eager to help out as much as they can. Some of them are scared to have the title 'coach' because of the time and scheduling commitments. Going from nights to days. I said, 'Hey, when you're around you're a coach. I don't care if you have a badge on or a gun.' A lot of those guys are great to have around them. My brother, he played college ball. Being in his position, it's tough for him to commit. He's already thinking defensive back and running back drills. He's itching. I guarantee we're going to have a lot of support. I just want to get a couple more full-time guys. Coach Rice and I are both up for the challenge. These kids took care of it in the classroom last year. We're blessed with that. That's never an obstacle at this school. It really is education first. And we feed off of that. That's just the way it is. They handle their business. I'm looking forward to having a high team GPA. But let's get a W in the win column. These things go hand-in-hand. They really do. I'm looking forward to all of this growth. Becoming the team that I think we can be."
Roberts has nothing but respect for outgoing coach Steve Kaplan.
"Coach Kaplan took the reins in 2018," Roberts said. "We are beyond grateful for all that he has done on and off of the field. His professionalism, passion for teaching the game, helped mold our student athletes into incredible young men. He did an amazing job during his tenure and our team got better every year." 
---