---
Longtime Marco Island resident, Michael M. Meguid, M.D., has announced that the third volume of his biographical quattro, entitled "Surgeon & Lover--Fulfillment & Folly" has finally been released on Amazon.com after a prolonged summer's delay.
Portrayed by readers as a "page turner," this account took place over 50 years ago, and is written with raw honesty, frankness, and some delicacy. The subject matter resonates today with recent Texas laws and Supreme Court rulings.
A story that captivates the reader as it takes us on a young man's journey as he fearlessly overcomes the childhood trauma of abandonment, "Surgeon & Lover—Fulfillment & Folly" is a stunning tale of perseverance, dedication, and ambition.
A world-renowned surgeon, a research scientist, writer, lecturer, and editor, Dr. Meguid's three-book saga is told with brutal honesty and dashes of humor. It is a self-portrait of a lonely man who started life not knowing where he belonged, searching for his cultural identity, and in this,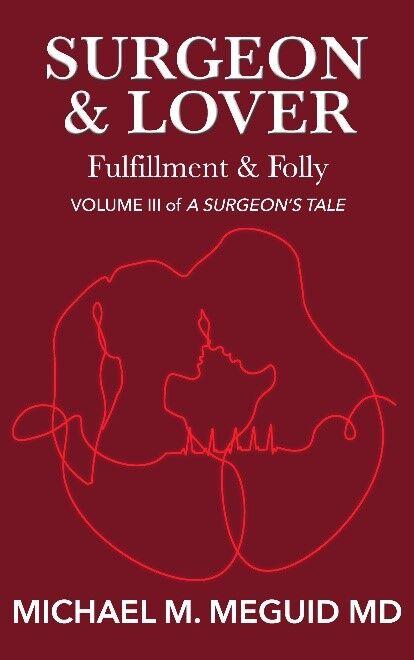 Volume III of "A Surgeon's Tale" quattro, follows him on a circuitous path to his transformation into a surgeon and scientific researcher whose total focus is helping patients live long and healthy lives.
A very personal, sometimes uncomfortably vivid depiction of his battle bridging different cultures, languages, and countries, Dr. Meguid ultimately grows into a man of skill in the operating room, a man with whom other doctors, surgeons and researchers consult with, a man who finally learns to love himself after years of self-doubt.
With notes and memories taken from many of his own numerous journals and published medical papers, hundreds of family letters translated from German and Arabic, and with photos dating as far back as the mid-1930s, Dr. Meguid's third volume continues where "Mastering the Knife" ends--at a place where this doctor's life is consumed with a passion to make the world a better place, as he has become a better man.
Volume I, "Roots & Branches" and Volume II, "Mastering the Knife" received wide praise by Amazon book patrons, and both have continued to be top sellers. In addition, Volume I, "Roots & Branches" received the award of honorable mention at this year's New York Book Festival, Hollywood Book Festival and The Paris Book Festival in the Biography category. 
 "It's a wonderful feeling to be recognized," said Meguid. "And I'm honored to be alongside many other talented authors. "Roots & Branches" was a labor of love to write, and it means a great deal to know that it's connecting with readers." 
Screenwriters and people connected with movie making consistently use the winners of the Hollywood Book Festival as "fodder" for buying rights for a movie script.
Dr. Meguid is a world-renowned surgeon, research scientist, writer, editor, and published author. He is a Fellow of the American College of Surgery, he studied human nutrition to benefit cancer patients, was awarded a PhD at MIT, and he is the recipient of numerous national and international honors. He is professor Emeritus of Surgery, Nutrition, and Neuroscience in Syracuse, New York, and Editor Emeritus of "Nutrition: The International Journal of Applied and Basic Nutritional Sciences." Upon his retirement, he earned an MFA from Bennington College Writing Seminars in VT, and attended workshops at Queens University, Charlotte, North Carolina, and Non-fiction Seminars at Goucher College, Maryland. He is a member of several major writer's Associations and VP of Marco Island Writers, where he teaches. Dr. Meguid's short stories have been published in The Bennington Review, Stone Canoe, Columbia Medical Review, and Hektoen International. He has given book readings in Florida and London, been interviewed on radio stations across the world, and has published nearly 400 medical papers. Dr. Meguid reads, writes, and lives on Marco Island, Florida with his four-legged muse, Lucy. For a sample of "Roots & Branches" and "Mastering the Knife," blogs and other articles, go to www.michaelmeguid.com.
---