---
Sometimes a coach transcends wins and losses and becomes a beloved part of the lives of everyone he touches. Mark McGarity was one of those coaches.
McGarity, the longtime Lely High School Cross Country and Track Coach, died recently. He was 67 years old.
Even though Roger Raymond, a longtime basketball and track coach on Marco Island, knew McGarity was dealing with cancer, his death was shocking and devastating to him.
"I knew he'd been sick, but it came as a complete shock," Raymond said. "He's been very, very instrumental in my family's life. This came up on me like a slam to the head. It caught me way off guard. It's just hard for me to believe he's gone. He's only been gone a couple of days, but I already miss the fact that I can't call him if I want to. I would call him, and we would talk, and we would reminisce. I can still hear his voice. I'm going to miss that. He's such a good friend. I think he had a lot of good friends - and I think I was one of them."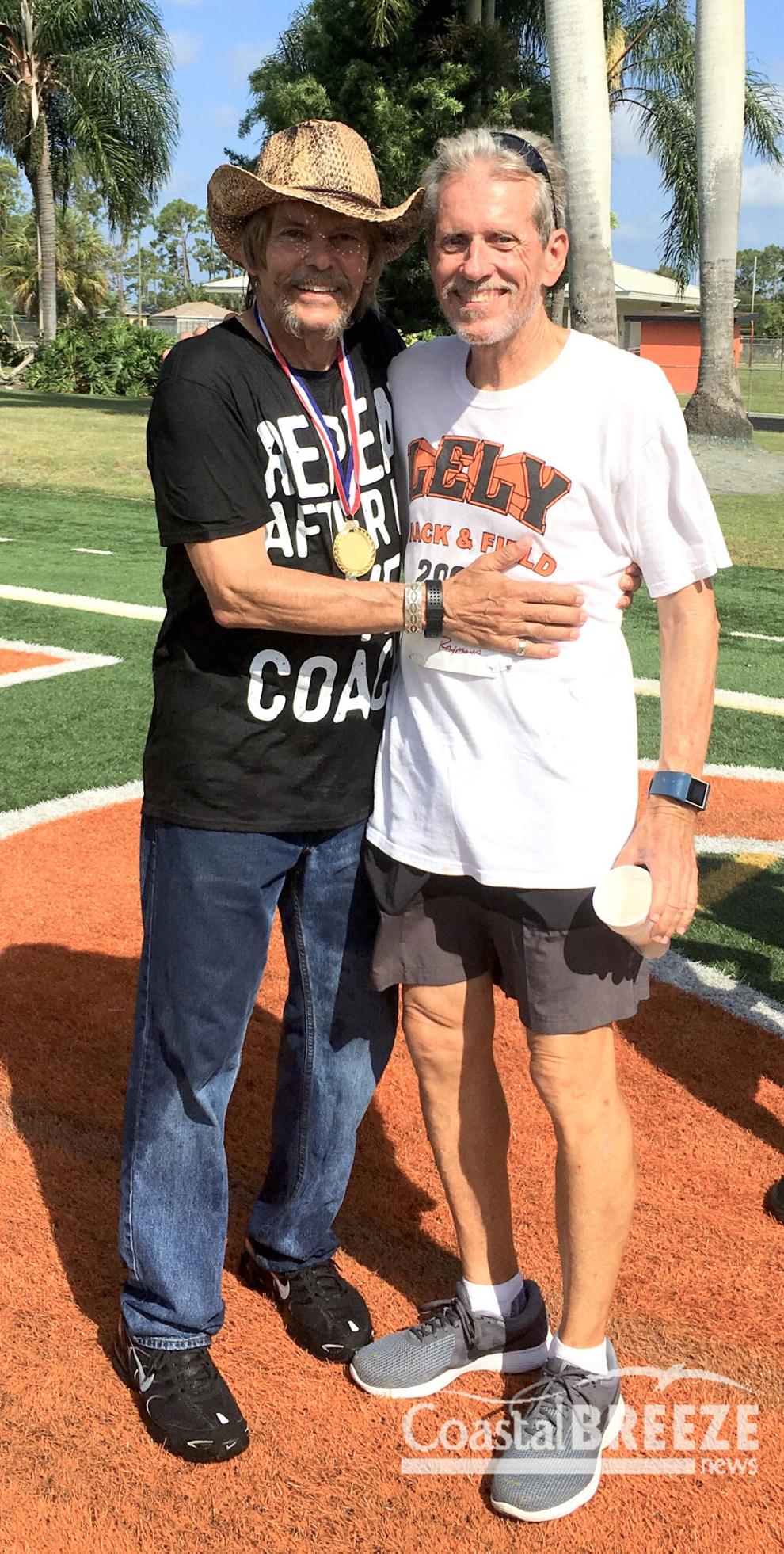 Raymond, a highly successful basketball coach at both Marco Island Charter Middle School and at Marco Island Academy, was also well known on the island as a runner and as a track coach. The running part he learned from McGarity. He got to know McGarity when his daughter ran for him at Lely.
"My daughter went to state in cross country with Mark as her coach four years in a row," Raymond said. "Now you have to have some good runners to do that. But you also have to be a coach that gets the players to buy into his program. That's not easy to do."
"I ran 10 marathons in my life, basically because of Mark McGarity believing in my ability to do it," Raymond continued. "I actually ran Boston three times. Without Mark McGarity that wouldn't have happened."
"I picked up so many ideas from Mark that have helped me," Raymond said. "I talked about him today at practice. I'm just trying to grasp that I can't call Mark McGarity. That's when it hit me for the first time. I could always call Mark any time I want, now I can't. When I thought about that I was overcome with emotion, my eyes well up a little bit. I'm going to think and think and think about good things that we did. I'll be smiling. I may have tears in my eyes, but I'll be smiling, because there's so many positive things that came out of what Mark did as a teacher and a coach. It's hard to describe. Your friend is gone, but you have to remember all of the good things that were done in Collier County because of Mark McGarity. He helped me immensely starting the Charter Middle School program. He was a joy to be around. I don't think I ever saw him down."
"It's tough when someone you're close with passes away," Raymond continued. "I knew Mark was sick. I talked to him on his birthday, which is the day before mine. When you talk to Mark, most of the times things are pretty upbeat. He said, 'No, everything is good.' I said, 'Are you sure, coach? Anything I can do.' He said, 'No, everything is good. That was on February 27."
Chris Black coached with McGarity at Lely.
"Everybody knows how great he was," Black said. "Mark touched a lot of people. He was the kind of guy who everybody loved because he loved everybody. He was always able to get the best out of people. He never met somebody who wasn't a friend. And it didn't matter what station of life they were in. How old they were. He just cared about everybody."
"I was coaching at Gulf Coast High School at the time, and I was doing some track starting," Black continued. "I shot off the gun. In the spring of 2001, I got the job at Lely. I saw Mark and told him I was coming to Lely. Typical Mark, he was excited for me and excited for Lely. He couldn't stop talking about how much I was going to like it there. And that he wanted me to coach with him. He loved Lely so much, he couldn't stop talking about it. Mark had a way of getting people to believe things they didn't believe in themselves. I ended up coaching cross country 15 years with Mark. In the beginning I was more of an assistant to help him. But again, he always gets the best out of people - after a couple of years he started to treat me as an equal to him and we started to run the team together. I was no longer, in his eyes, his assistant - I was his partner. If you'd have asked me in 2003 or 2004 if that would ever happen, I would have said, 'No way!' But with Mark, you knew it was going to happen that way. Mark could always get stuff out of people that they didn't know they could do. That was true of students, teachers, and other coaches. Any coach who asked him for help, he didn't care if it was another team or a rival. He wanted to help people. He would never turn somebody away."
Black pondered McGarity's legacy.
"The people he touched," Black said. "There are kids he coached and taught who have gone on to military academies. Have had military careers, that are now teachers in public schools and colleges. And if you talked to them, they would say they are where they are because of him. In their jobs they try to emulate him as a coach or as a teacher, as a person. That's really his legacy - everybody he touched."
Beth Colman is a counselor at Lely. She, too, will miss McGarity.
"Coach McGarity always had a smile on his face and that will be greatly missed around Lely High School," Colman said. "It was hard to keep students out of his class, every student wanted him as their teacher. He had a way about him to make sure everyone around him felt important no matter who you were. He will always be remembered because of the impact he made, not just individual lives but in families' lives! He is very special to us at Lely High School. He will be missed a great deal by us all."
Raymond remember McGarity as a man who was growing older the right way.
"He wasn't miffed about growing older," Raymond said. "He was growing older with style. The positivity that Mark exuded - that's hard to come by. He did that as good as anybody I've ever run into. He's my friend. Like that line in Shawshank Redemption…. I miss my friend. That's the way I'm going to be about Mark for a long, long time. Probably for as long as I'm walking around, I'm going to miss him. I haven't grasped it yet. I just wish I could talk to him one more time and thank him for all that he's done."
---