---
Jackfruit may be the most foreign looking tropical fruit you've ever seen in your neighborhood or at your local supermarket unless you grew up in parts of Asia where jackfruit is grown and consumed. Jackfruit is native to India, and it is the heavyweight of tropical fruits with the largest weighing in at over 100 pounds. For comparison, though watermelons can outweigh a jackfruit – they don't grow on trees!
Dr. Al Bismonte, a longtime resident of Marco Island, has a "tropical yard" with fruit trees reminding him of his native country, the Philippines. It is jackfruit season, and his prolific jackfruit tree is loaded with sweet aromatic fruits. When fellow Asians have a craving for a green or ripe jackfruit, Al is always happy to share a harvest.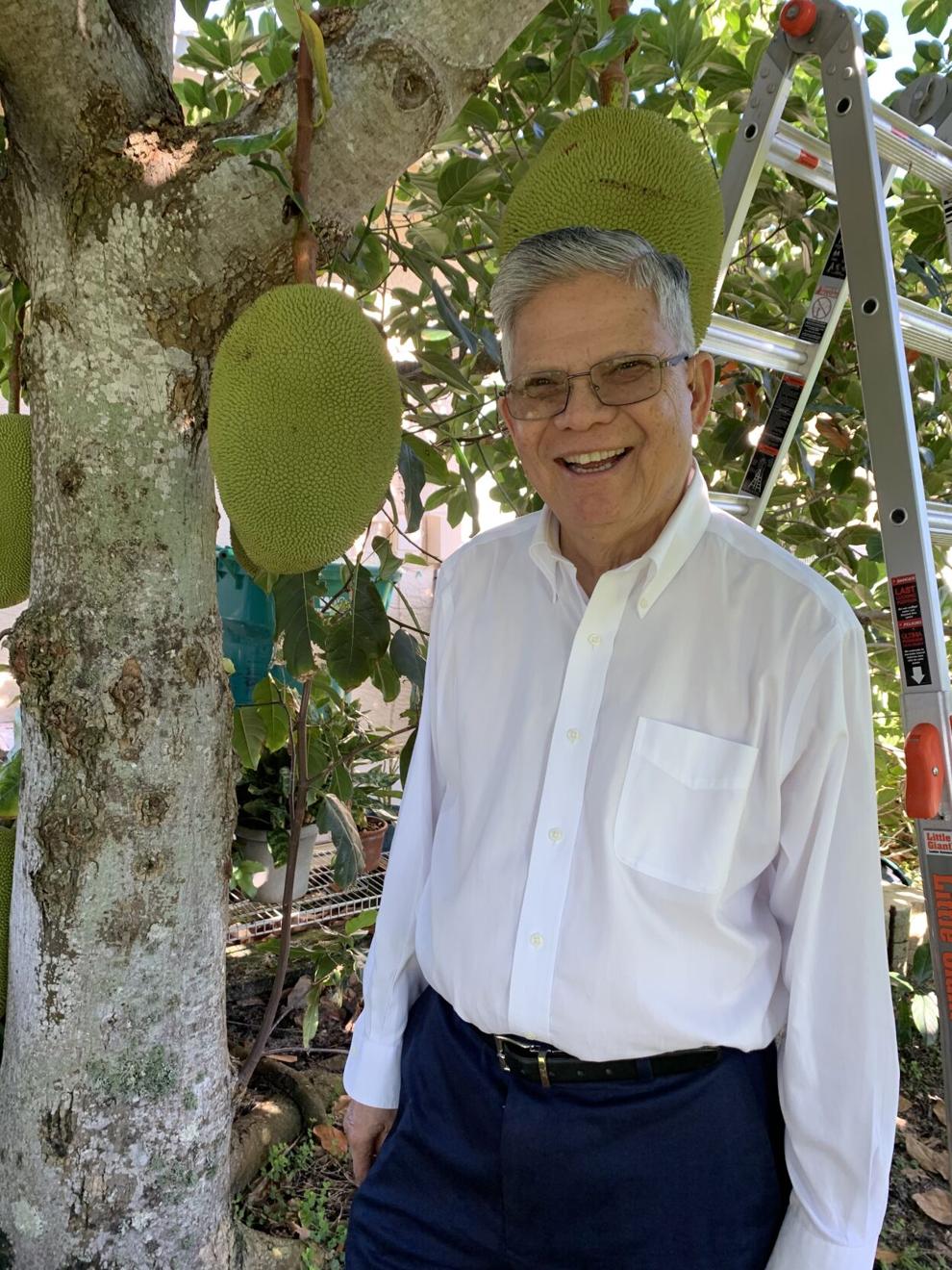 Jackfruit is a green lopsided ginormous fruit covered in spikes or bumps and is definitely NOT your typical backyard fruit. It is an intimidating looking fruit - can you imagine bringing home this HUGE fruit? And you do you even know how to prepare it?
The jackfruit has a distinct musky smell when ripe and is sometimes described as a combination of bananas, peaches, and pineapples but to western noses, more like Juicy Fruit gum. To me, it tastes better than it smells.
When green or unripe, the jackfruit has a neutral flavor, similar to a potato and when cooked, it will absorb the flavor of spices added to it. The seeds, when boiled or roasted, taste very similar to chestnuts.
Alternative to meat: This versatile fruit has caught the eye of western consumers and it looks like it is taking over the food scene as an ethical alternative to meat. It is featured in many vegan menus mimicking the texture of shredded chicken and pork. Have you tried a jackfruit burger?
Jackfruit is not the easiest fruit to prepare. For this article, Al Bismonte donated a 35-pound ripe jackfruit to be enjoyed fresh. On a hot and humid afternoon, a group of jackfruit enthusiasts gathered for a "hands-on jackfruit" tutorial.
When you cut a jackfruit open, you'll see large pale yellow "pods" or "bulbs", also referred to as the "fleshy petals", fused together with a fibrous core. The "pod" or "fleshy petal" is the fruit of the jackfruit. It also contains a large seed. The sweet aromatic yellow pods are best eaten fresh or added to desserts, salads, smoothies, or ice cream.
Ripeness test:  When ripe, a jackfruit skin will have a firm give; color will turn a bit yellowish, and the sweet aroma is very evident to your nose.
How to cut open a Jackfruit: You will find many instructions on YouTube, which takes the mystery out of the process. Jackfruit is full of latex (sap) and without prior experience, this could turn into a gooey nightmare.
Here is what I used: Cover your counter or a small table with plastic. The sticky sap will stick to everything; wear gloves to be discarded after clean-up. Hazel McNees and daughter Scarlett lathered their hands with coconut oil and that worked very well.
Time to start cutting: First I cut the jackfruit in half and continued to cut into manageable rounds or rings. I removed the latex core and working in teams, we started stripping the sweet juicy pods from the core, opening the pods, removing the seeds, and discarding everything else.  When all pods were collected and cleaned, it was ready to taste fresh juicy jackfruit.
This process can take hours but with a team, it only took us 30 minutes. Cleanup was easy – we simply rolled the plastic covering and toss them away. Coconut oil prevented the latex from sticking to hands and knives!
For cooking purposes: You need a green unripe jackfruit. After removing the thick spiky rind 
and the latex core, cut everything into small chunks and freeze what you don't need. I prefer to slow cook the chunks with chili spices until soft and stringy. In the produce section of the market, you can also find canned jackfruit or packaged ready-to-cook with spices added. For beginners not familiar with jackfruit texture, this is a good start.
Caution:  Jackfruit contains latex! If you have a latex allergy, wear rubber gloves.
Time to get seriously tropical: Growing up, my best ever jackfruit smoothie is blending five to six pieces of jackfruit pods, a half cup young coconut meat, a half cup of coconut milk and slices of mango. Mix all in a blender for 30 seconds. Enjoy!
---