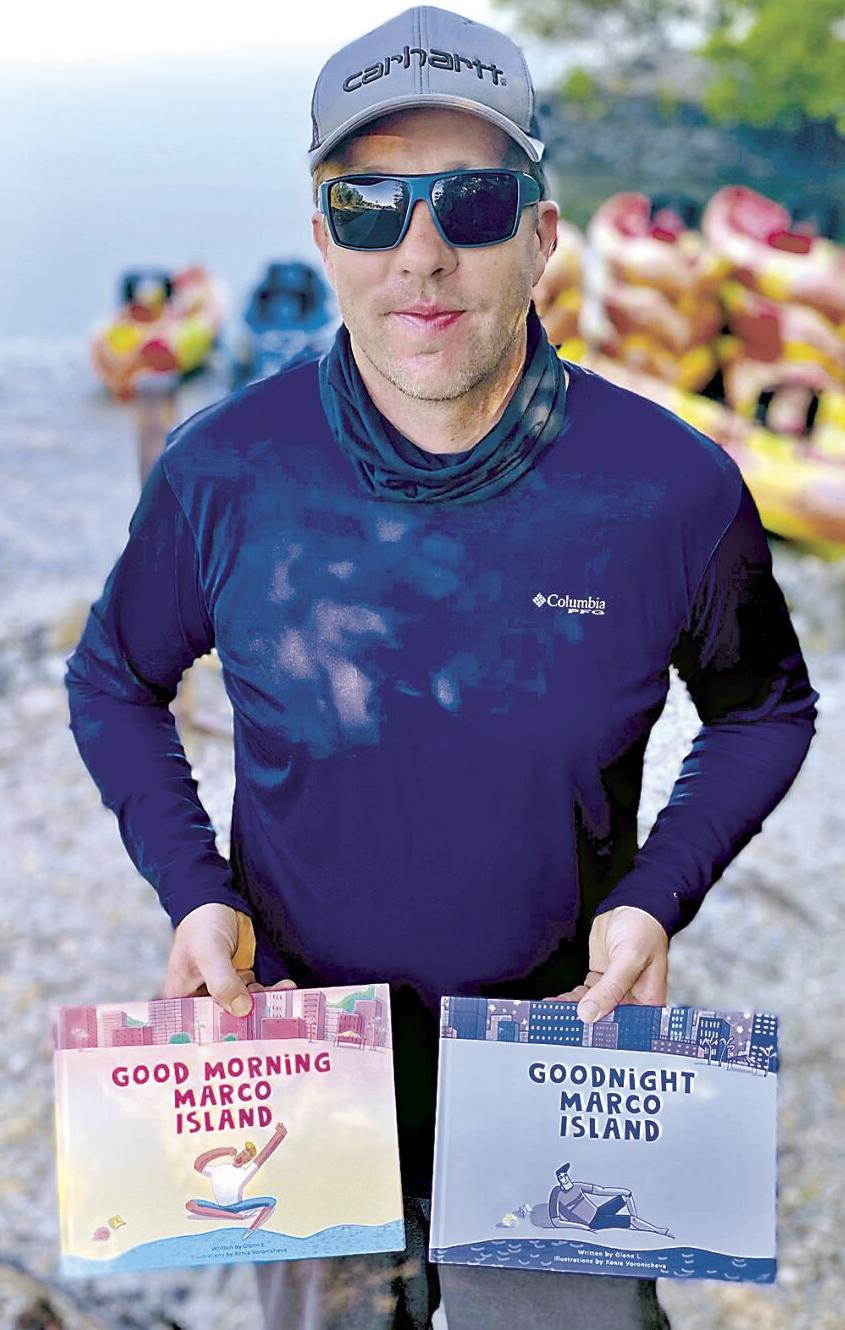 He may not be a professional writer or book publisher, but it's safe to say that Glenn L. - that's his pen name - has the gift of observation. As the author and publisher of last year's hit book "Goodnight Marco Island" and now its sequel, "Good Morning Marco Island," he shows a remarkable ability to put his finger on the Island's pulse and present its quirkiness in an entertaining and visually stunning way.
"Goodnight Marco Island" was a surprise hit last year, selling over 2,000 copies. It seems safe to say that "Good Morning Marco Island" should receive an equally enthusiastic audience.
Both books are 11-inches wide by eight-and-a half inches tall and 40 pages long. They follow a young Marco Island man with a pronounced blonde coif as he meanders around the island, experiencing many of the everyday occurrences that any Marco Islander can relate to.
"Yeah," Glenn L. said, "I poke fun at 'em. Have a funny illustration with them. A lot of people can relate to them because it's a small island."
Glenn L. describes the books' genre as children and adult humor, bedtime stories. He said "Good Morning Marco" is probably a bit more kid friendly.
"The first book I really poured some anger into it," he said. "You can read them both to your kids, but "Good Morning Marco Island: is a little more kid friendly."
"Good Morning Marco Island" follows the book's golden-haired protagonist, dressed in long blue shorts and a white t-shirt, as he goes about his business on the island.
While "Goodnight" deals with some grown up themes like the city's permitting process and the noisiness of short-term rental visitors, "Good Morning" takes a satirical look at No Wake Zone violators, high water bills, the island's pickleball frenzy, and long lines at the post office.
Glenn L.'s writing is crisp and clever - just what you'd expect to find in a good kid's book. The top-notch artwork is presented on high quality glossy stock and pulled together inside a beautiful hardbound cover that you will be proud to display on your coffee table. The artist is a Russian woman he found through ETSY, the American e-commerce company.
"I found her on ETSY about a year ago," Glenn L. said. "She's in Samara, Russia. This was before the war broke out. But it wouldn't matter to me anyway because my wife's Russian. We were able to communicate with her much easier because my wife could translate. I looked through many illustrators, and she had the most beautiful, cutest work. Super detailed, beautiful work. I said, 'Let's give this girl a shot.'  She was so good at communicating with us and drew these images. I went around town and took pictures of the exact angles I wanted everything. In the first book, Residents' Beach, I wanted the gate here, I wanted the people walking out and the guard yelling at 'em."
Glenn L., the owner/operator of Paddle Marco, has lived on the island for 10 years and has visited for 36. He said he had an epiphany while doing just what his protagonist is shown doing in his books.
"It's just daily life on Marco Island," he said. "Permits. Driving around, things you run into, people you run into. I said, 'I should write a book.' The first book was a big hit. And I had more ideas. You go to the post office and you stand in line forever. I put that in there."
While he's a novice in the writing, art, and publishing fields, you'd never know it by the high quality of both books.
"I'm a good writer," he said, "a good typist, a good reader. I've got kids. Reading all these kids' books every night I said, 'This looks easy.' So I just did it."
Could there be a third book? Say, Good Afternoon Marco Island? Glenn L. said that's not going to happen.
"These will be the last ones I write about Marco," he said. "I've pretty much exhausted, I think, all of the issues in this town," he said with a laugh.
"Good Morning Marco Island" is available at Keep in Touch, Shore Goods, Sweet Annie's Ice Cream and Candy Shoppe, Ocean Soul, Beachworks, Make a Memory, and Mango's.