---
It's late in the afternoon of day two of the 10-day Florida Python Challenge 2021, and the most famous python hunter of them all is in his element.
"It's just paradise out here," Dusty "The Wildman" Crum says as he surveys his backyard in the Big Cypress National Preserve. Crum, like the majority of python hunters, was skunked on opening day. He's determined that he's not going to let that happen again.
"This is ground zero for the python problem," Crum says, as he starts up his four-wheel drive Polaris snake hunting machine for a quick trip through Big Cypress. "We're going to do everything we can to catch a big python tonight."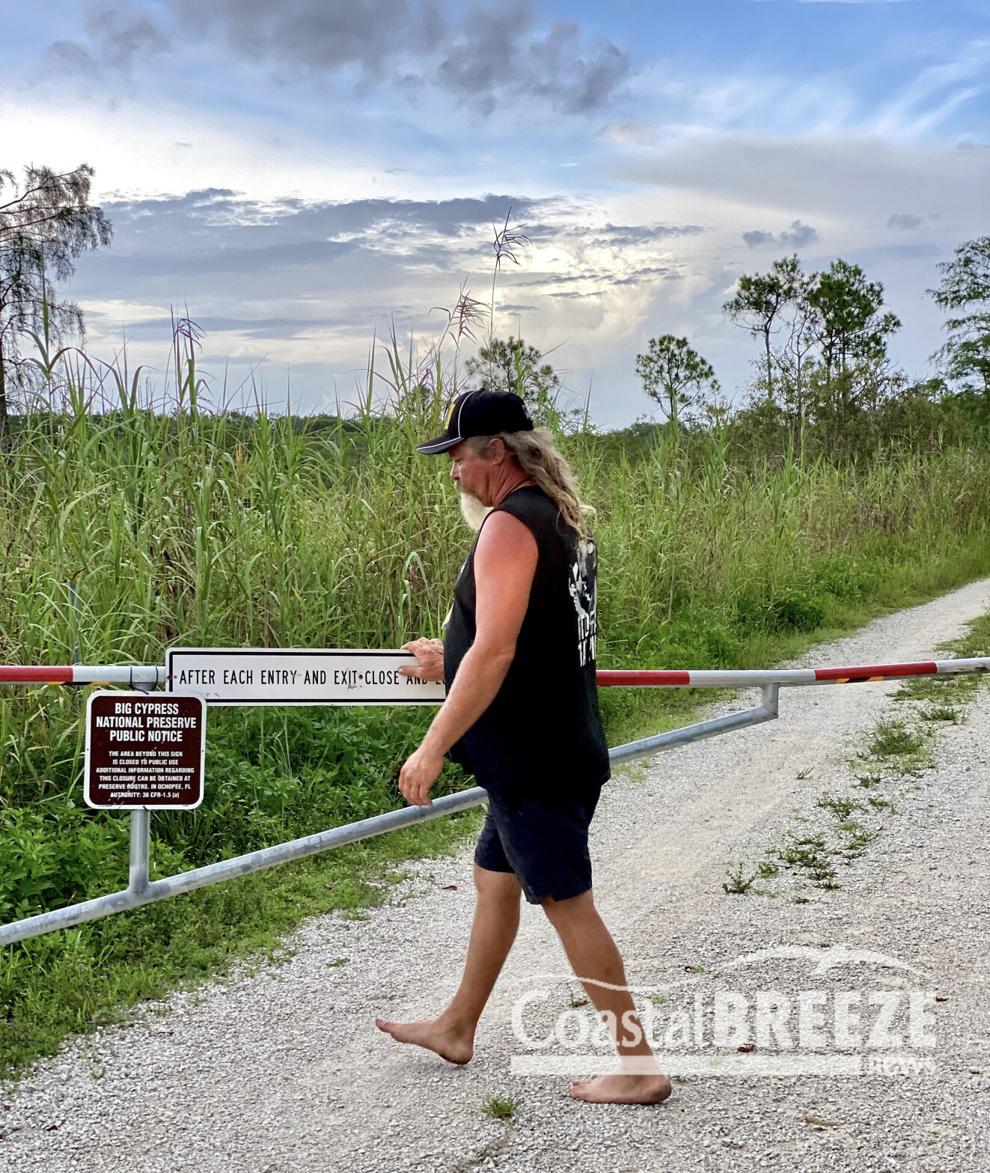 Crum is the star of "Guardians of the Glades", a Discovery Channel program focusing on his exploits as a snake hunter just east of Marco Island. The popular series had run for two seasons and 14 episodes but was interrupted by the pandemic. He realizes python hunting is not for everyone.
""It's not everybody who wants to be a snake hunter," Crum laughs. "It's not on the list of jobs like doctor, lawyer, python hunter."
As Crum drives through a bumpy, watery path in Big Cypress, he speculates about why the python hunting wasn't so good on opening night. He thinks Hurricane Elsa has a lot to do with it.
"I don't think anybody got anything last night," said Crum, who worked until 4:30 in the morning with his python hunting team. "I ran into a lot of hunters, but nobody's catching anything. The weather has everything to do with it. They were moving just before that storm came. They haven't started moving again yet. They'll go down in their hole and stay for a week. They don't care. It has a lot to do with the barometric pressure. When you go out at night and feel how heavy the air is, so humid. Sticky. Those are the nights you're going to catch the most snakes. When it's kind of rainy and cool, like it feels now, generally it's not that good. That's why I like the 30-day competition like they used to do it in 2013 and 2016. That gives you more time. This is the best time of year. That's why they do the challenge now. Because of the hatchlings. You find one, go up the road a mile and come back and you find another one. Then two or three. I've caught 17 or 18 in one night - that's pretty good."
Crum recently purchased a three-acre site on Turner River Road that was once a pig farm. There are very few people in this neck of the woods. He figures he's in the perfect place to help eradicate the Burmese Python population that is the scourge of the Everglades.
"If I'm going to help," he reasons, "I might as well stay right here full time."
Returning to camp, Crum is greeted by his team: Ed Musgrave and his nephews Jacob, 18, and Andrew, 16. Crum met the boys at a local fishing hole. They were visiting from Clearwater with their uncle Ed. The boys recognized Crum from "Guardians of the Glades". Now they're working side-by-side with their hero.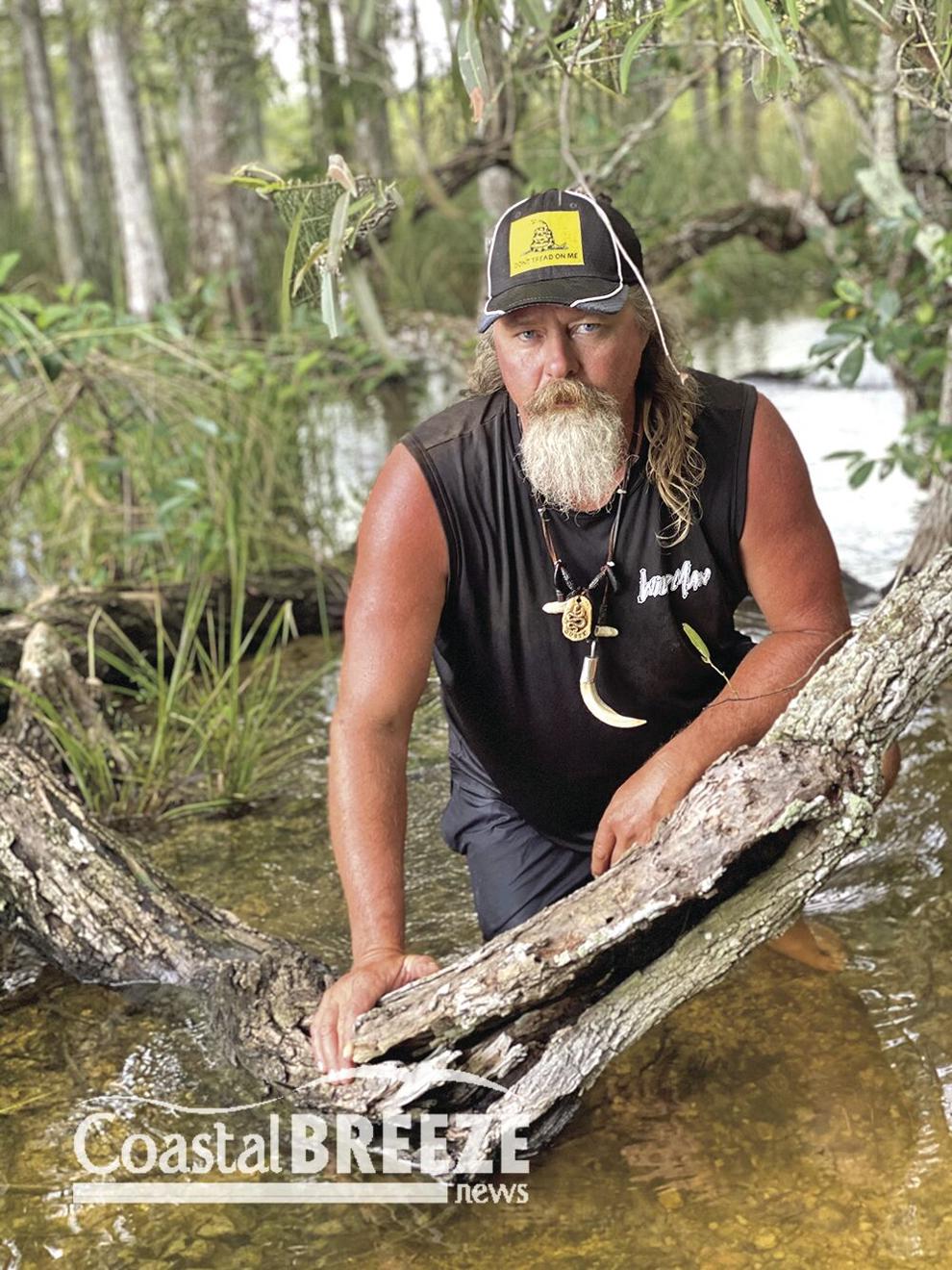 "I met these guys, they were out fishing," Crum said. "I think they recognized my truck. I invited them back to the camp. We became friends. It's nice to see the kids interested in taking part in this stuff. The kids have been helping me on the job. I'm trying to get the younger generation interested in this. I can't do this forever. I just turned 41."
"This kid right here is talented," Crum said, gesturing toward Andrew, who just finished his sophomore year of high school. "Both of 'em are. Jacob is, too. They can catch fish, iguanas, pythons, whatever you put in front of them. They're the next generation. That's my team this year; me, Ed, and the two kids. I just got them approved as assistants. We're going to kill it."
Crum sees things heating up as nighttime approaches. It is at night when python hunting is best.
"This is Saturday night of the Python Challenge," Crum reasoned. "I've run into four hunters and it's not even dark yet. I'm thinking there's going to be 500 people on the road tonight. I just hope everyone plays it right. You put that much money on the line and there's things that can happen."
There is $10,000 in prize money up for grabs in this year's python challenge. Crum is a past Python Challenge winner.
 "Last year, when we had this thing," Crum said, "I was at the check station and some old boy runs up with about 20 hatchlings. I'm looking at him and said, 'It's January; pythons don't hatch this time of year, bud.' And he's like, 'Oh no, we hunted all day and come back at night on bicycles, and we found this nest. It was a late nest.' I was like, 'Boys, you better not check those snakes in.' Soon as the officials seen that they disqualified him - and banned him - never to be hired by the state. He was just a young kid making a stupid mistake. But you can't play that way. Once you make a stupid mistake like that with the state it's over. They're hatching now in July. So, to turn in hatchling in January makes no sense. He had them in his freezer. He brought 'em in like that. I can tell. When you freeze a snake, they kind of turn into a little bit of a mush."
Crum says unscrupulous hunters also combine their catch in hopes of winning.
"They pool snakes," he said. "And they could be stockpiling snakes before the competition. Last week or the week before, just have them in bags, you know. But every snake has to be turned in. They do a necropsy on them, check for stomach content and stuff like that. Maybe some of this stuff will help to discourage some of that. There was a lot of talk about polygraph, but I don't know. They do that in fishing tournaments. Big fishing tournaments, for sure. If you win something and you didn't do it fairly, how could you even feel good about that? It's just money. Money does weird things to people."
Crum is a pioneer in python hunting. He was attracted by the first Florida Python Challenge in 2013.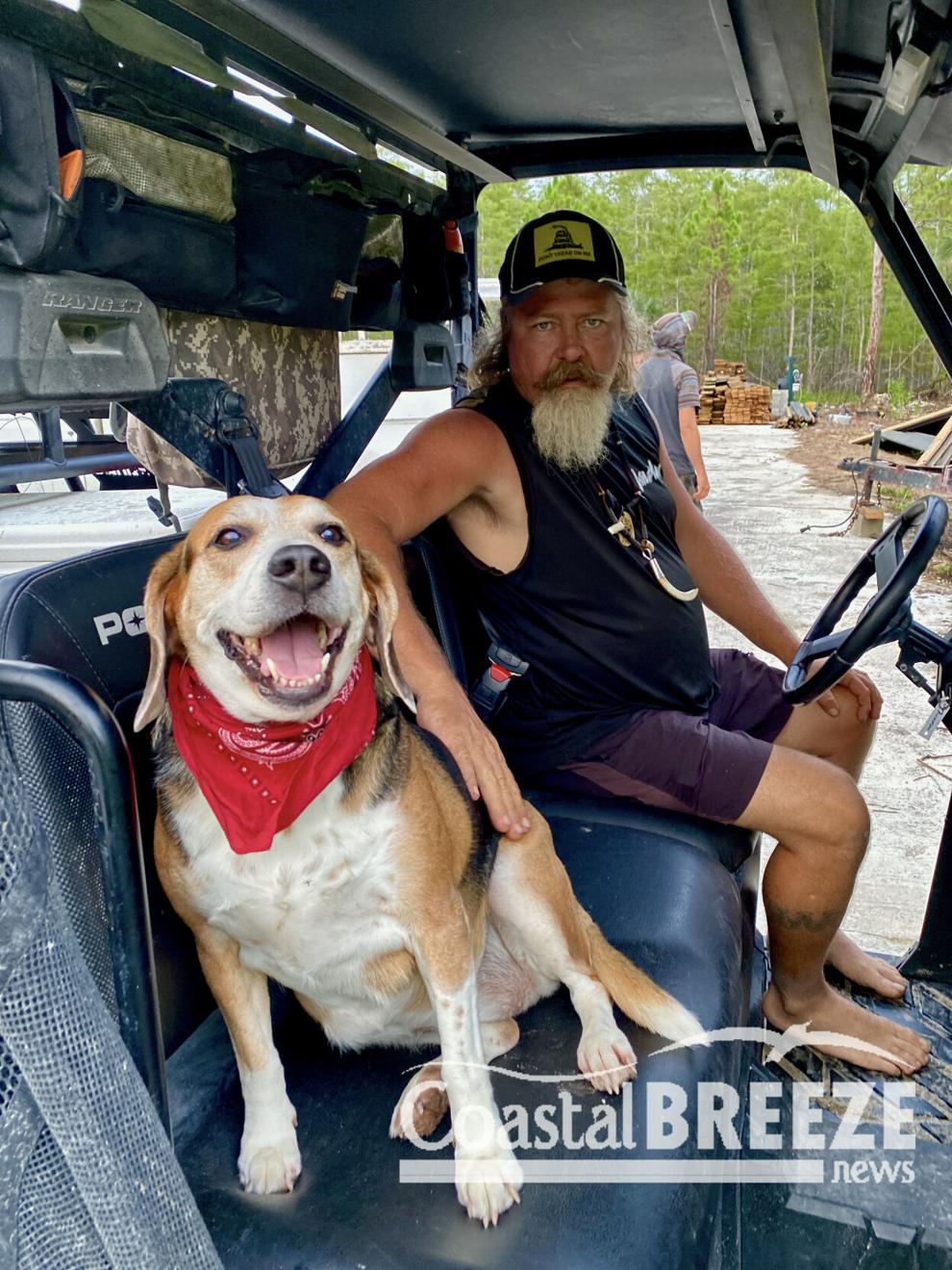 "I feel like I was one of the original guys who were doing it," Crum said. "Rueben Ramirez, George and Leo and them guys. There's a lot of new people I don't even know. There's a lot of new people. It's bad for my wallet, but good for the Everglades. More power to 'em, you know. We started out with 25 hunters, now there's 100 or more who work for the state. I work for the Water Management District. I'm not an employee, I'm a contractor. Too much liability, snake huntin'. They don't want to employee me," he laughs.
He sees a lot of the new python hunters as he makes his rounds. He doesn't know them, but they know him.
"Yeah," he said, "They know me. But I don't know who they are because there are a lot of new ones. I'd like to learn everybody's name. It's encouraging to see how many people want to help do this."  
Python hunters enjoy getting their picture taken with the affable Crum.
"Yeah," Crum says with a chuckle. "I had some guy stop me on the way back to the camp today. That's what made me late. He stopped me when I was turning into Turner River Road. He said, 'You made my day!' I don't feel that way myself. I'm just happy to bring attention to the Glades. I think my show really helps that. It's really brought a lot of attention to the python problem. We're in 220 countries in 50 different languages. Over one million views every night live, then good plus-three numbers the three days after the live airing. A lot of people watch it. They tell their friends. In turn it helps the Glades."
Crum is proud of the work he and his fellow-python hunters are doing. There were a lot of naysayers when the program started.
"It was a pilot program," he said. "They were going to shut it down. But we were catching so many snakes they couldn't take the funding away. It was supposed to be killed. The program was supposed to die. But the hunters proved them wrong. We proved that we could catch them. With the original 25 hunters, when they first got their funding for the first year, it was like a $200,000 budget. Well, after all this popularity, Governor Ron DeSantis gave another $750,000 to the problem. We're sitting at almost a $1 million budget now. So, we have the Python Challenge annually now. It also helped hire some more dog detection teams. I'm going to be part of it. It allowed them to hire more hunters. We started with 25, now we have 100. So, it's great. We've just gotta keep doing it."
Crum has a special reason for wanting to be involved with the dog detection teams. His beloved 10-year-old beagle Riley is a valuable hunting ally.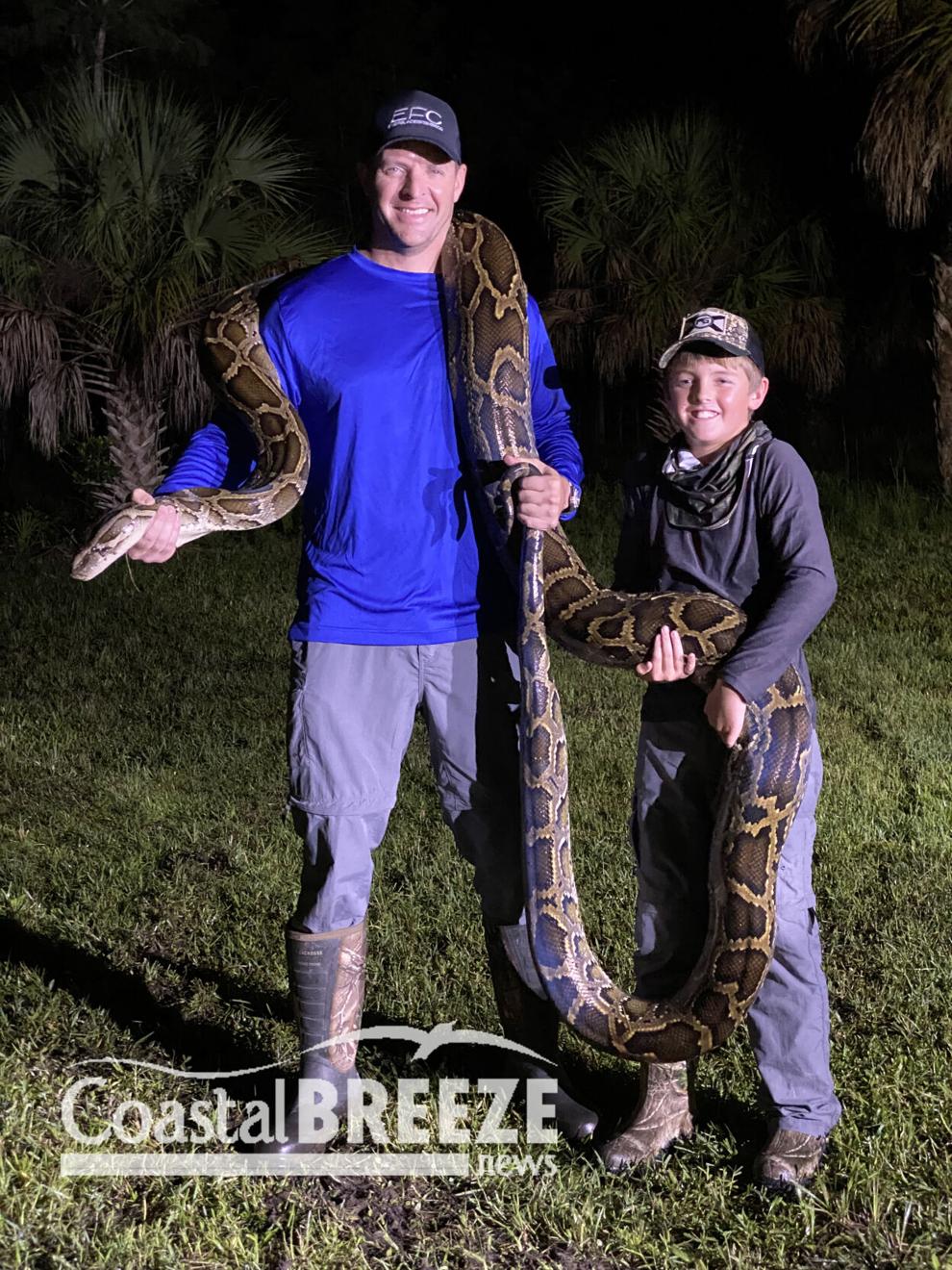 "Riley was my original dog," Crum says fondly. "That's Florida's finest python tracking beagle right there. She'll tell ya when a python is nearby. What's important about a dog like that is on the islands. You take a dog to the island, and if a snake has been on the island in the recent past the dog will tell you about it. She was on the show with me the first season. She started doing it naturally. First it was rattlesnakes. Then it was an alligator. Running circles around them, just barking. Then I started training her with rat snakes and stuff. Then we graduated to pythons. She's got some talent. She's got a good nose. She's still got it. She can smell 'em. She detected one in my driveway and I kind of ignored her. The next day there was a 12-foot python in the driveway that the gator got in a fight with. It was dead. She knew something was there. She puts her nose to the ground and starts workin'. You can tell when she's getting close to something. Her hair will start standing up on her back and she holds her ears a certain way and she gets a little spooky. Because she knows it's close. One time she got bit - it wasn't her fault - it was more my fault. I should have commanded her to stay. We were on the trail of a snake. All of a sudden, I spotted it. It was in the water, and I went after it. It's about almost knee-deep water. I've got the tail of the snake - it was a 12-to-13-footer - and here comes Riley. When she comes in, she can't smell the snake because it's under water. So, she pretty much stepped on the snake, and it bit her. She bit it back and they broke apart and she ran out of there scared. After that she's been really spooky about getting in the water. It took her a while to walk in the water with me again. Dogs aren't stupid, they remember stuff. She knows, 'don't get close to the snake.' I had other dogs who were too aggressive. They want to attack the snake. You don't want that dog. You want a dog that's going to bay. It's going to keep its distance. It's going to tell you about it by barking. You get one of them dogs, they're a special dog. Riley's my baby girl. I love her to death."
As darkness descends on Big Cypress, Crum feeds his team a meal of pizza and cookies. They're gathered around the television watching episodes of "Guardians of the Glades". They watch closely, learning lessons that will serve them well several hours later when they're face-to-face with a monster python.
About 23 hours into day two of the Python Challenge, Crum and his team are about to strike gold.
"We're rolling down the levee and we see a truck coming head on toward us," Crum said. "He flashed his lights at me. The professionals have a levee etiquette where we do certain things. Let each other pass. You don't turn around in front of other hunters. You're hunting your way out and someone turns in front of you, you're screwed the rest of the way because you've got a truck in front of you hunting. So, he flashed his lights and pulled over. It's a hunter, Kevin Carlisle, and his son Luke - he's my biggest fan.
"Kevin said, 'Dusty, I heard that diesel coming, and I thought it was you,'" Crum said. "He said, 'Look, I just saw the biggest snake I've ever seen in my life.  It's a 16-to-17-footer.' I said, 'Man, are you kidding' me?' He said, 'Yeah, I had it by the tail and it got away from me.' I started kidding him a little bit. I said, 'Ah, man, you've got to bite it and wrap your legs around it. Don't let it get away.' He said, 'It wrapped around a tree. I couldn't hold it and it was gone.' I said, 'Really?' We joked a minute and then I sprang into action. I said, 'Drew, go get all the lights out of the truck.' He ran to the truck to get the lights."
Then Crum firmly and slowly addressed Carlisle again.
"I asked him, 'Where did you last see the snake?' He said, 'It went that way.' Ed was there. Jake was ready. Ed has a bunch of stuff in his pockets, his phone and all this stuff. He plays it safe and goes back to put his stuff in the truck because he doesn't want to lose it. At that point Ed was 10 to 20 yards away. I went in the swamp, then Ed went in the swamp. We get in there and it's all this sawgrass. It's about knee deep water. I'm like, 'Guys, the snake's still here. If what you're telling me is true, the snake is big. It didn't go far.' I knew that snake was still in there. You know the snake's not going to go on that high ground. That's a big snake, it would take too much energy. It's going to stay in the water where it feels safe and hidden in the grass. I'm trying to step on the thing. I'm barefoot. I'm trying to find it with my feet. Because you can't see. Then Ed went south of me, we went in there and we had this thing cordoned off. There was a little patch of high ground. We had the perimeter set up."
"I only saw about four inches of its tail," Ed Musgrave said. "We both kind of saw this ripple. It was a long ripple." 
"He said, 'I saw the tail,' Crum said. "I said, 'Ed, are you sure?' How many times did I ask you if, you were sure?"
"About five," Ed Musgrave answered, "maybe seven."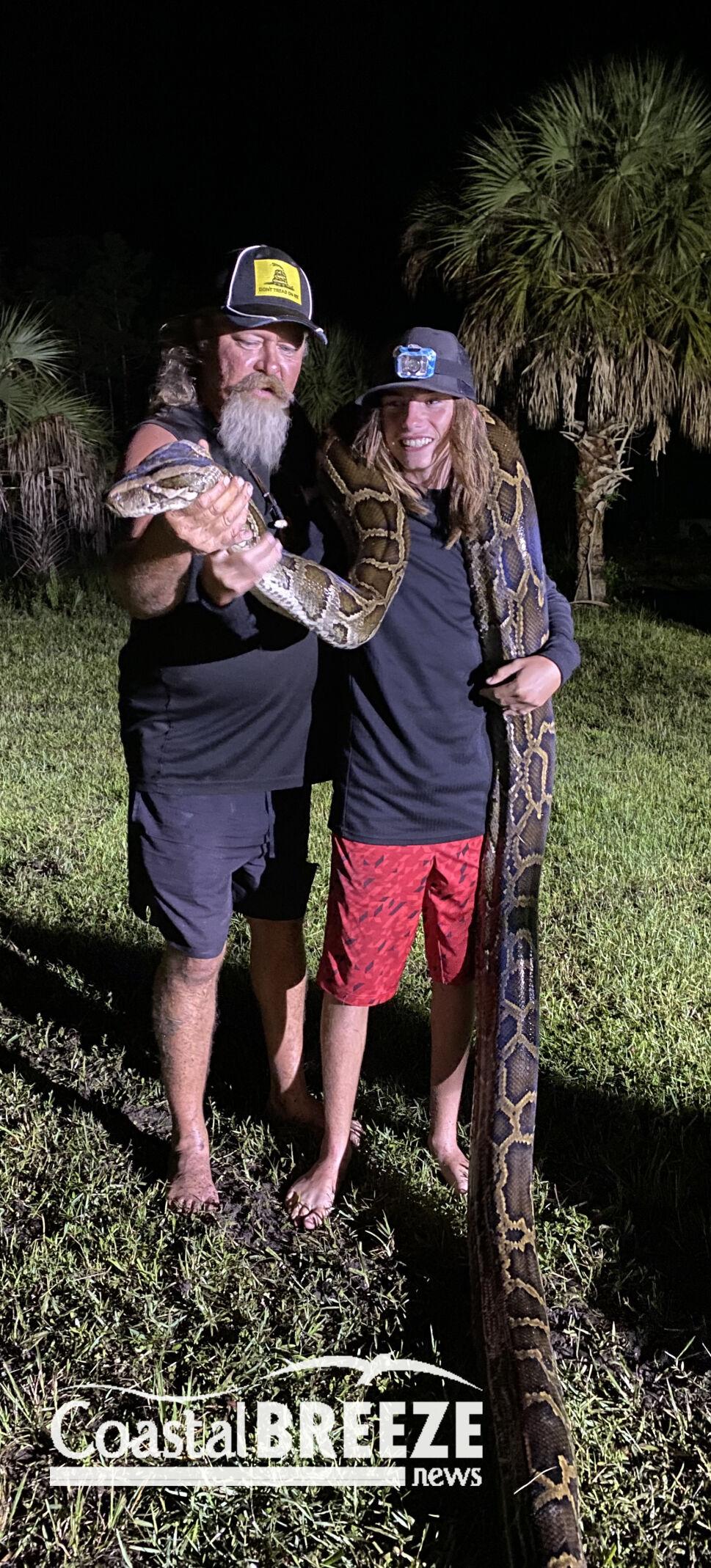 "He said, 'I'm 100 percent sure I saw the tail of the snake,'" Crum said. "About 30 seconds later it was bam. He was tucked back in there, coiled up in a little ball. As soon as we touched that tail, we jumped on it. Jacob jumped on it. I wanted to find the head of it. Drew was like, 'The head's right here, the head's right here!' He saw it because it was coming back at him. I was still assessing the situation at that time. How big is this snake? So, it came at me and Drew and kind of struck at us. Then it turned to Jacob and Ed. It was going to eat Jacob. Then Ed's Uncle instinct kicked in, and at about the same exact time we both grabbed the head of the snake because we could sense the danger. And it was a like, 'Alright, we've got this sucker.'
"We got the head," Crum said. "It was tough getting that thing out of there. I was wore out. It was everything I could do to get that snake out of there. We were sinking to our knees in the mud. The more that you work through that trail and break the vegetation down, it turns into muck. Then I started leading us out to a fresh trail."
Jacob Musgrave saw the fight from a different perspective—from the tail of the snake.
"I heard my uncle say, 'Here it is over here," Jacob Musgrave said. "Then I saw the huge girth of the body going through the water and I hooked my hand on it. And the sheer size of it surprised me. And it kept sliding out, even though I had a good grip on it. I'm like, What's going on? This isn't how it's supposed to be. I'm supposed to grab it and it's supposed to stop moving."
"Well, it's slippery and it's pure muscle," Crum interjects, "it's so strong."
"So, then it gets down to the tail," Jacob Musgrave said, "and I'm thinking, 'I can't lose this.' So, I kind of twist my hand around it to get a better grip on it."
"That's smart to wrap your hand around the tail like that," Crum affirmed.
"I lost it two more times," Jacob Musgrave recalls, "but I was finally able to hang onto it after I realized the water was making it more slippery. So, I pulled it out of the water so I could get a better grip on it."
"This is all happening in split seconds," Crum reminds.
"My Uncle and Dusty were pulling it over and it was wrapped up in these branches," Jacob Musgrave said. "So, I realized I had to let go of the tail then quickly grab the tail again. I did that, I got the tail. It was hard. Like Dusty said, there was mud almost to our knees. At one point it wrapped around my legs. Like twice."
"It does a little half hitch," Crum explains. "He couldn't unwrap it by himself. I had to help unwrap him. It had him. If you have its head, its natural response is to start wrapping that tail around you. When I had the head, it wrapped me so many times that I had to let go of the head so I could get my arm out and catch it again. Because it twists, and it's going to break your wrist. So, you have to let go so you can get another grip. That thing is strong when it's on fire. And you can't hold it. That's muscle. Pure muscle. It doesn't matter how big or bad you are, you can't hold that snake. You have to be smarter than the snake. You have to do like we did. You have to work as a team like we did."
"When a snake has you like that, you have to let it go," Crum continues. "It will unwrap you naturally and try to get away. Then you have a chance to grab the head again. The snake will wear out. It will expend its energy. There is a point where the snake knows that you've got it - that it's caught."
Crum appreciates the role the father and son Carlisle team played. He said it was a great display of teamwork.
"I wouldn't have found that snake without then," Crum said.  "And he wouldn't have caught that snake without us. So, this snake is a team effort. This is South Florida Water Management contractors working together to take a big snake out of the environment. This snake is a big breeder that can produce 100 eggs a year. It's an amazing snake. This snake is skinny in the tail because it's already laid its eggs. So tomorrow we're going to go back to the same spot and see if we can find the babies. We've got the biggest, now we've gotta get the numbers."
Crum puts the big catch in perspective.
"Part of me wanted to keep it quiet," Crum said. "But let's set the bar. Let somebody try to get a bigger one. I have a hard time believing anybody will get a bigger one in 10 days. It's not easy to get a big snake like that. It could happen. I'm not saying it can't happen. But I'm pretty confident that's the winning snake."
---