---
A new and bold exhibit just opened at the Naples Botanical Garden made of Pussy Willow (Salix discolor) saplings from Quebec, Canada combined with Florida's own native willow (Salix Carolina) harvested at the Botanical Garden. STICKWORK, by Sculptor Patrick Dougherty and son Sam, have been created all over the world.
The Stickwork now showing at the Botanical Gardens is titled "Sea Change" and is 16-feet high by 70-feet long and 16-feet wide. It's described as "four individual but interconnected circles that swoops and folds on with 'waves' of woven saplings passing over one another."
According to the Naples Botanical Garden, a flatbed truck arrived at the Garden early November from Quebec, Canada hauling 30,000 pounds of farm grown willow – the medium of choice for internationally renowned environmental sculptor, Patrick Dougherty, who along with his son Sam and local volunteers transformed the saplings into a colossal masterpiece in three weeks.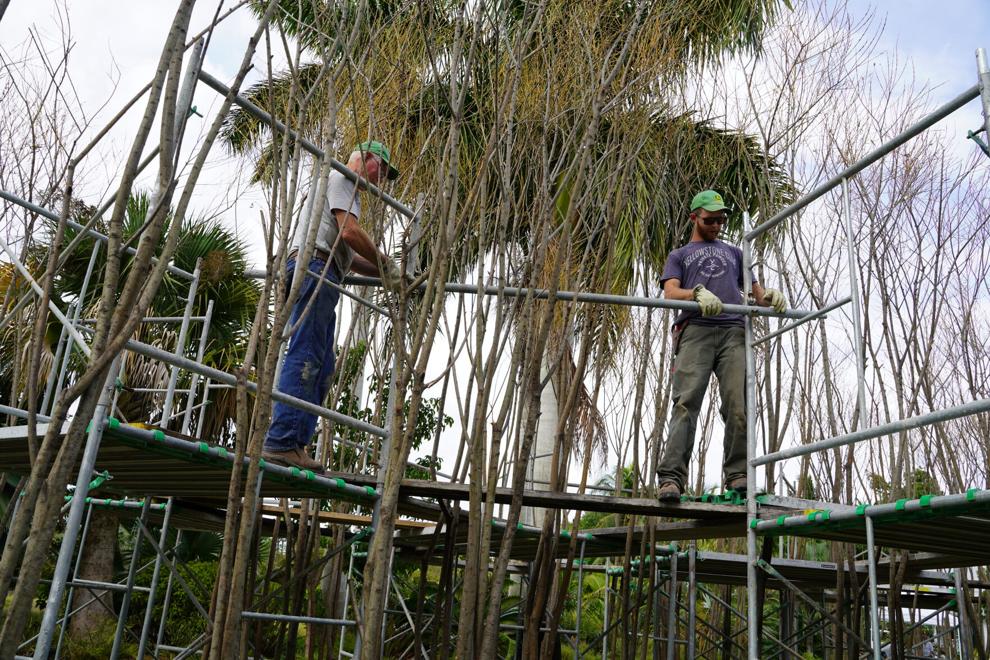 I have visited the site several times during the course of the assembly and watched with fascination from a distance. And with each visit the volunteers added more layers of intertwining sticks, tangles, a window or an arch.
Visitors were allowed to watch and ask questions, and I did not know then but that was an important part of the process, according to Patrick, as it "extends the viewing experience."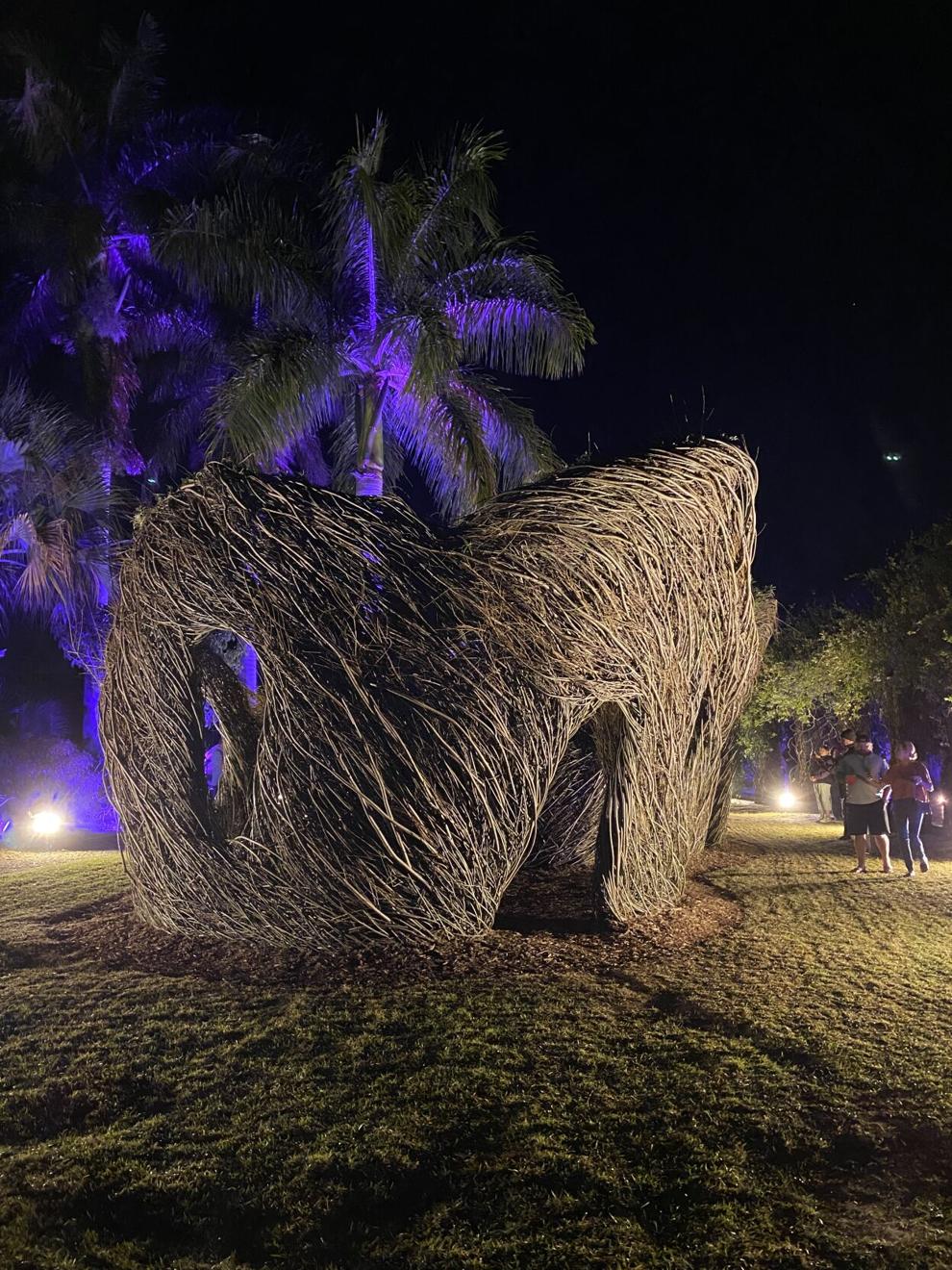 "The willow Stickwork are something from our childhood," according to Dougherty, "a product of our imagination, whimsical and magical."
I spoke with Patrick over the telephone and he shared that "in our childhood, we play out that hunting and gathering theme. As children we are connected to playing out primitive building techniques." His sculptures are made in that same mold.
Throughout history and in many cultures, dried willow branches were used in traditional basket weaving, furniture making and even outside living structures. Patrick looks for flexibility and coloration in his materials. Green willow, when harvested, is pliable and easily manipulated by bending, twisting or layering it over other pieces.
Looking at the undulating quality of "Sea Change," it feels that it has always been there – that it has a sense of belonging and that the sculpture fits the space perfectly at the Garden.
I visited the Stickwork Sculpture again this week – and each time I get a different personal experience. Just like a new car, there is the smell of the fresh willow sapling. If you look closely, you can see some greenery still attached to the willow sticks.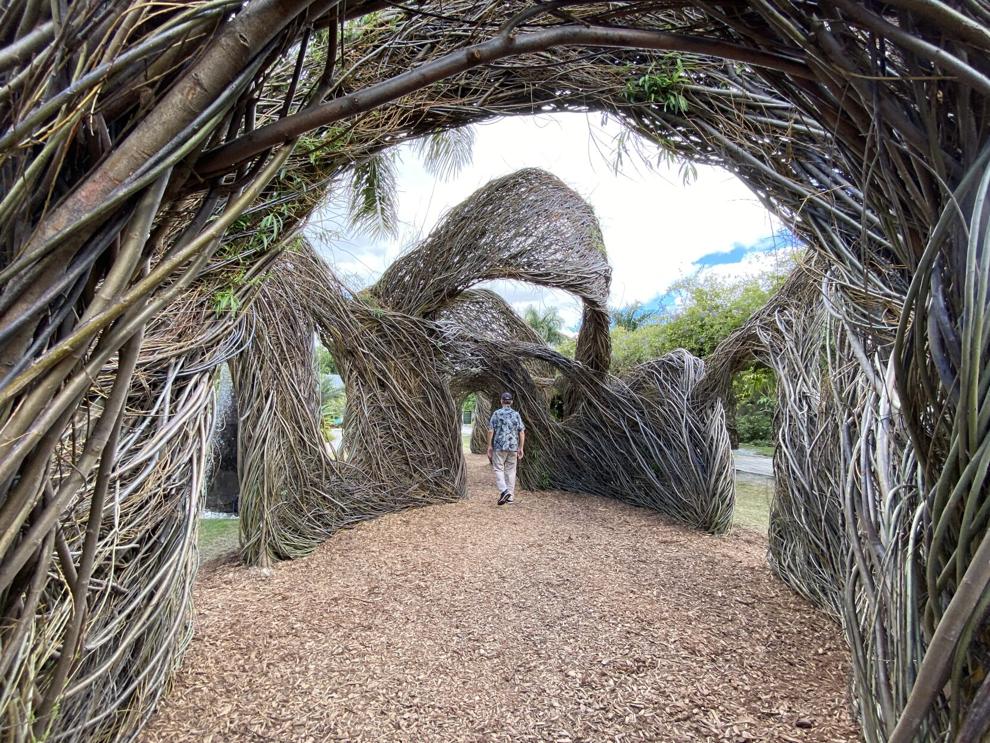 The experience is sensory and tactile. The colors of the branches and twigs change with the lighting; people leaning out the window or taking a visual of what's inside - or if you bump into a corner or run your hands through a bundle held tightly overhead – something stirs inside reminding you of past childhood memories. Every material is rooted in nature. 
The best part is when you observe children just letting themselves go as they chase each other through the doorways. Another adult was reciting the lines from The Three Little Pigs – "Then I'll huff and I'll puff and blow your house down" and asked how long will this last?
I would guess that most of these kids have never played with sticks before but there is something liberating about the Stickwork experience – it awakens your imagination and sense of play, no matter your age.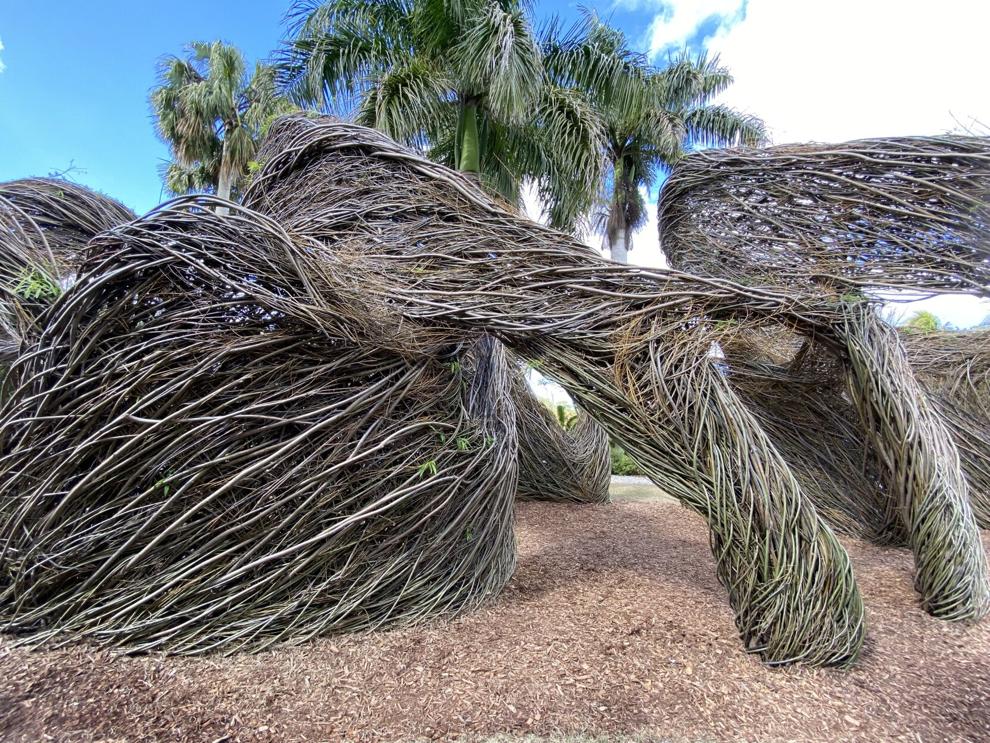 Imagine yourself being a member of a tribe and living in an open-air primitive stick dwelling somewhere (think National Geographic) in an ancient culture with the family gathered around you. And that you all had a hand in gathering the sticks for shelter while the elders hunted for food.
A visit to view Stickwork is all about personal association and if you came back a month or two later – or even a year - just to check out how it is holding up…that, too, is part of the experience.
Stickwork "Sea Change" is available for viewing at the Naples Botanical Garden November, 2021 through 2023, Kapnick Caribbean Garden, 4820 Bayshore Drive, Naples.
---