---
The Marco Players is excited to announce the 2021-2022 season, "Roaring Back."  We're Roaring Back to full seating capacity, opening nights with champagne 'n strawberries, new board members and renewed social freedoms to enjoy live theater! The 48th season is Roaring Back to the good times by offering two world premieres by local playwrights, award-winning comedies by playwrights who have written television sitcoms, Walt Disney Productions, and Broadway Premieres.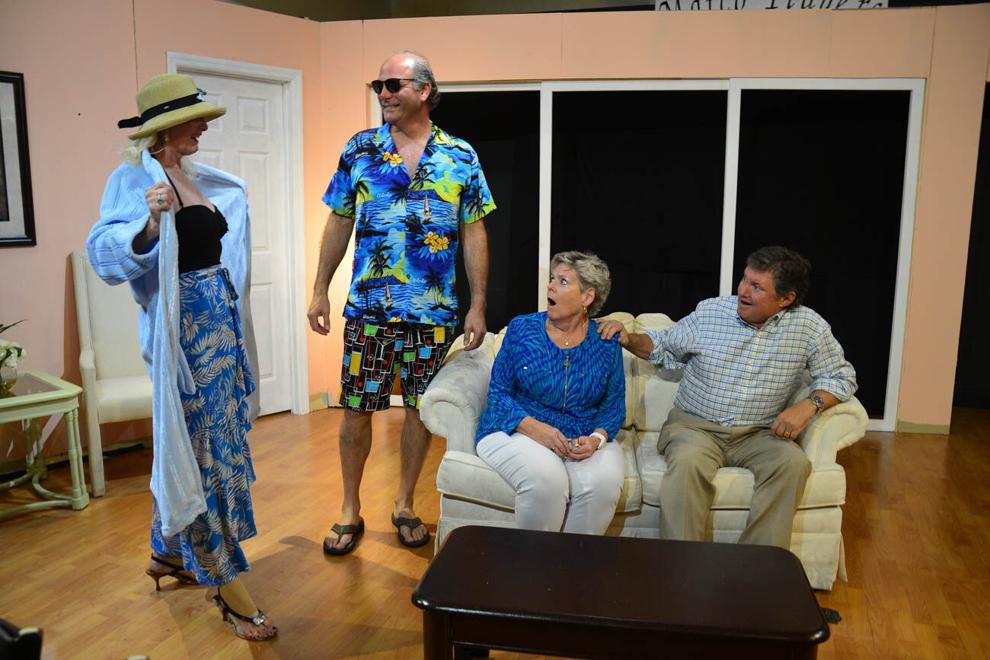 Your community theater cannot say thank you enough. The Marco Players survived the pandemic and is reopening for the 2021-2022 season because of the donations from our loyal patrons and friends and from the grants received from the Community Foundation of Collier County. The generous donations given to two fundraising campaigns prevented us from closing. The Staying Alive Campaign exceeded our expectations and raised $67,305 and the Staying Afloat campaign raised an additional $43,650. "We are grateful and humbled by the outpouring of support from our community," says Beverly Dahlstrom, Artistic Director. "Our small theater team feels valued and is grateful to announce the 2021-2022 Season – Roaring Back."
With renewed commitment, The Marco Players Theater is excited to announce two new board members who have expertise in what it takes to run a 501c3 non-profit and a passion for the performing arts. Join us in welcoming board members Paul LoPresti, Jodee Bennett, and Charlie Blum who join existing board members Jim Swanker and Beverly Dahlstrom, President.
For the 2021-2022 season, we're announcing a new Membership Program that offers valuable benefits and discounts. Ticket prices will range $34 to $39.50 per ticket.
Box Office Dates and Ticket Prices:
New! TMP Membership: Opens August 25, 2021. Member's season packages unlock discounted tickets at $34 each ($39.50 regular) and offer early ticket sales and seat selection two weeks prior to general sales. For information on the benefits of becoming a member, visit themarcoplayers.com/membership
Group Sales: Open September 1, 2021 for groups of 10 or more. Discounts available.
General Sales: Open September 8, 2021. Individual tickets at $39.50/ticket.
Visit our website for more information on ticket sales, auditions, volunteer, and membership benefits with The Marco Players. www.Themarcoplayers.com or info@themarcoplayers.com.
The 48th Season, 2021-2022 Shows
Good People
By David Lindsay-Abaire; Directed by Bonnie Knapp
Show Dates: October 27 through November 14, 2021
Welcome to Southie, a Boston neighborhood where the scrappy characters in this tough, yet tender play live in a specific time in American life—timeless! Presented by special arrangement with Dramatists Play Service, Inc., New York.
The Hallelujah Girls
By Jessie Jones, Nicholas Hope and Jamie Wooten; Directed by Paula Keenan
Show Dates: December 1 through December 19, 2021
Friends gather weekly in a church-turned day spa where they decide it's time to change their lives. With some comical SPA-DEE-DAH, you'll be shouting "Hallelujah!" Presented by special arrangement with Dramatists Play Service, Inc., New York.
Silver Alert – World Premiere
By Harriette Tax with assistance from Bob Logan; Directed by TBA
Show Dates: January 5 through January 23, 2022
When Louise's driving privileges are threatened, she takes her car on a wild cross-country journey. Produced by special arrangement with Harriette Tax.
The Bona Dea Challenge – Word Premiere
Written and Directed by Carole Fenstermacher
Auditions: October 23, 2021, Noon to 2:00 PM
Show Dates: February 9 through February 27, 2022
Seven women compete in a cooking contest for a grand prize— a week of surprises in Italy with a renowned master chef. Produced by special arrangement with Carole Fenstermacher.
America's Sexiest Couple
By Ken Levine; Directed by Annie Rosemond
Auditions: September 4, 2021, Noon to 2:00 PM
Show Dates: March 16 through April 3, 2022
A delightfully funny and witty comedy about actors who were "America's Sexiest Couple" on a popular 80s sitcom who reunite and experience all kinds of unresolved issues. Presented through special arrangement with and all authorized performance materials are supplied by TRW PLAYS. 1180 Avenue of the Americas, Suite 640, New York, NY 10036. www.trwplays.com.
Love & Money
By A. R. Gurney; Directed by TBA
Auditions: September 11, 2021, Noon to 2:00 PM
Show Dates: April 20 through May 8, 2022
A wealthy widow's plan to donate everything hits a snag when a slimy man shows up to claim his alleged inheritance. Presented by special arrangement with Dramatists Play Service, Inc., New York.
---