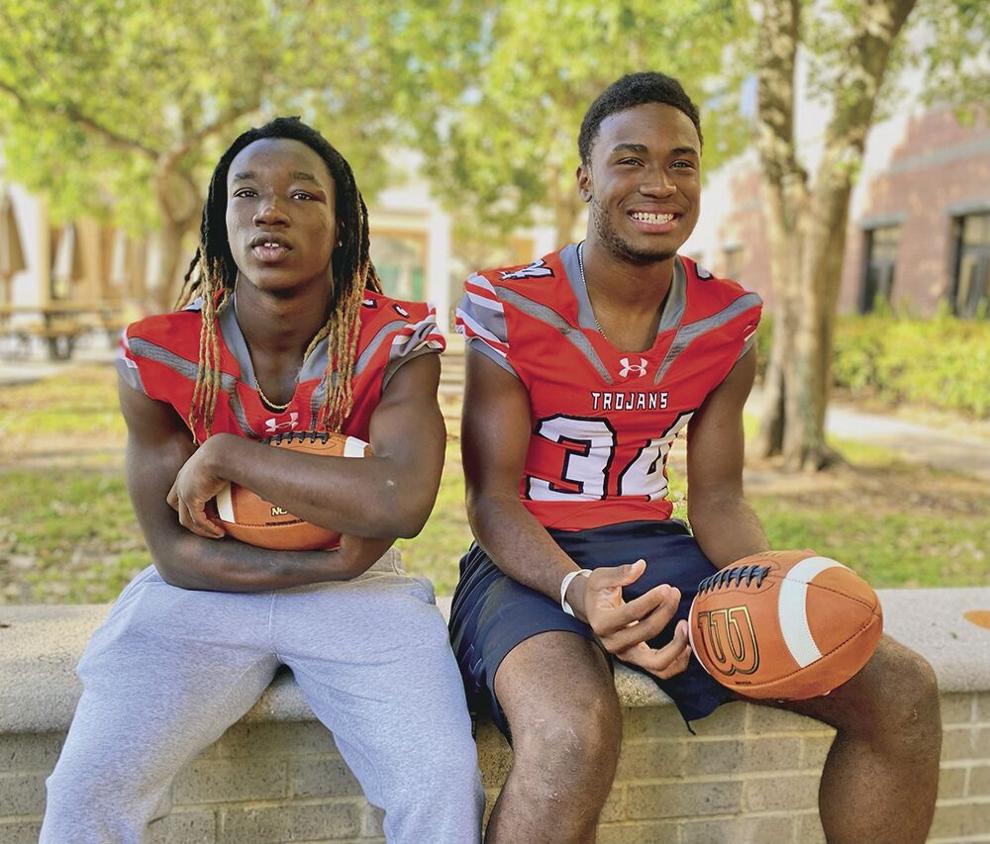 Lely High School has been playing football since 1974. It's unlikely that in those 49 years it has seen a season like this one. Given up for dead by all but their most ardent supporters after an 0-3 start - punctuated by a 35-7 beatdown by East Coast power Monsignor Pace - thoughts of a winning season and playoff berth seemed like a pipe dream.
It looked like Guerschom Guerrier's senior season was going to be wasted. The bruising running back, with 2,883 yards and 30 rushing touchdowns on his resume at Lely, was being targeted by opposing defenses. He was the team's only viable offensive weapon. He also became the team's leading tackler when Lely head coach JJ Everage doubled his workload, telling him before the season that he needed him to play defense for the first time in 2022.
With hopes for the 2022 season swirling down the drain, Everage and his coaching brain trust decided to try their top receiver, 5'4", 113-pound Jakeem Tanelus, at quarterback in practice leading up to their Week Four showdown against longtime state power Bradenton Southeast.
"The second he got in at quarterback in practice," Everage said, "you could see, 'Hey, this might be something we can do.' The linemen were all like, 'okay, yeah!'"
For his part, Tanelus wasn't sure he wanted to be the quarterback.
"It happened after that loss we took," Tanelus said. "When they announced that I was going to be the QB, I really didn't want to go to QB because my favorite position is receiver. But my team really needed me at the time. They changed the whole package for me. Me and Guerschom were like a duo in a run-heavy offense. I played quarterback in youth football, so quarterback was not new to me. Half of our linemen at Lely were my linemen in youth football. So most of those boys had trust and faith in me."
Trust and faith are tenets of religion and philosophy. Truth and faith also pays dividends on the football field. Indeed the change that came over the Lely football team when Tanelus was inserted at quarterback was a revival and awakening. The Trojans team had seen the light.
"We got here because of Jakeem," Everage said flatly. "Jakeem made all the difference going back to quarterback. He just has natural instincts that you can't teach. He basically picked this team up when we were in our darkest moments early in the year. He made the difference. People probably wonder why we didn't have him in there to begin with," Everage chuckled. "I can't say enough about what he did for us with his leadership and his play on the field."
Right from the get-go against Bradenton Southeast, Tanelus proved unstoppable with his speed and maneuverability. He also proved that he could operate a high percentage passing game. For the season he connected on eight touchdown passes and threw only one interception.
"I went in at QB," Tanelus said. "We got our first win of the season. I wasn't really nervous, because I played the position before, but that first game is kind of a blur to me."
Tanelus must have looked like a blur to Bradenton Southeast as he raced for 138 yards and a touchdown and completed five of six passes for 74 yards and two touchdowns in the Trojans' 38-3 running clock victory. He also helped to ease the load for Guerrier, who picked up 138 yards and two touchdowns.
"We were very successful on offense," Tanelus said, "and the defense came to play. We did our jobs and we shut them down. We got our first win of the season. After that first win, it felt really good to us, and we said we weren't done. We said we're tired of losing. We're going on a rampage. We turned the tables. Finished off the season pretty good."
The Trojans finished off the season with six wins and two losses. Their two losses, to Naples and Dunbar, the Ft. Myers/Naples area's top two teams.
"When we were going 0-3," Guerrier said, "we were always thinking, 'okay we lost these first three games, but those games don't define us.' We can still win the rest of our games from here on out if we just work. Take practice seriously, no joking around and stuff like that. Literally after every game we'd come back to school and people were against us. It was like you had the whole world against you. You've got kids saying, 'Oh you're not good this, you're not good that. You still have to go to practice, go to work, because you have a game on Friday. When we got that first win, it felt good. It felt like we could come to school and say, 'We won. You really can't say anything to us this week.' We were able to come out the following Friday and do the same thing. It felt so good you wanted to have more. It was like, 'I'm not done yet.' You wanted to keep the streak going."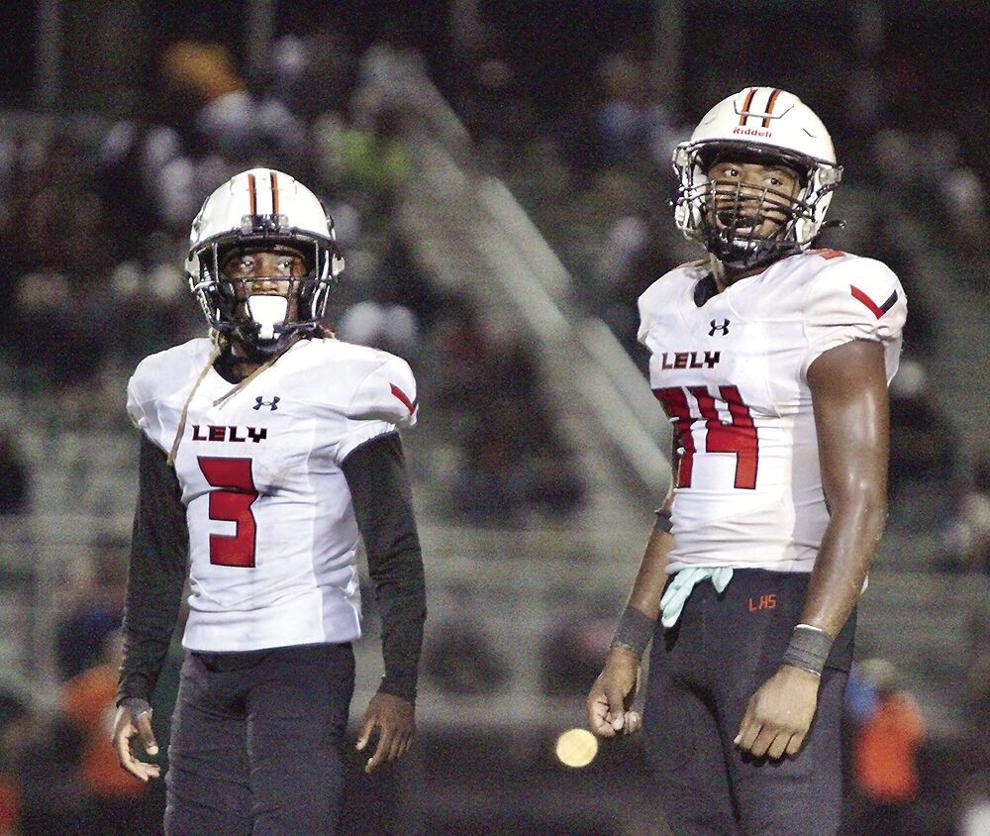 Next up was county rival Palmetto Ridge. Lely hung a 46-0 running clock beating on the Bears. A 59-0 loss to county power Naples High the next week tested their resolve but didn't break them. They had a chance to right the ship when they traveled to Barron Collier, a team ranked second in the county with only a loss to Naples on their record. The Trojans relished the opportunity to show their turnaround was for real.
"That was one team I wanted to beat," Guerrier said of Barron Collier. "I wanted to be the guy who would help us win that game. I was ready for that game. It was fun. They were shocked because we had 450 rushing yards. I was pumped for that game on Monday. They were so quick to turn off the scoreboard after the game."
Before they shut off the scoreboard, it read 40-0 for the Trojans. Another running clock victory. Tanelus raced for 254 yards on the ground and was also effective through the air, completing six of nine pass attempts for 51 yards, including a nifty four-yard touchdown pass to tight end Wally Monpremier. It was Monpremier's first catch in his first action at tight end. Guerrier picked up 172 yards and four touchdowns.
The dynamic duo of Tanelus and Guerrier was no flash in the pan. Tanelus now had the confidence he could break big runs on anyone.
"That felt so good," Tanelus said. "I felt relieved after those long runs. My running style is, I'm big on using my speed and making a guy miss with my footwork. Most of my touchdowns were long. There weren't really many short runs."
While Lely's opponents were trying to catch up with Tanelus, they had to be wary of being flattened by Guerrier.
"What usually goes through my head when I run the ball is, 'Oh, I'm gonna hit this person,'" Guerrier said. "It depends on how they come up to me. If it's a big boy right in front of me, I try to make him miss. But if I see a smaller guy standing in front of me, it's like 'You're either getting stiff-armed or you're getting trucked.' I just get them out of my way. But the big boys, I'll usually hit them and then I'll bounce off of them. I hardly ever get stopped on the first hit. When I run, I'll try to make people miss, but mostly I'm a bruiser, I want to hit you."
Guerrier admits that seeing Tanelus in action made him examine his own running style.
"I usually don't like juking," Guerrier said, "but once I saw Jakeem in there, I thought, 'I really don't have to worry about hitting people as much. I started thinking, 'As soon as I get this ball I'm fixin' to score right now. As soon as Jakeem got back there at quarterback, I started trying to juke a little bit more." 
A win over arch rival Golden Gate opened the door to the playoffs for the Trojans, who evened their slate at 4-4 with the win. Golden Gate was in line for the eighth and final playoff spot at the time. Tanelus ran for 140 yards and two touchdowns and also threw a touchdown pass against the Titans. Guerrier picked up 135 yards and made a key stop on defense that sealed the win.
"That Golden Gate game," Tanelus said, "to be able to show up when my team needed me felt so good. That felt so good when I scored that third touchdown and we went up 19-6 and we closed that win out." 
"Our hearts are beating, our hearts are racing," Guerrier said, describing the atmosphere against Golden Gate. "It's like, 'We've gotta win this game! It's too close for comfort.' I had a fumble, and that's what scared me. But I saved myself on defense when I got the game sealing tackle. They ran a quarterback sneak and I went through the lineman and held the ball. He tried to reach it out and get the first down, but they brought the chains out there and said 'Turnover on downs.' We got the ball back and won the game."
The Golden Gate game was the first of three games in nine days for the Trojans. The effects of Hurricane Ian had everything to do with the gauntlet the Trojans faced. But a convincing 43-20 win over Bonita Springs and a nail-biting 20-17 win at Immokalee assured the Trojans a winning record and a date in the playoffs against Dunbar.
The Trojans were confident in their chances on the road against Dunbar. But adversity struck when Everage contracted COVID and a key assistant was arrested and removed from the team.
"The hurricane," Everage said, "having to play three games in nine days, the 0-3 start, we had an unfortunate situation with a former coach. Then I wasn't able to attend practice all week."
"We were like, 'They're so beatable this year," Guerrier said of Dunbar. "Coach E was unable to be at practice all week. He didn't get to preach it to us enough that they were beatable and we should beat this team."
Tanelus believed the seven-seed Trojans could upend the number two seed Dunbar. Dunbar's only loss this season was to national power Lowndes of Valdosta, Georgia.
"Definitely," Tanelus said, "we were not intimidated at all."
Alas the power and speed of Dunbar proved too much for the Trojans, as the Tigers advanced in the playoffs with a 21-7 win on their home turf. The Trojans finished their season at 6–5.
Tanelus and Guerrier are left to ponder their football futures. Tanelus hopes he can woo colleges with his impressive highlight reel.
 "I really want to go play college ball," Tanelus said. "Hopefully, this off-season is good for me. Last year I didn't have that much film. My film is going to be good this year."
Lely guidance counselor Beth Colman is Lely's recruiting coordinator. She's hoping Tanelus' strong finish will get him into college.
"The growth that I've seen from him over the last two months has been just incredible," Colman said. "There was more growth in a short amount of time than I've seen out of any kid. It was awesome. I've never seen him be a leader before. Watching him become a leader was one of the greatest things I've seen out of any of my kids. It was unlike anything I've ever seen."
"He even mentioned it, his size, his stature, he's always had to fight so hard," continued Coleman. "So the part of being a leader was never in his mind. He was always fighting for his position and trying to prove himself. And once he got that quarterback position, he felt that he had proven himself and it was time for him to lead the team - and he led the team. He really did. When he would stand up in the huddle after the games and talk after coach Everage, I was so, so proud of him." 
"He's one of the best football players," Everage said. "Size doesn't mean anything. He's just a true football player. He has deceptive speed. He gets the wind knocked out of him, or he gets banged up, and he gets back in there as soon as he can."
Guerrier holds an offer from University of Northern Iowa, where former Lely standout and teammate Sergio Morancy is making a name for himself as a wideout.
"Guerschom's career has to go down as one of the best in Lely history," Everage said. "We were watching Pop Warner film of him. He ran just like he does now. He's just a beast. I think the team that picks him up will get a top notch running back or linebacker. And he's not afraid to block. He was the lead blocker on a lot of Jakeem's runs. He takes coaching very well. He just gets it from the get-go. He made tremendous strides on the defensive side of the ball this year. He's not selfish. Whoever picks him us will be getting a baller for sure."
"I was told about Guerschom when he was coming in as a ninth grader," Colman said, "just based off of his football talent. He's an awesome kid. Comes from an awesome family. He is a respectful young man who has big dreams. And I think he has a chance at some of them. He's a good kid." 
"He does have an offer from University of Northern Iowa," Colman said. "That would be a very good thing. In Sergio he has a friend and someone who is going through the program - he'll be in his third year when Guerschom gets there. He knows how the system works. But based off of this season, I expect to see more offers come in for Guerschom."