---
The long-awaited Fruit Farm Creek Mangrove Restoration Project, the largest mangrove restoration project in the history of Florida, is about to become a reality. Rookery Bay National Estuarine Research Reserve and the Florida Department of Environmental Protection hosted a groundbreaking ceremony Friday morning at 10:00 AM at the project site on east San Marco Road.
The groundbreaking was attended by many of those involved in what is being hailed as a great example of intergovernmental cooperation. Leaders, project managers, partners and elected officials from the DEP, Office of Resiliency and Coastal Protection, the Florida Wildlife Conservation Commission (FWC), the City of Marco Island and Coastal Resources Group (CSG) were on hand for the ceremony.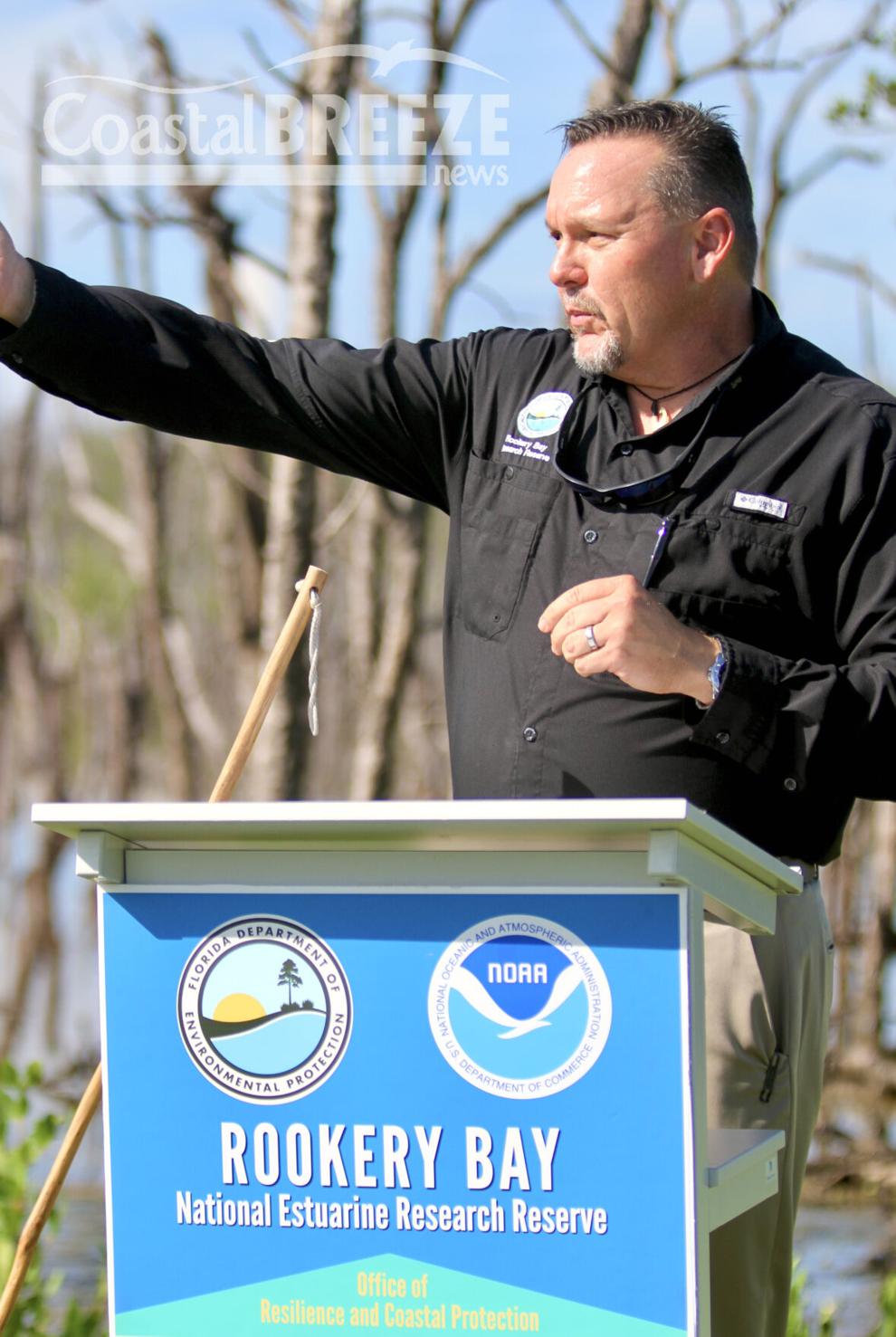 The ceremony was staged directly in front of the ravaged mangrove basin forests that abut San Marco Road, across from Stevens Landing. On a hot summer morning with no shade, attendees got a taste of what's in store for the workers who will be executing the restoration plan.
"I was driving to work, and I hear Tom Petty singing "Running Down a Dream," said Keith Laakkonen, director of Rookery Bay National Estuarine Research Reserve. "I feel like that's where we are. It's been such an effort to get here. It's been so long."
The project was originally the dream of Robin Lewis, former president of Coastal Resources Group, a 501c3 non-profit organization that works with public and private partners to conserve Florida's native coastal wetlands. Lewis, sadly, did not live to see the completion of what his successor calls his "pet project."
"This has been a day that I've personally been waiting for a very long time," said Laura Flynn, president of Coastal Resource Group. "Coastal Resource Group started working on this project back in 2008. Robin Lewis led the effort with Kathy Worley to better understand what was happening with the mangroves, what was causing the decline of these mangroves, and to come up with the plan to restore these mangroves. The project quickly became a passion of his. I would call it a pet project, actually. So, I don't believe it is a coincidence that today also marks the third anniversary of his death. I know he's here in spirit today. He would be very happy to be here with you all. And be very grateful for the funding to bring this to completion. I think once this project is completed it will continue to be a source of very important research and will provide a lot of educational opportunities as well. This is a special place. It's accessible. It's a great, great story."
"The really big point in this whole project was in 2008 when Rookery Bay was approached by Robin Lewis," Laakkonen said. "The late Robin Lewis. Just such a fantastic man. Dedicated to this project. He came up with a plan, a really simple plan, to turn the flow back on. Turn the tides back on."
"For those who don't know what a mangrove restoration is," Laakkonen continued, "basically we're trying to heal a heart attack. Mangroves require a nice mix of tides. A lot of people think that mangroves like to be wet all the time like these guys are," he said, motioning to the devastated landscape behind him. "They need tides. They need to be wet; they need to be dry. Unfortunately, this project goes back to when this road was first constructed in the 1960s. Before we knew what we know about mangroves now. A vital artery to the mangroves was cut off. It was part of Fruit Farm Creek. So today we begin the journey to help fix that heart attack and open up those arteries."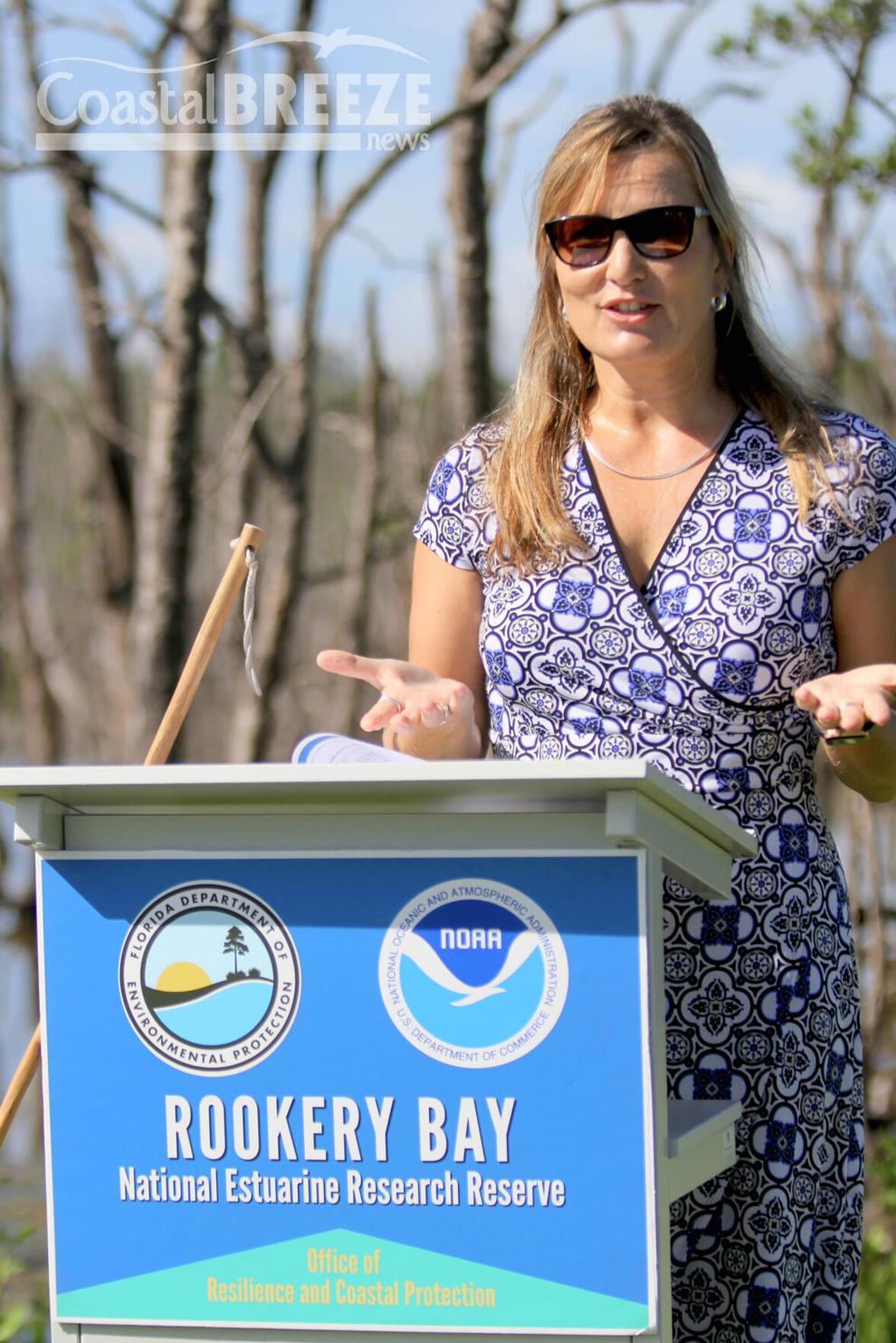 While Laakkonen cites the 1960s as the construction date of the San Marco Road, CSG cites 1938 as the construction date for the road. Either way, the estimated life of the culvert that provided tidal flow to the area is well past its estimated life of 50 years. The mangrove restoration project will include two culverts. City of Marco Island Public Works Director, Tim Pinter, will be responsible for the construction of the two culverts.
Alex Reed, director of the DEP's Office of Resiliency and Coastal Protection, was moved by the display of cooperation needed to pull off this restoration project.
"It gets me a little choked up to look at the challenges that some of our managed areas are addressing," Reed told the assembled crowd. "We know that to be able to have an impact really does take a village. As a newer member of this group, I'm honored to be with you here today to celebrate this momentous occasion. We know that we've been working on this project for so long. My background is funding. The will of the people and the will of our scientists can only get us so far in getting the voice out there and getting heard by the people so we can make things happen. Back in 2012 U.S. Fish and Wildlife Service and the Dickman Family Foundation helped with initial seed money to get this project started. And get the design of a restoration project that would get us here today. We followed that with a grant from the Florida Resilient Coastline Program. They started the design efforts and led us all the way to the shovel-ready stage that we're in today."
'We're working in two phases," Reed explained. "First of all, we know that we need to re-establish those tidal creeks that's going to allow us to have a full restoration of this project. And then the City of Marco Island is going to lead the efforts to add culverts under this road and make sure we have that hydraulic connectivity that's going to allow this project to succeed. I really appreciate the vision of all of the scientists and engineers that thought through this process to allow nature to take its course. Let us get the water right and let nature do her thing."
Hurricane Andrew in 1992 and Irma in 2017 are major players in the project.
"In 1992," Laakkonen said, "the year of Hurricane Andrew, we received record rainfall. That's the first year we had an indication that something was really going on. You think back to the 1960s when the road was constructed. This system hung in there until the 1990s. So that shows that mangroves are really, really, resilient. They can hang in there for a long time. They can take a knock and they can keep ticking. But there's only so much they can take."
"About 1992 we hit that tipping point," he said. "We started seeing the die-off. Unfortunately, this die-off has spread quite a bit. What happens is the tide would come in and there wasn't enough flow for the tide to get out. So, it would sit in here like it does now. The mangroves would begin to drown. Then in the winter the tide wouldn't come in at all, so they'd be too dry. You had these really stressful conditions on mangroves. They're tough plants, but they can only take so much. As the die-off started, it began to spread. Just like a heart attack. So, in 2001 Rookery Bay acquired some funds from NOAA, it was called the graduate research fellowship program. Southwest Florida was one of the first ones out here doing work on it. To really help to identify what was going on."
"And then in 2012 we were happy to get the first funding," he continued. "We did what we call our proof of concept, Phase 1A. There's a section of the road up by Stevens Landing that used to be dead. It's not anymore. Basically, we were able to go in there, just open up a small channel to get that tide restored. We didn't do any planting. Mother Nature took care of itself. I think that's a really important part of this project. To really just give Mother Nature the tools and she can really heal herself with just a hand from us. It's really exciting."
"Congress recognized the impact of Hurricane Irma on fisheries in Florida," Laakkonen said. "And FWC was able to receive some funding that they were able to bring to bear."
"Irma was another big hit to this area," said Dr. Tom Reinert, FWC Regional Director. "It was just another nail in that coffin. Habitat decline pre-dates that storm, but Irma did a number on it. Major impacts there. Because healthy mangroves, which we don't see here, are a vital fisheries habitat component. FWC was able to tap into $44 million worth of Federal fisheries disaster funds made available to NOAA. A subset of that went to habitat. So approximately $2.5 million of these grant funds are dedicated to this 263-acre mangrove restoration project. It's that connection to fisheries, mangroves - it's great birding. We saw the white morph of the reddish egret running around out there. I've never seen one. So that was a lifer for me. Some of our relief efforts include assistance to commercial fishermen in marinas in South Florida. Some here in Marco. Again, a significant investment of $5.5 million to habitats. That's fantastic. But it's not just us. We're bringing some money, but it's partnerships that are really the most important thing here. In this case it's the local, state, and federal. We're getting federal dollars. DEP, a statewide agency, FWC. We're also working with the City of Marco Island."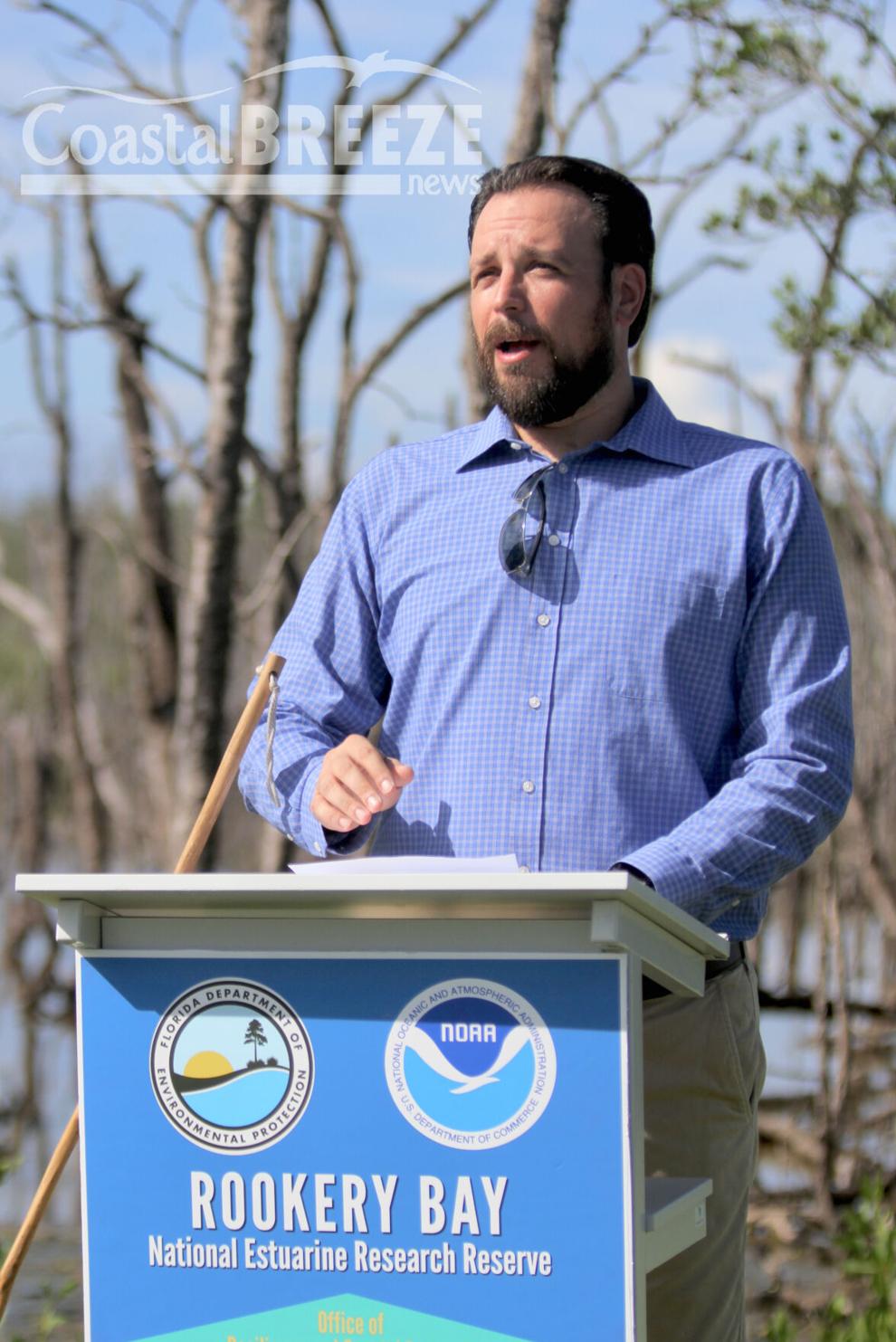 "I'd like to thank our governor and our legislature," Reed said, "because without their support, DEP would not be able to provide about $600,000 that's going to allow us to do the science to help us understand this process and this project. And be able to provide input and information for other restoration projects, hopefully, around the world. It's the largest mangrove restoration project in the history of Florida. We'd like this to be a stepping stone for other restoration projects around the globe."
Restoration biologist Corey Anderson is the project manager for the ambitious mangrove restoration project. He is intimately aware of the importance of mangroves.
"I'm the project manager for the tidal creek restoration and mangrove restoration happening here," Anderson said. "I'm really excited about this project and honored to be a part of it. It's a great example of inter-governmental cooperation. FWC's divisions of marine fisheries management, habitat species conservation and also our wildlife research institute working together with NOAA, our big funding partner, and other partner organizations across South Florida to identify some really large-scale marine fish habitat restoration opportunities. They can provide real significant benefits to commercial and recreational fisheries. Fruit Farm Creek Restoration is one of those that we're really happy about. We're super-excited to get started.
"Mangroves are awesome," Anderson continued. "Mangroves are an essential fish habitat. They provide food and shelter to fish and shellfish that everybody likes to eat and to catch. They also provide a lot of habitats for birds and other wildlife, mammals and reptiles and things. And they also provide great recreation opportunities. Kayaking, boating, just nature watching, photography, fishing around mangroves. One of the most important things that they don't get credit for is stabilizing our shoreline. So, they keep things intact. They lock in the sediments. They help improve water quality. They prevent erosion. They help protect coastal property as well during hurricanes, winds, and storm surges. They can really buffer the effects of that to reduce the damage that could occur to our coastal property. Researchers have found that each acre of mangroves generates roughly $7,100 a year in economic value from catchable fish, watchable wildlife, and that infrastructure protection that I talked about. A recent study by the Nature Conservancy found that the property protection value from mangroves provided just here in Southwest Florida when Hurricane Irma came to shore was worth $1.2 billion in damages avoided. So, taking down that storm surge just speaks to how important mangroves are for us, for our fish, for our wildlife, and for coastal resiliency. Which is why the FWC is super-excited to partner with all these agencies and thankful for the funding through NOAA to get this project done."
But don't expect to see a lot of action on the project immediately.
"It's going to take several more months before we begin," Anderson said. "The ceremony is sort of a little event to signify the kickoff of it. It was originally supposed to start in April. Sometimes a project hits some speed bumps. It will get done."
Marco City Council Chairman, Jared Grifoni, made a small speech at the ceremony.
"The City of Marco Island is proud to be part of this important restoration project," Grifoni said. "This restoration project will not only re-establish the ecosystem of this area but will also help create local jobs and protect real estate values by protecting the surrounding natural resources. And it will restore fish and wildlife habitats. I'm glad this restoration project can provide additional roosting areas for our roseate spoonbills, great blue herons, pelicans, and other protected species. I want to congratulate everyone who is involved in this project. It's not easy to apply for grants. There are permits needed to conduct a project like this. But it will be worth it. We're honored to be one of your partners."
---