---
For years now the use of stuffed toys to relieve anxiety with children that have witnessed or have been a victim of trauma or abuse have helped to calm them in those difficult times. Some experts believe it may relate to the soothing texture of the toy and its calming effects on the child.
To a child it represents more than just an inanimate object but represents an object which translates to security for the child. Those of you that are parents can relate to that effect, as you've witnessed it firsthand as your child finds that security in a favorite toy or blanket and can't go without it in their lives. 
Liberty Mirabilio Johannes, who volunteers with the local 501(C) 3 non-profit known as For the Love of Cats, would join with fellow 8th grade classmate Sophia Mendoza from the Marco Island Charter Middle School to gather over a hundred stuffed animals to be donated. They would have them cleaned and placed in their own bags for donation to the Marco Island Police Department. They would work on the project with Jan Rich, founder the organization For the Love of Cats in 2002 along with her husband, Jim.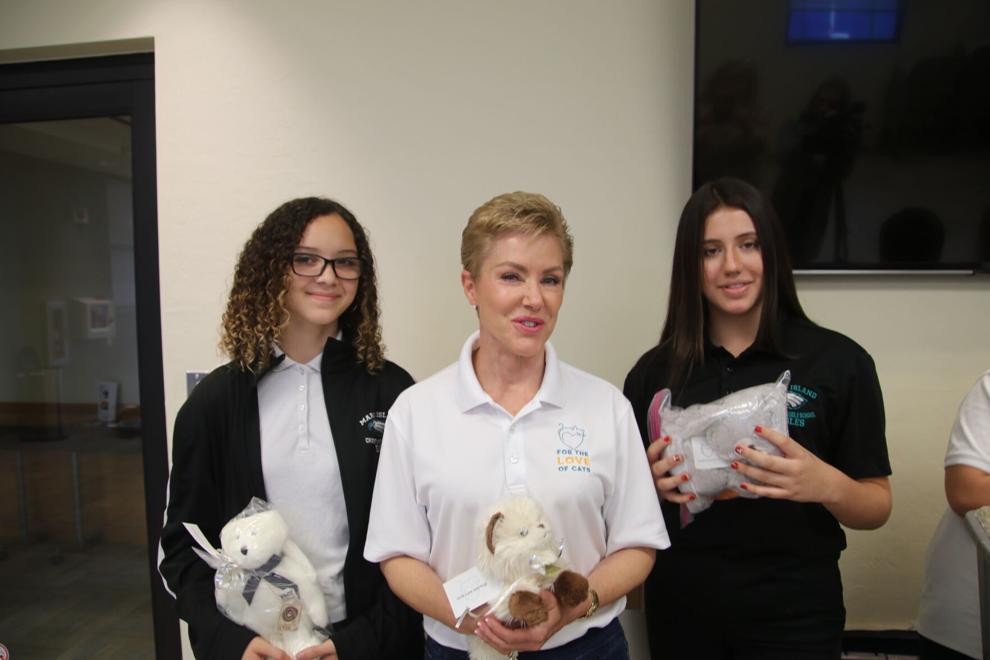 Rich, along with Liberty's mother Crystal, looked on as the presentation was made.
With Rich's guidance the two girls collected the stuffed toys for donation to the Marco Island Police Department. "Our officers will make good use of these and will place them in their "go-bags" to insure they have one with them should the need arise. The toy also acts as a bridge to establish trust with a child and can have a lifetime impact on creating trust between an officer and a child," said Police Chief Tracy Frazzano.
Sergeant Mark Haueter who works as a School Resource Officer with the department would also speak to the importance of establishing that trust level. "For us it is very important that the children in our schools establish that trust level with an officer, as they can help us identify a child who may need our assistance due to issues at home, bullying or just having a bad day," said Haueter.
---