---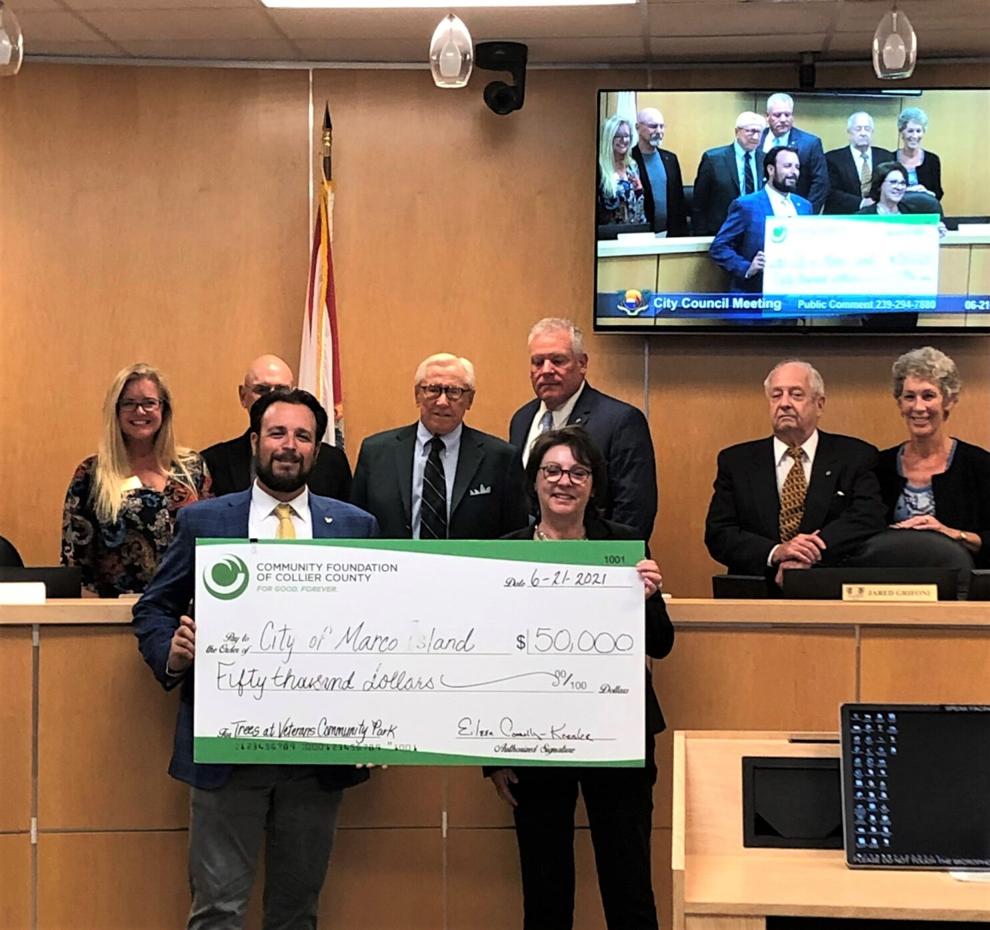 ---
It was somewhat like Christmas in June, as Marco Island City Council Chair Jared Grifoni strode down from the dais on two separate occasions to receive donations from two separate entities. The two organizations presenting checks that evening were the Community Foundation of Collier County and Lee County Electric Cooperative (LCEC).
The Community Foundation of Collier County was established in 1985 as a tax exempt, non-profit charitable foundation. The Foundation carries out its work in cooperation with its donors, grant recipients and local community leaders to answer needs within the community.
The Community Foundation on that evening presented the city with a check for $50,000 to assist with the planting of new trees as part of the long-awaited build out of Veterans' Community Park on Marco Island.
While attending a recent function with Eileen Connolly-Keesler, CEO and Executive Director of the Foundation, Councilor Erik Brechnitz made her aware of the ongoing project to develop the park. The Foundation had been involved in helping to fund the replacement of many of the trees that were damaged or destroyed during Hurricane Irma in 2017 as part of its environmental efforts within Collier County.
Brechnitz also had been instrumental in founding the Marco Island Community Parks Foundation, whose purpose is to facilitate the ability of donors to make gifts toward improving the parks around the community. 
"This is a wonderful investment not only in our community, but in the environment which makes Collier County such a wonderful place for us all to live," said Brechnitz.
The Community Foundation is also heavily involved in raising awareness through public education and providing support services to deal with growing needs within Collier County. Issues such as housing and hunger, education and employment assistance, senior and veteran assistance, environment and accessibility issues, and crisis and disaster relief. Another area of its involvement deals with raising awareness of mental health and substance abuse issues.
Should you wish to volunteer, donate or explore how you might assist the Community Foundation of Collier County, you may do so by calling 239-649-5000 or by visiting its website at www.cfcollier.org
---