---
Friday, June 25, was a night to celebrate for Marco's Youth Soccer Team, Marco Island 
United Soccer Club (SC) U7 and U11!
Earlier in the evening, the Marco Island United SC U7 (under seven) team played their age bracket championship against Real Madrid, winning 3-1 with goals scored by Abbie Savarino, Caleb Sarantos, and Cooper Schulte. Marco Island United SC U7 team won its age division for the first time!
They played in the finals last season, and this summer the U7 team had their minds and eyes set on getting to the championship again. And for this season, the team was more prepared to bring home a win and did just that!
At the start of the game, it was apparent this was going to be fast paced and competitive. Even at this level the games can get intense. They played as a team and won as a team and with some outstanding plays they were able to come out ahead with their first championship. Game MVP was awarded by Coach Chris Savarino to Cooper Schulte for his outstanding defense and key plays on set pieces.
Repeat Champions! On Friday, June 25th, the Marco Island United SC U11 (under 11) Youth Soccer team became back-to-back champions having won their spring and now their summer championship games. Marco Island United SC has established itself as Marco Island's premier youth soccer club since its inception earlier this year with its teams consistently finishing as finalists and champions in multiple age brackets in the Mexisoccer League Naples.
The U11 team faced another nail-biter in a rematch from the spring season championship against rival team "Tiny Boys" at Eagle Lakes Community Park, packed with parents and fans. After a closely contested first half ended in a stalemate, Marco Island United found themselves losing 2-0 with just about five minutes left to play in the game.
In the final few minutes of the game, a smart play by midfielder Lucas Baldwin, MIU was awarded a penalty kick due to a handball made by Tiny Boys in the penalty area. With their summer season on the line, striker Tosca Grifoni stepped up to the penalty spot with the crowd roaring on both sides. With great focus she fired off a left-footed shot into the bottom right corner, leaving the opposing goalie with no chance to save the ball, which sparked the rally for Marco Island United's comeback. With 30 seconds remaining and MIU losing 2-1, Rowen Banister hooked in a beautiful goal into the top right corner, tying the game and sending it into extra time.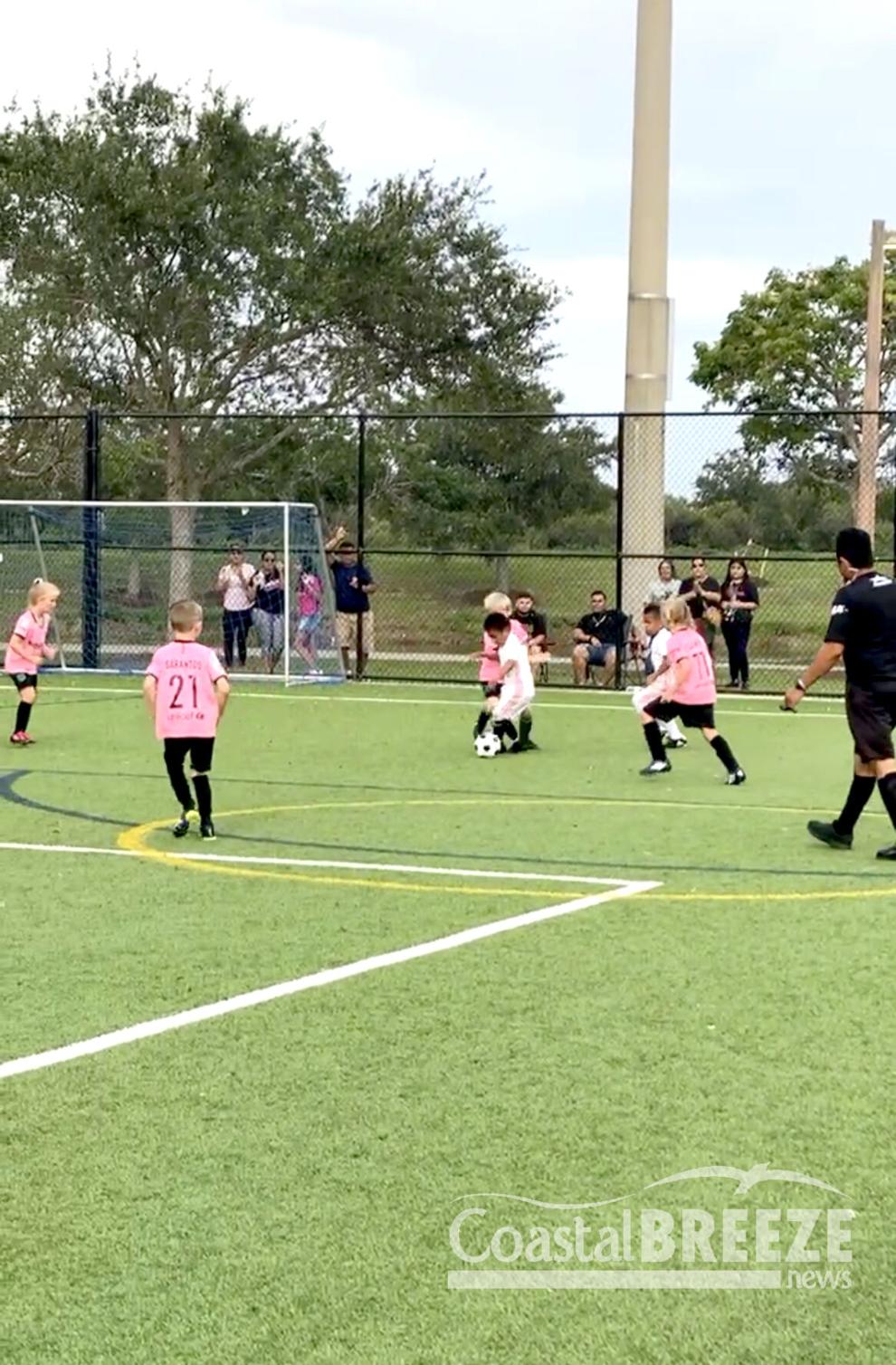 After two periods of extra time the game remained deadlocked thanks to the stellar defensive efforts of Grady Huneke and Matthew Gallup. The game would come down to penalty kicks to determine the champion. Facing amazing pressure, goalie Rowen Banister succeeded in stopping all but two shots made by Tiny Boys, while scoring a great penalty kick himself, along with his teammate's midfielders, Brysen Heflin, and Luka Zdravkovic. Their efforts won the penalty kick shoot off against the Tiny Boys 3-2 securing a second championship win for Marco Island United Soccer Club U11. Coaches Patrick Baldwin, Jared Grifoni, and Matt Huneke awarded the finals MVP trophy to Rowen Banister for his crucial contributions to the team's victory.
What's next?  According to Coach Baldwin, most of the U11 team will be staying together in the current age group; a few players will be aging up but still don't know the exact cutoff date.
They plan to offer a "D" team at U13, in addition to the U7, U9, and U11.
For more information on Marco Island United SC, including plans for next season and tryouts, please visit their page at www.Facebook.com/MarcoIslandUnitedSC.
---