As always, I am looking for special photo opportunities, which brought me to standing with my open sandals in the middle of the least visited and most remote area of Costa Rica. It is a narrow jungle path shielded by a dense overhanging canopy of huge rainforest trees that occasionally opens to a glimpse of the deep dark rolling foamy crested Pacific Ocean far below us. I am photographing an intriguing snake rolled up directly in the middle of the path in front of me. 
The Osa Peninsula encompasses approximately 700 square miles and is home to the Corcovado National Park. It is a wonder that I have managed to survive the many adventures of poor judgment that I've made in my lifetime. From climbing mountains under less than perfect conditions to professionally test-driving race cars. From taking photos along the Suez Canal while Egyptians and Israelites were shooting at each other to going for a run too close to a restricted government facility in China. But this snake situation even topped all that due to my incredible ignorance.
We have traveled to Costa Rica several times. In 1949 this beautiful country, the size of Switzerland, was the first country in the world to abandon their military and only has a police force called "Fuerza Publica." The United States is one of the countries that signed the agreement, "Inter-American Treaty of Reciprocal Assistance," participating in avoiding outside aggression. Our country also actively participates in fighting the drug war in Central America. The country offers stunning nature throughout as it stretches from the 185 miles coastline of the Caribbean to the 630 miles of Pacific Coast. Its land borders with Nicaragua in the north and Panama in the south. A quarter of the country is protected jungle. The best period to visit is fall through spring. July is in the middle of the rainy season in the country and therefore low season. Due to less tourists as well as lower prices it was perfect for us. However, we miscalculated our proper preparation by only taking thin rain jackets and ponchos. There was some rumor that there is normally a couple of weeks around July and August offering "Veranillo," or "little summer" when I am told the rain basically stops for a couple of weeks. That phenomena had passed prior to our arrival there as I have seldom seen so much rain. A trip down from the capital, San Jose, to the Corcovado National Forest was a great adventure never to be forgotten. The "last frontier town," Puerto Jiménez, is the last place to buy anything. From here the road is practically all dirt with numerous water crossings including two rivers. We were offered a small, almost new Audi all-wheel drive rental car at the airport in San Jose. However, when it came up in conversation where we planned to go, the agent suggested we change to an old tin can of a Suzuki with true four-wheel-drive which was higher off the ground, because, he stated, "you will never make it with the low clearance of the Audi." We also were told to be sure to leave Puerto Jiménez in the morning, as rain often made the road impassable in the afternoon.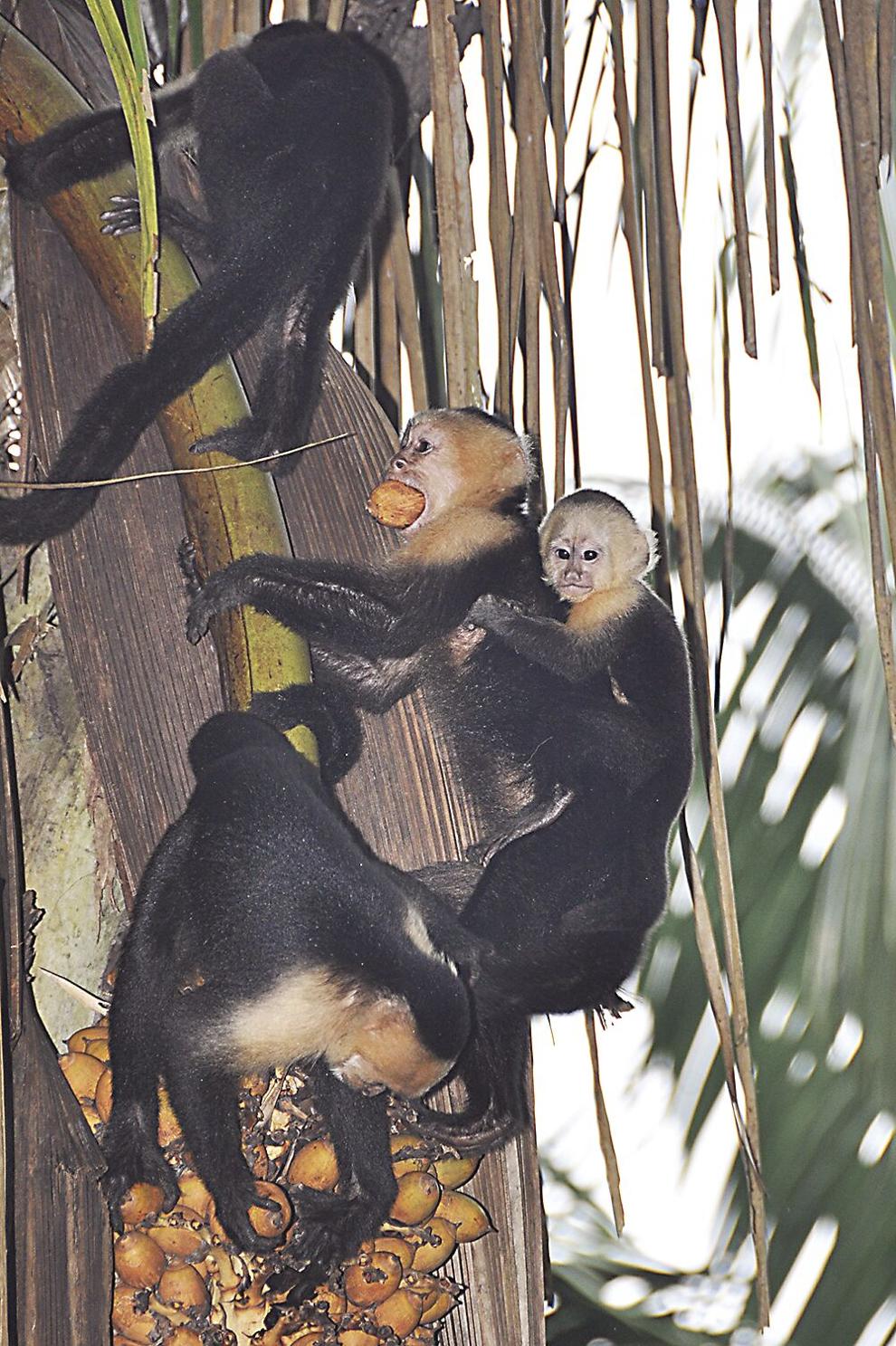 It was early afternoon, after a light lunch, when we filled up the tank in Puerto Jimenez and ventured out on the only road into the virgin rainforest, one of the most biologically extraordinary places on earth. The road to Puerto Jimenez had taken us longer than expected but how bad could it be as it was only 25 miles to reach Laguna Vista Villas where we had reserved for a couple of days, and in the beginning it was not even raining. Just a mile or so out of town we saw scores of birds on both sides of the road. The common quetzal we were familiar with as the state bird of Guatemala, the scarlet macaw and other parrots we did not recognize, and the toucan with its bright orange beak and red tanagers were everywhere. It was as if we were in an exotic aviary. The Osa Peninsula and its Corcovado National Forest is home to over 370 bird species and 140 mammals. The area consists of 2.5% of the world's biodiversity. You might remember the beautiful photos taken by Marco Islander, Jim Robellard, published in the Coastal Breeze News at the end of September last year. I did not have the opportunity to sit for hours in a hide to get the perfect photo like he did, but was happy we could experience such brilliant diversity right from our moving vehicle.
Soon we were driving over rocks and through quite some water on the road, but yet still quite manageable until we saw the first of two river crossings we had been warned of and wondered how we would ever get across. But we managed without getting wet, and up on the opposite bank of the river we felt like major adventurers. Plowing on through deep ruts and enjoying spectacular wildlife on either side, our Suzuki sputtered onwards without complications. But it was very slow moving, getting later in the afternoon and we had not seen another human for over an hour. Around a narrow curve was our second obstacle. We stopped at the waterline of the second river and contemplated if we should turn around instead of attempting to cross. In the meantime, it began raining a torrential downpour and we assumed we were more than three quarters of the way to our lodge. We figured the best way was across the major water body, on to a small island and across another narrow body of water where an entire wheel was stuck near the steep bank. We wondered where the rest of the unfortunate vehicle was! We took the plunge and almost immediately began floating downstream. As the water entered our small vehicle, we gained weight and felt traction at the bottom again. Like a seasoned warrior, our trusty Suzuki climbed up the little island in the middle of the river. We took a pause before attempting to ford the last narrow stream and ascend the riverbank. Just over the top, a Range Rover was headed in our direction. It happened to be the owner of our hotel coming to check if we were stuck somewhere.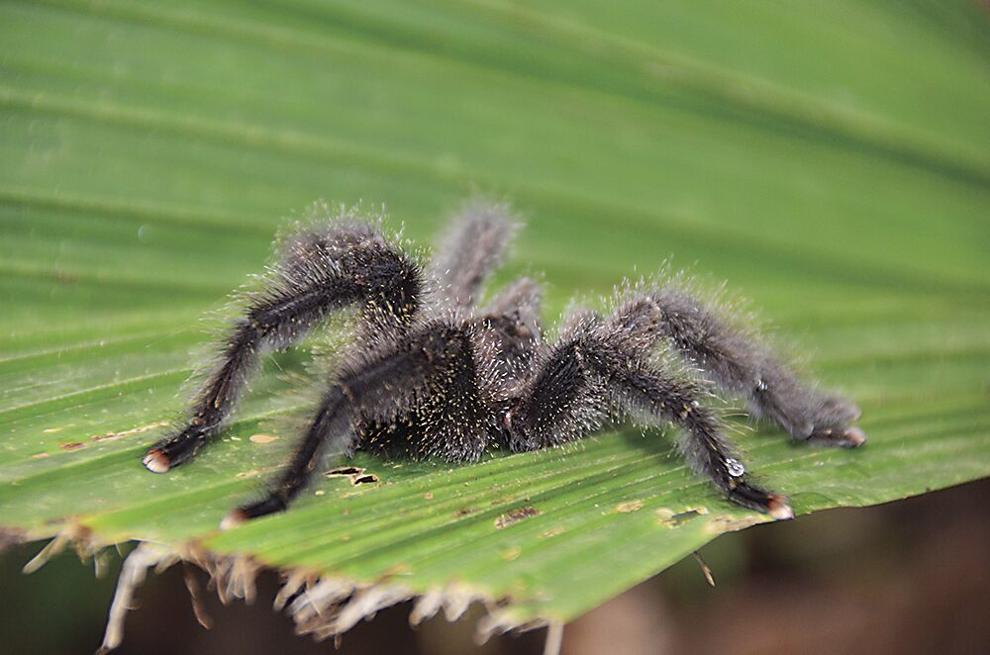 Not surprisingly, we were the only guests. Our room and bathroom were lovely, but the bathroom was crawling with a wide variety of small wildlife as it was totally open to the elements. The mosquito netting over the bed was much appreciated and two different cans of bug spray were used extensively during our stay. There was a beautiful large swimming pool kept remarkably clean and free of bugs. A little later we made our way to the rustic communal table in the restaurant and bar. A young waiter, who later turned out to be our guide in the rainforest the next day, served us the national drink of Costa Rica. "Guaro" tastes a bit like vodka, but somewhat sweeter, and made from sugar cane juices. We could finally relax and reflect with pride we had made it to this romantic and idyllic spot in the middle of absolutely nowhere.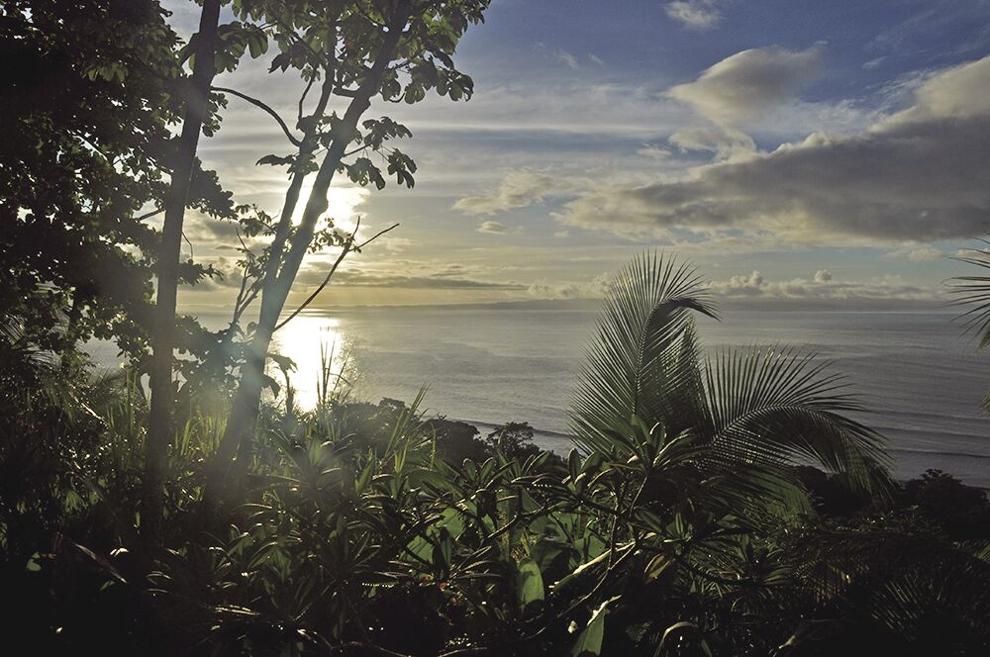 The next morning, we were greeted with great coffee in the main lodge. Costa Rica and its long-time coffee rival, Guatemala, are constantly vying for the best coffee in Central America. The two countries are separated by Nicaragua, and it is hard to say which is better. I have had both many times and it is a question of personal taste. If there is any difference, the Costa Rican coffee is probably bolder and stronger.
After breakfast, our young guide took us out into the jungle on foot. Both of us wore open sandals and afterwards we realized he should probably have told us to wear hiking boots like he did, but if the message of his boots wasn't clear enough, what can one expect from crazy Americans. He also carried a large machete to hack at some huge leaves and bushes restricting our access on the narrow path ahead of us. The cacophony of exotic birds surrounded us and the mischievous monkeys were staring at us from the canopy of enormous trees above. A large hairy spider was sitting in the middle of a leaf at eye level, and I was intrigued by sounds of larger animals up ahead. Our guide stopped to explain something to my wife, and I went ahead around him to check out a sloth in a tree. A few steps further and I happened to look down at a slight movement and there it was: a remarkably distinctive snake in a combination of black, white, and pale yellow was curled up right in front of me in the middle of the path. Immediately I pulled out my camera and began to click away. I had taken several great shots before our guide stopped behind me, put his hand gently on my shoulder and tried to pull me back with great caution. Whispering softly he said to move backwards carefully without any abrupt movements. To my surprise he seemed genuinely afraid of the snake. Once we had moved a safe distance away, he explained that this was the extremely dangerous "Fer-de-lance," the deadliest snake in Central America. The snake is not afraid of humans and attacks aggressively when it sees a possible prey. The guide said we could go no further on our original path, because the snake would wait for a possibility to attack upon our return. I don't know if that was a bit melodramatic, but we were not going to contest his advice. Apparently, the snake seeks warm blood to hunt and after the bite your blood coagulates and breaks down capillary walls. There might be some chance of survival with medical help at a hospital within four hours. But one is not likely to get such help here in the middle of nowhere. That evening we enjoyed an early dinner complimented by a spectacular sunset and decided to spend the next day relaxing at the swimming pool as we planned our journey onwards after exiting the Osa Peninsula.