---
As many of you know, September is rather slow for businesses in south Florida and many close for a short while. After an extremely busy winter and summer season, the Dolphin Explorer team took a 10-day hiatus as well, giving the crew a well-deserved break. Captain Eddie decided to take care of some minor shoulder surgery, our dolphin specialist Kristen stuck around town and performed some much-needed maintenance on the boat for a few days and my wife Cathy and I, well, we decided to knock some travels from our bucket list.
We always wanted to see some western states, the beauty of those mountains and the variety of wildlife there. Magnificent planner that she is, Cathy put together a trip for us that we called "National Parks on steroids." In eight days, we managed to work our way through Glacier National Park, Yellowstone, and the Grand Tetons.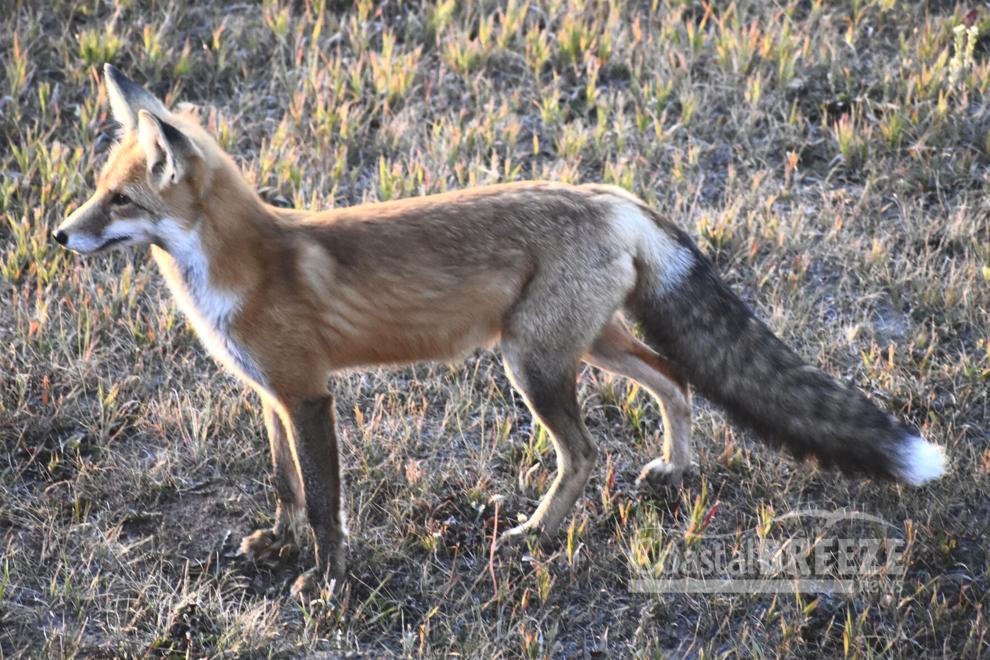 We flew into Missoula, Montana and proceeded by car directly to Kalispell, not too far from Glacier National Park. After a restful night there, and a very early start, we entered Glacier headed for a location called Logan's Pass, the highest elevation reachable by car at 6,646 feet. This subalpine ecosystem is home to a variety of unique and beautiful plants that require special adaptations to survive at this elevation. We were thrilled to see white mountain goats and Bighorn sheep and were greeted by a fox strolling along the roadside. One of the hiking trails was closed due to recent grizzly bear activity…yikes! We opted to explore the Highline Trail which, at points, was only five to six feet wide along a steep cliff but included a cable attached to the cliff face to hold onto.
There were some fires to the east of Logan's Pass that provided a smoky, but beautiful sunrise, and made for great photo opportunities. We spent the day crossing the Park, in awe of the ice formations along the mountains, beautiful plant life and occasional wildlife sightings.
We eventually made our way to Helena, Montana then down to Cooke City, which is the eastern entrance to Yellowstone Park. Cooke City is only about four blocks long with no traffic lights. There was cell phone service on one side of the street but not the other. Our hotel room only picked up two "local" TV channels and four altogether.
Another early morning and we left Cooke City, crossing Highway 212, also known as Beartooth Pass and once referred to by Charles Kuralt of "On The Road" TV fame as "The most scenic drive in America". Believe me, it was! The mountain road switchbacks, dramatic and breathtaking vistas, natural forests, waterfalls, and lakes. We crossed the 45th parallel at 10,730 feet high and is the midpoint between the equator and the North Pole.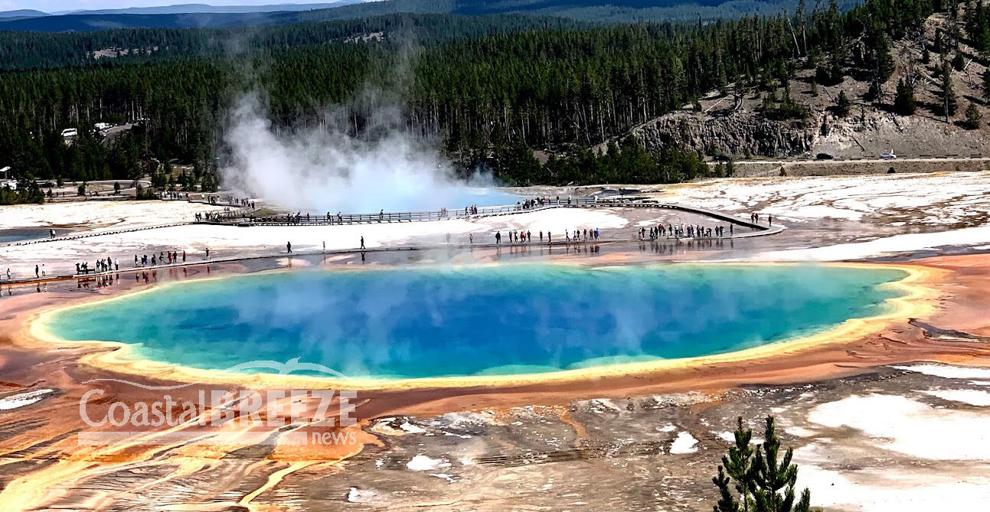 Once again, with Cathy's superb planning, we arrived in eastern Yellowstone's Lamar Valley early in the day to see wolves in the distance, lots of buffalo, a coyote and pronghorn sheep. This valley is known as "The Serengeti of North America" and easily lives up to its name with a plethora of wildlife!
We travelled from east to west across Yellowstone, stopping at too many vistas to name individually before settling just outside the western park gates, in West Yellowstone, for a few days. This gave us quick and easy access to the park for our next adventures.
We headed to Norris Geyser Basin, which is the hottest, oldest, and most dynamic of Yellowstone's thermal areas. A high temperature of 459 degrees was logged by a science team and just 1,087 feet below ground level. They're very few thermal features here below 199 degrees!
This area also boasts Steamboat Geyser which is the world's tallest currently active geyser. Eruptions here are not consistent and can range from three days to 50 years apart. When we arrived here, a ranger told us that Steamboat erupted at 6:41 AM. We were there at 8:30 AM. Although we missed the towering gush of water, the steam vented from this location was still in progress. The noise was like a train roaring, and you could feel the ground tremble beneath your feet. Absolutely amazing.
Not too far down the road we hiked the south rim of Yellowstone's "Grand Canyon" which is an erosional feature rather than the result of glaciation. The canyon is 800 to 1,200 feet deep and 1,500 to 4,000 feet wide and is the primary geological feature in the Canyon area of Yellowstone. Pictures cannot explain or detail the beauty, depth, color, and grandeur of this natural wonder.
This old geezer visited the Old Faithful Geyser which is usually on schedule to give a great spout of water and is awesome to see. Additional basins, waterfalls, trails, mountains, and hot springs continued to highlight this trip.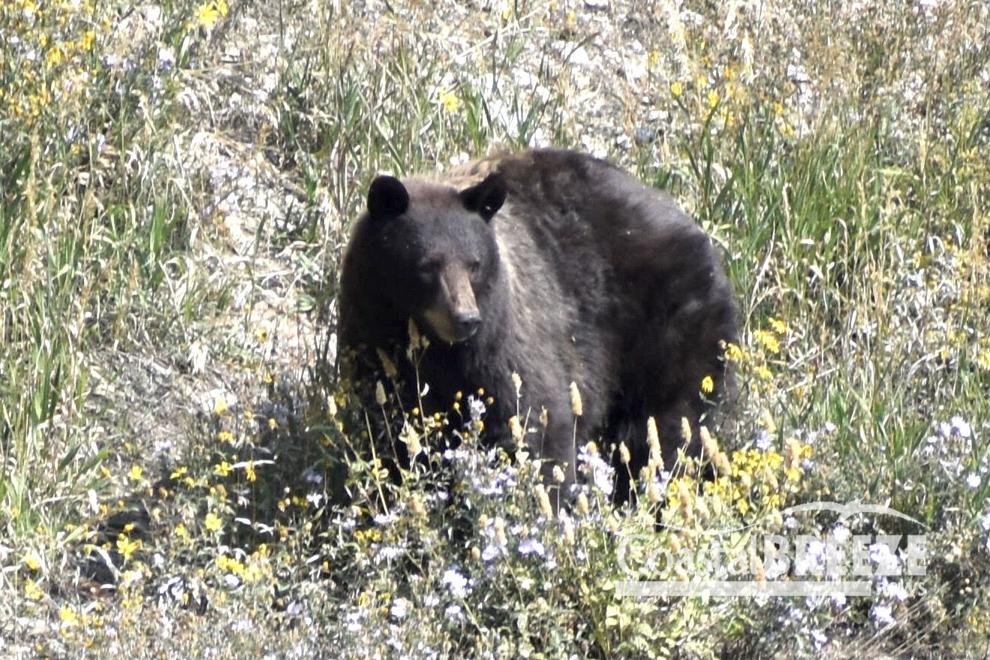 Packing a breakfast-to-go we made another early jaunt to reach Hayden Valley at sunrise. This cold morning greeted us with 27 -degree temps in an area known for wildlife viewing. We took advantage of a roadside turnout to eat…right next to a buffalo! He grazed on grass as our gourmet meal of boiled eggs and bananas gave us comfort. It was quite interesting to see a layer of frost on the animal's back with the cold temps. Bears, Canadian Geese, more pronghorns, and other beasts made an appearance for us.
Our journey eventually took us south to Grand Teton National Park. Our first morning there, we saw the sunrise on the mountain range, which was stunning! Some off-road trails produced moose for us, more buffalo, and a variety of bird species including Mountain Bluebirds, Red Shouldered Hawks and Bald Eagles swooping down on the Snake River and Magpies.
Three days here was not enough time to enjoy the Teton Park Loop, Jenny Lake, the town of Jackson and the surrounding areas of Wilson and Moose. On our last morning trip along the Moose-Wilson Road we saw a mom and baby elk, a bull elk, and moose. It was so unique to hear the elk bugling in the distance!
Thinking our viewing time was over, we took a gondola ride to a mountaintop from Teton Village, a nearby ski lodge resort. As we ascended the slope, we saw a female black bear and her cub. On the way down, there was a huge male black bear that seemed to stare right at us!
All in all, this was definitely a "bucket list" excursion in every way possible. Fascinating natural features of mountains, valleys, springs, lakes, and open prairie were incomparable to what Cathy and I had seen before. Wildlife consisted of black bear, grizzlies, moose, elk, deer, fox, wolves, a variety of birds and more than 400 buffalo along our way. It was hard to say goodbye to such a phenomenal area of our country.
But, as one dream ends, another begins. Back on board the Dolphin Explorer after this great vacation we were greeted by adult female dolphin Jing Jing, and she had a brand-new baby by her side! It was named CJ by the guests on our tour. It doesn't matter where you might be, but the miracles of nature are all around us! What's on your bucket list?
---